Slate has long played a part in the architecture of the new world. It was first introduced to the U.S. as ballast for ships coming across the Atlantic in the 1600s. Slate roofs have been found by archeological excavations in Jamestown, Va., dating as early as 1625, according to Preservation Brief 29, "The Repair, Replacement, and Maintenance of Historic Slate Roofs," from the National Park Service, Washington, D.C.
Nearly a decade after our nation's independence, the first slate quarry opened in Peach Bottom Township, Pa. From 1785, slate roofing production grew rapidly and hit its all-time peak around 1914. There were active quarries in Maine, New York, Pennsylvania, Vermont and Virginia. In 1915, slate roofing began to slowly decline because WWI took many of the able-bodied men, leaving quarries short of workers.
In 1922, the Poultney, Vt.-based National Slate Association was formed to promote the use of slate in roofing and structural applications. Many of the first U.S. slate standards were set in a book by the organization called Slate Roofs. However, the association became inactive in the late 1920s because of a lack of cohesion.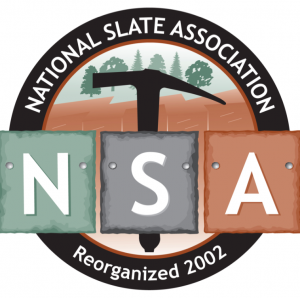 In 2002, a historic meeting took place in Sarasota Springs, N.Y. A group of slate manufacturers, roofers, architects, consultants and other interested parties met and reorganized the National Slate Association and formed a three-member board of directors. Matt Millen, Millen Roofing, Milwaukee, became the first president of the association. Today, the board of directors
includes 15 diverse members who are determined to ensure slate will be used extensively around the country. The National Slate Association's purpose is to promote excellence in slate roofing practices through the development and dissemination of technical information, standards and educational resources.
To ensure it meets its goals, the association has implemented hail testing for the purpose of knowing the thicknesses of slates needed in hail-prone areas and fire testing to certify slate as a fire-resistant material for insurance companies. It also released Slate Roofs: Design and Installation Manual, which won the Rosemont, Ill.-based National Roofing Contractors Association's Gold Circle Award for outstanding service to the industry. (See "A Review of Slate Roofs: Design and Installation Manual", to learn more about the manual's contents.)
The National Slate Association's current board of directors includes President John Chan, The Durable Slate Co., New Orleans; Senior Vice President Robert Fulmer, Fulmer Consultants, Freeport, Maine; Vice President Dave Large, North Country Slate, Toronto; Vice President Brian Chalsma, The Roofing Co., Hampton, Va.; and Treasurer Pete Papay, Penn Big Bed Slate Co., Slatington, Pa. Jeff Levine, Levine and Co., Ardmore, Pa., is the immediate past president, and Julie Palmer, also of Levine and Co., is the office manager.
Board members are Dan Cornwell, CC&L Roofing, Portland, Ore.; Alan Buohl, GSM Roofing, Ephrata, Pa.; Glenn Downes, Garlock French, Minneapolis; Clay Heald, New England Slate, Poultney, Vt.; Matt Hicks, Evergreen Slate Co., Middle Granville, N.Y.; Brad Jones Sr., Buckingham Slate Co., Arvonia, Va.; Craig LeGere, Mid-America Slate and Stone, Chesterfield, Mo.; Matt Millen, Millen Roofing, Milwaukee; and Russ Watsky, Russell Watsky Inc., Ossining, N.Y.
The National Slate Association would like to invite any interested parties to join the association. Sign up online or email John Chan. Write P.O. Box 172, Poultney, VT 05764.