The vegetated section of the roof features an electric field vector mapping system to help detect the presence of leaks. The system delivers a low-voltage electrical charge between the non-conductive membrane and conductive structural deck. If there is a breach in the membrane, an electrical connection occurs. Roof board was then set in an adhesive so fasteners would not be directly beneath the waterproofing system. Finally, the same 60-mil membrane was adhered to the assembly.
Greenrise Technologies, Murfreesboro, Tenn., was hired to install the vegetated roof. Because the green-roof portion is confined to the middle of the roof, transporting dirt from the loading point would require traversing completed roof sections, increasing the odds of damage. Greenrise Technologies utilized hoses 6 to 8 inches in diameter that acted as a reverse vacuum, blowing soil onto the roof. After the soil was spread, sedum blankets were rolled onto the soil. The coconut-fiber blankets are pre-planted with 10 to 12 sedum species that endure varying weather conditions.
A final difficulty related to the building's walls, some of which extend up to 30 feet above the roof. "We actually adhered roof membrane to the walls," Baker says. "You start thinking about the pure size of the building—we're talking miles of enhancement bars, which you have to put in the walls every 30 inches on center then strip them in by hand-welding. There were months that our people spent on scaffolding just nose to the wall, welding membrane even after they adhered it. It was a long process."
Citywide Success
Baker Roofing's team spent one full year working on the Music City Center, which held its grand opening in May 2013. About 15,000 people toured the facility during the two-day celebration. As would be expected, musical guests, including Brad Paisley, Vince Gill and Sheryl Crow, entertained the crowds of visitors. So far, the Music City Center is attracting the business the city of Nashville needed. The Convention Center Authority recently announced it had generated more than $26 million in economic impact in the first quarter of fiscal year 2014, the first full quarter of the center's operation.
"We've been very fortunate to have the opportunity to host events for numerous groups in the community, most recently the NAACP's 40th Annual Freedom Fund Gala and the Nashville Downtown Partnership's Annual Meeting and Awards Luncheon," says Charles Starks, president and CEO of the Music City Center. "We have been very busy, but our team has done a great job adjusting to the high demand that this building has created and things are running very smoothly."
Baker says his team also did a great job of rising to the demands of the building's construction. He recalls, "I kept telling everyone 'when we're finished with this project, there's going to be 50 guys that aren't afraid to attack hell with a water pistol!'"
Music City Center, Nashville, Tenn.
Team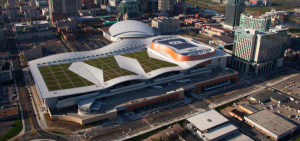 Roofing contractor: Baker Roofing, Madison, Tenn.
Vegetated roofing contractor: Greenrise Technologies, Murfreesboro, Tenn.
Vegetated roofing engineer: Roofmeadow, Philadelphia
Solar-power installer: Lightwave Solar, Antioch, Tenn.
Architects: TVSDesign, Atlanta; Tuck Hinton Architects, Nashville; and Moody Nolan Inc., Nashville
Roof Materials
Membrane: G410 EnergySmart Roof Membrane from Sarnafil
Roof board: DensDeck Prime from Georgia-Pacific
Adhesive: Olybond from OMG Inc.
Vegetated roof net and sills: Optigreen
Vegetated substrate: rooflite extensive mcl from Rooflite
Sedum mats: Sedum Mix blankets from Sempergreen
Aerial photo: Music City Center
All other photos: Keri Baker
Pages: 1 2