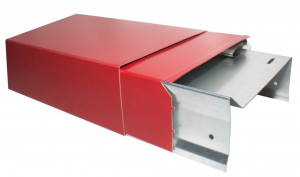 OMG Roofing Products introduces a new and improved PermaSnap Coping line. The redesigned PermaSnap and PermaSnap Plus coping products are ANSI/SPRI/FM4435/ES-1 tested and approved and feature a dual-hook profile for superb wind performance and a clean surface look, according to the manufacturer. PermaSnap products can be installed on parapet walls from 4 to 32 inches wide.
The three-piece PermaSnap System includes self-locating, pre-punched clips with pre-attached springs for high static engagement, concealed splice plates and a snap-on cover. Concealed splices are designed with internal drainage channels that direct water back onto the roof and eliminate the need for caulks or sealants. The snap-on cover accommodates building expansion and contraction to prevent oil-canning and does not require crimping or additional field fabrication. In addition, PermaSnap is available with a full assortment of matching corners, end-caps and other accessories for every roof configuration including radius curves.
"We are very pleased with the performance of the updated PermaSnap line," said Patrick O'Connor, edge product manager at OMG Roofing. "PermaSnap has FM ratings of up to 1-105 for parapet walls up to 24-inches wide, and PermaSnap Plus has ratings to FM 1-120 for parapet walls up to 32-inches wide, making PermaSnap one of the highest rated coping systems on the market today."
PermaSnap Coping is available in a wide range of Kynar500 colors and finishes, and comes with a standard 20-year Excel Warranty for wind speeds up to 110 mph. The heavier duty PermaSnap Plus comes with a 25-year, 155 mph, Category 5 wind warranty.
For more information, www.OMGEdgeSystems.com or www.OMGRoofing.com.