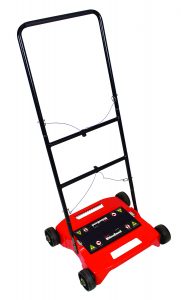 OMG Roofing Products introduces a plate marking tool designed to help roofers improve rooftop productivity by quickly locating and marking RhinoBond Plates installed under thermoplastic membranes.  
The new RhinoBond Plate Marking Tool is lightweight, simple-to-use and easy-to-maneuver. Simply roll the marking tool over a row of installed RhinoBond Plates. Every time it passes over a properly installed plate, the tool leaves a temporary mark on the surface of the membrane to identify the plate location. Plate marks are made with standard blue construction crayons and typically fade away within a few weeks.
The plate marking tool is compatible with all thermoplastic membranes regardless of type or thickness. In addition, the tool's handle is reversible for quick direction changes, and lays flat for rolling under rooftop pipes and raised equipment such as air handling units. Other benefits of the new system include powerful sweeper magnets mounted on the front and back of the chassis that pick-up any metal debris on the roof. The tool is provided in a protective carrying case for easy handling and storage.
The RhinoBond System is designed for use with TPO and PVC roofing membranes. The System uses advanced induction welding technology to bond roofing membranes directly to specially coated plates that secure the insulation to the deck. The result is a roofing system with improved wind performance that requires fewer fasteners, plates, and seams, and zero penetrations of the new membrane.
For more information, visit OMGRoofing.com.