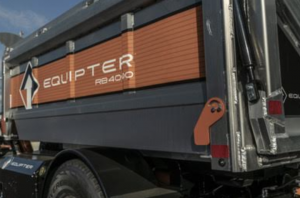 Equipter has upgraded its flagship product, the RB4000 lift, a self-propelled roofing trailer that decreases cleanup time by up to 80 percent. The changes, which were implemented into production earlier this year, include:
Engine door: A thicker design and stronger hinge for increased reliability
Ignition switch & control panel: Ignition moved to the operator's stand for easy startup, while the control panel was reconfigured for convenient operation
Front axle: Redesigned attachment assembly for increased strength
Storage compartments: Storage for track mats, outrigger pads, and roof chutes updated for easier access and use
"We started out as roofers ourselves, so we know firsthand how important it is for contractors to have equipment engineered for the way they work," says Marketing Director Sam Beiler. "Our team made these tweaks so the RB4000 lift would be even easier to use. As a result, roofers can focus on getting the job done even faster."
For more information, visit www.equipter.com.