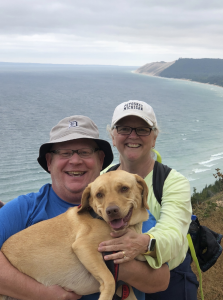 My dad keeps telling me that kids today don't work very hard. By kids he means me — and I'm 57. It seems every time I turn around, though, I see an article that offers the opposite conclusion: Americans work too hard. They work longer hours and take less vacation time than their counterparts in other countries. By some accounts, the majority of American workers don't even use all of the time off they are entitled to take. The sad part is, most workers do so because they want to be more productive. But working too long and too hard makes us less productive, not more. Vacation time is not only beneficial for personal health and well-being. Vacations also increase productivity.
Human bodies and brains have their limitations. We need some downtime to stay healthy and focused. It's also during periods of rest and relaxation that some of the greatest discoveries have been made.
Whether it's Newton resting by an apple tree or Watson and Crick taking a break by the seaside, it seems every scientific breakthrough I read about in high school came about when someone was goofing off. The notion of an epiphany — a flash of insight that solves a troubling problem — often seems to coincide with a break from work.
The "eureka" moment is said to derive its name from the story of the ancient Greek mathematician Archimedes, who came up with a method of solving a tricky problem after he slid into a nice hot bath. The story goes that he was trying to figure out how to measure the volume of irregularly shaped objects. Stumped, he took a break at the local bath house, where he suddenly realized that he could make the determination by the amount of water an object displaced. He then ran through the streets screaming "eureka," which apparently means either "I found it!" or "I forgot my clothes!"
As I worked on this issue of the magazine, which focuses on education projects, I thought of the long summer breaks we had as students, which I now know are frenzied periods of construction for the roofing industry. I also spent a week in northern Michigan, where I hiked some beautiful trails with my wife, Patti, and Josie the Wonder Dog.
I can't claim that I had any great insights into the nature of physics or science — or even better ways to produce Roofing magazine — but I did manage to locate some dog-friendly craft breweries and take in some glorious views of lake Michigan. Here's hoping it makes me more productive.