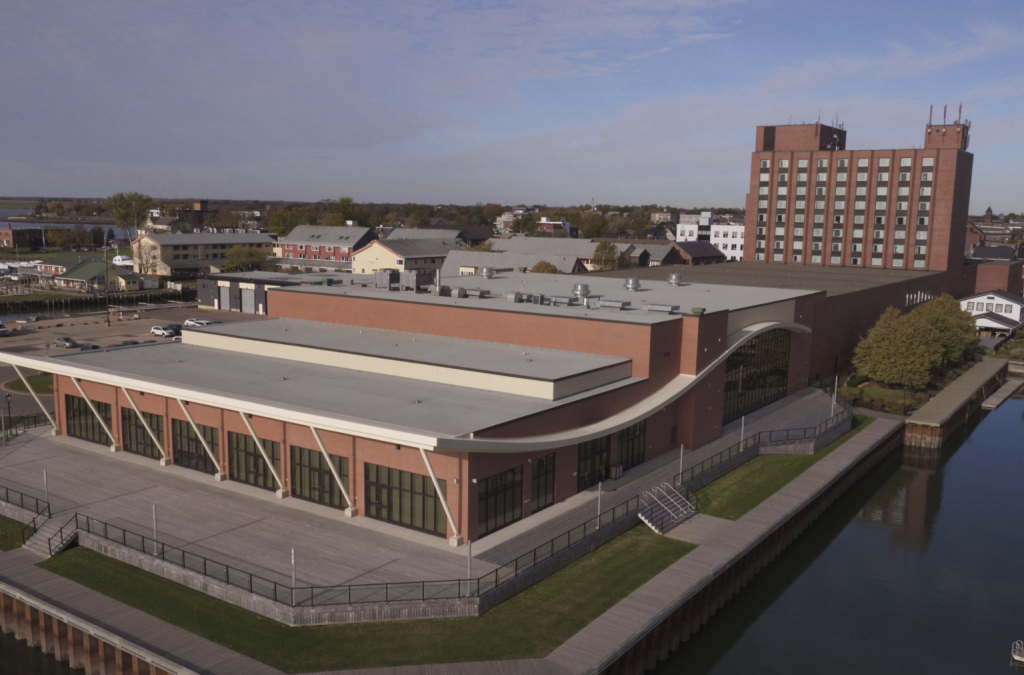 When the Prince Edward Island Convention Centre was put out for public tender, Ashe Roofing jumped at the chance to work on the high-profile new construction project on the waterfront near the company's headquarters in Charlottetown.
Ashe Roofing has been in business for 27 years, specializing in commercial and industrial low-slope roof systems. When their bid was selected, the company got ready to install the roof systems for the structure's 42,000-square-foot main roof, as well as 10,000 square feet of canopies.
A two-ply, torch-applied modified bitumen system from IKO was specified for the main roof. According to Boyd Corcoran, general manager of Ashe Roofing, the system was chosen for its durability and its ability to withstand the areas tough winter weather. "It suits our climate," he notes. "It can stand up to snow and ice dropping from higher roof sections to lower ones."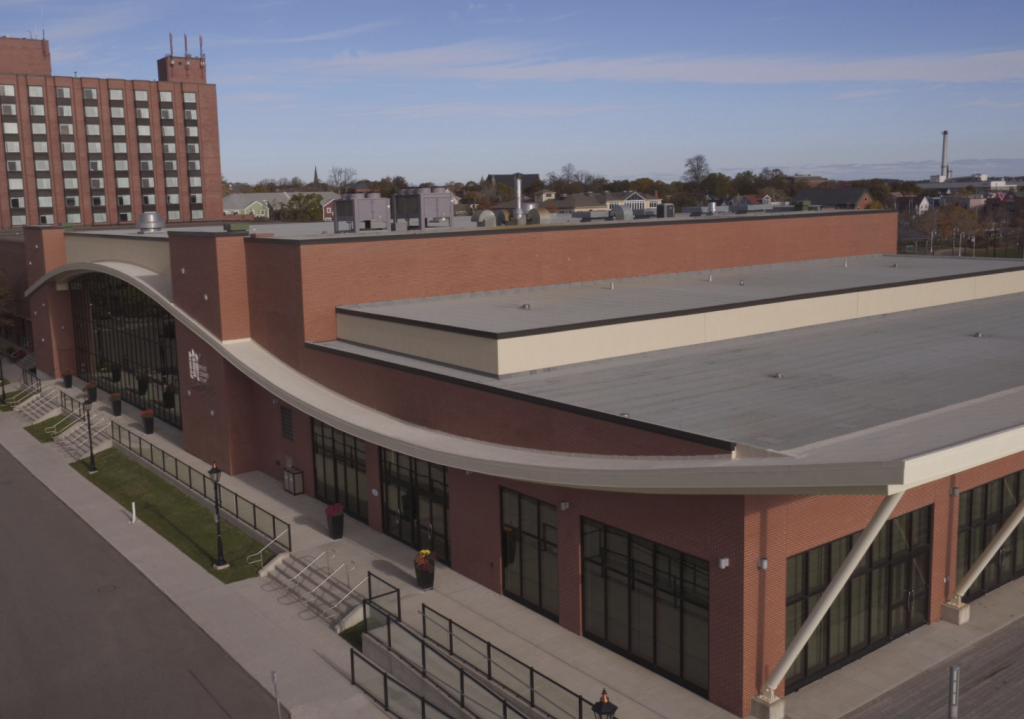 The building's distinctly shaped canopies would be visible from the ground, and the architect insisted the canopy roofs match the EIFS wall color. Initially, a tan single-ply roof membrane was specified for the canopy roofs, but the schedule dictated that construction took place during the winter months, so the decision was made to use the same modified bitumen system used on the main roof. A smooth surface APP cap sheet was used so that the proper color could be attained using an elastomeric roof coating application.
The Installation
The first phase of the project included setting up safety systems. "We used a railing system, and when we were doing the perimeter work, we had to tie off with a personal fall arrest system outside the rails," Corcoran notes.
Material was loaded with a telescopic fork lift. Work on the main roof began with installing the vapor barrier, which was covered with Trufoam EPS insulation and 1/4-inch protection board. The system was topped with IKO's Torchflex TP 180 FF base sheet and finished with the Torchflex TP 250 cap sheet in Frostone Grey.
The main roof was installed in sections. Crews mechanically installed as much insulation and cover board as they could each day, and each section was topped off with the base sheet. "We'd make sure each section was watertight, and we kept going, one section at a time."
The cap sheet was installed after all of the roof sections were completed. The roof was installed over both metal and concrete decking. Portions of work over the concrete deck needed special care, as the area was designed to accommodate future expansion. "We could not use any adhesive," Corcoran explains. "They didn't want anything on the cement at the end of the day, foreseeing a time in the future when they might take the roof off and use that roof deck as a floor when they added hotel rooms."
Corcoran cited mechanically fastening these sections as the biggest challenge on the project. "We also had to install a tapered system on the whole thing because it was flat," he notes. "We ended up with a 10-inch base layer and then the tapered insulation, and had to drill an inch and a half into the cement, so it was hard to find bits long enough to do the job. It was pretty slow going."
After the main roof was dried in, crews tackled the canopies, which were made of wood. "There are wavy-style canopies on two sides, and there is a big canopy that goes up at a bit of an angle over the water," Corcoran explains. "In some sections of the canopies, the flashing had to be cut into 4-foot sections because of the curves. We put a restorative coating on top of the canopies to make sure the color matched the walls. The coating was applied with rollers."
The job went smoothly and finished on schedule, notes Corcoran, who credits his experienced crews for the orderly progress at the jobsite. "Installing the system on the uphill and downhill portions of the canopies posed a little bit of a challenge, but we have guys that have been installing these systems for 20-plus years," he says. "They get pretty good at it."
TEAM
Roofing Contractor: Ashe Roofing, Charlottetown, Prince Edward Island, www.asheroofing.com
General Contractor: Brighton Construction, Charlottetown, Prince Edward Island, www.brightonconstruction.ca
Architect: Chandler Architecture, Charlottetown, Prince Edward Island, http://wcarch.com
MATERIALS
Roof Membrane: Torchflex TP 180 FF base sheet, Torchflex TP 250 Frostone Grey cap sheet, IKO, www.iko.com
Cover Board: Protectoboard, IKO
Insulation: Trufoam EPS, IKO
Vapor Barrier: MVP Vapour Barrier, IKO