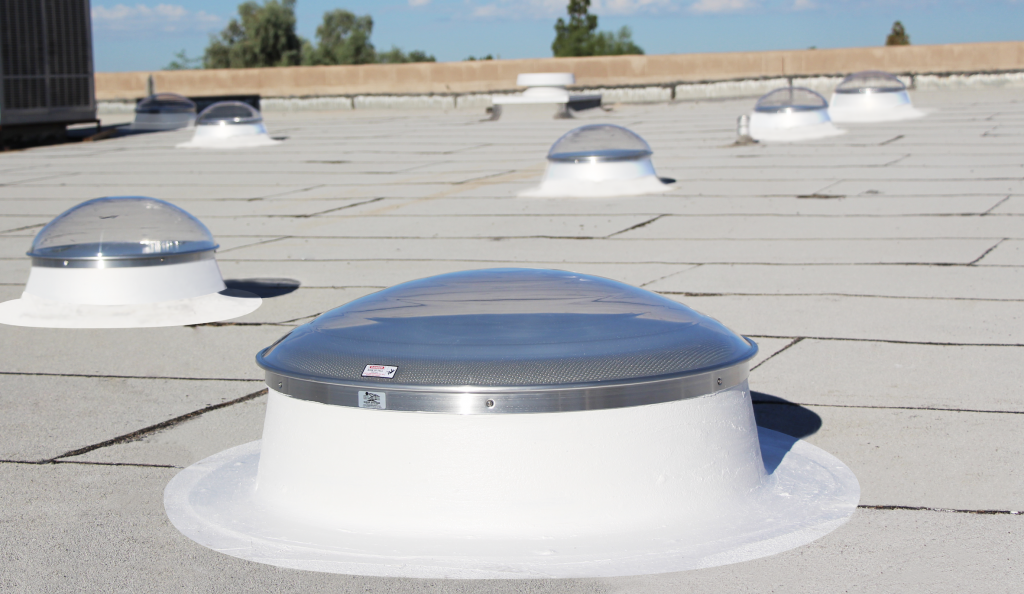 Elite Solar Systems releases its 32-inch Industrial Tubular Skylight for open-ceiling installations in large spaces such as warehouses, truck bays, storage rooms and manufacturing areas. Included is a high-impact acrylic dome, which locks into an 1100-O aluminum dome ring; one-piece seamless flat or curb flashing; a scatter disk; two 24-inch reflective anodized aluminum rigid light tubes; a one-piece dual-lens prismatic domed diffuser and brushed aluminum ring; flashing sealant; aluminum foil tape; and screws to install the flashing to the roof, the dome to the flashing and to connect the light tube(s).
The .220-inch-thick rooftop dome comprises light-transmission, nonyellowing material with UV stabilizers and is OSHA fall-protection certified. To eliminate stress and increase long-term durability, the dome locks to the ring and is leak protected with sealant. Aluminum flashing is available for industrial or commercial applications on flat or metal roofs. Choose either flat (.125 inches thick) or curb (.80 inches) for wood or metal build-ups by the installer. The product is manufactured with 1100-0 aluminum, and the durable 4-inch-wide base flange secures against leaks.
Also manufactured from light-transmission, nonyellowing high-impact prismatic acrylic with UV stabilizers, the scatter disk helps distribute light evenly throughout the room. According to the manufacturer, it eliminates sharp sun and the rainbow effect, and also captures sunlight from low angles into the light tube.
Light tubes are built to maximize reflectivity and resistance to moisture, corrosion and extreme temperatures. Dust seals, placed on either end of the light tubes, are designed to prevent bug, dirt and air infiltration; they are manufactured with polypropylene weatherstrip pile and 3M adhesive backing.
Optional are a security bar at roof level and, inside, a wire suspension kit for additional support and a ceiling flange, which connects between the tube and the ceiling for enhanced aesthetics. The assembly is warrantied through Elite for 25 years against cracking, peeling and yellowing.
"Our new 32-inch Industrial Tubular Skylight will help transform dark warehouses and storerooms into bright workplaces, enhancing employee working conditions and productivity," said Jované Estrada, general manager for Elite Solar Systems, based in Chandler, Arizona.
For more information, visit www.elitesolarsystems.com.