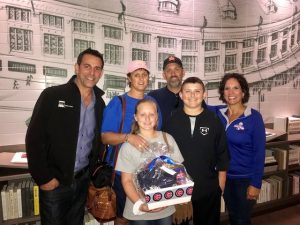 A.C.T. Metal Deck Supply welcomed Jacob Finstad of Dixie Roofing and his family as the Grand Prize Winner of the Cubs & Cruise Chicago Weekend Sweepstakes.
Jacob and his family watched the Chicago Cubs battle the St. Louis Cardinal during the last series of the regular season. They got a pleasant surprise when Tom Ricketts, owner of the Chicago Cubs, was at the host hotel where A.C.T. Metal Deck Supply greeted the family. Mr. Ricketts was informed of the sweepstakes and was kind enough to talk with the family and take a picture, too.
After the game that evening, the Finstad family cruised on Lake Michigan aboard the Spirit of Chicago which included a buffet dinner, DJ and breathtaking views of the city from their window table.
"We had a blast," said Jacob Finstad of Dixie Roofing. "Thank you, A.C.T. Metal Deck Supply for everything!"
The grand prize also included roundtrip airfare to Chicago, transportation, and hotel accommodations at the brand-new Hotel Zachary directly across from historic Wrigley Field.
For more information, visit www.metaldecksupply.com.