Roofing is a rewarding job; it is worthwhile to know someone or something is safer thanks to your work and craftsmanship. Every day across North America, roofing systems are helping keep people, possessions and businesses safe. In 2017, a mission to help heal the children of Louisiana began at the groundbreaking ceremony for Our Lady of the Lake Children's Hospital.
When the hospital opens in the fall of 2019, it will join a statewide network providing families greater access to physicians trained to care for children in more than 25 specialties. The new hospital will also join the Children's Miracle Network, a nonprofit group that relies on donations, community support and fundraising partners. Comprised of 170 hospitals in the United States and Canada, the group treats more than 22,000 children a day, and 1 in 10 children in North America are treated by the network each year.
To help protect such an important building, a high-quality roofing system was mandatory. So, the local professionals from Roofing Solutions LLC were enlisted to identify a roofing system that matched the building owner's requirements: durability, resilience and low maintenance.
Designing the Roofing System
"We were invited to participate in the designing process, and it quickly became more than just a project," says Tupac de la Cruz, the founder and operations manager of Roofing Solutions LLC. "Due to the nature of the building, we needed roofing materials that possessed exceptional strength and a low-maintenance factor to avoid possibly loud disturbances from upkeep."

The system also needed to support extensive foot traffic and aesthetic customizations, according to de la Cruz. Portions of the roof were colored and decorated to reflect the diverse ecosystem of the Louisiana bayou, helping make the view more comforting. This matched internal design elements too, where each floor is designed to spotlight vibrant ecosystems from throughout Louisiana — including woodlands, marshes and coasts — along with animals indigenous to each region.
"The lower section's roof is visible from many of the rooms above. By decorating it, we hoped to create a fun surface that would provide the children a greater sense of ease and calm," notes de la Cruz. "From a professional standpoint, 'resilient' became a distinct qualification in the material selection process."
After conversing with the building owner and HKS Architects, Roofing Solutions LLC decided to install 924,000 square feet of styrene-butadiene-styrene (SBS) modified bitumen for its proven performance, durability, lifecycle value, resilience and low maintenance.
"When we compared the options, modified bitumen was the best choice for the type of application and the performance the owner was looking for," says Lauren Reynolds, the business development manager for Roofing Solutions LLC. "Modified bitumen has stood the test of time and proven its capabilities — especially in terms of strength and function — so the decision was made to install an asphalt roofing system."
Installing the Membranes
The roof system was manufactured by SOPREMA. SOPRA-ISO+ polyisocyanurate foam insulation and a 1/4-inch SOPRABOARD cover board were mechanically fastened to the prepared structural steel deck. The insulation's closed cell structure is bonded to inorganic, coated glass mat facers on the top and underside. The semi-rigid cover board is composed of a mineral-fortified, asphaltic core formed between two fiberglass reinforcing piles designed to enhance the strength and impact resistance of the system and help protect the insulation below.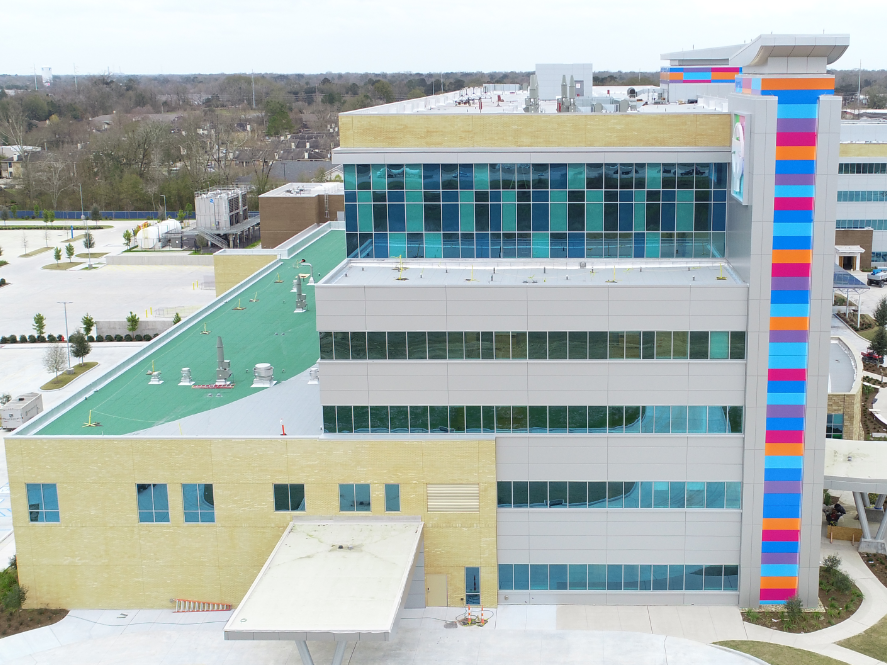 For the base ply of this multi-ply system, a layer of ELASTOPHENE FLAM 2.2 SBS-modified bitumen was heat welded to the cover board. The base membrane is reinforced with a high-quality, random glass fiber mat and is surfaced with polyolefin burn-off film to optimize welding. The asphaltic cap sheet used was ELASTOPHENE FLAM LS FR GR, a fire-retardant membrane that's surfaced with ceramic coated granules.
For the flashings, SOPRALENE FLAM 180 was used due to its dimensionally stable, non-woven polyester mat that adds toughness and durability. The flashing cap sheet selected, SOPRALAST 50 TV ALU, incorporates a high strength glass scrim and the topside is surfaced with a reflective aluminum foil, which is designed to improve UV resistance.
"We felt an asphalt roofing installation would provide the best long-term value and reliability," de la Cruz says. "We worked closely with the architect and general contractor to ensure a proper application of these high-quality materials."
While Our Lady of the Lake Children's Hospital's roof is complete, the entire project will not be finished until the fall. When the hospital officially opens, it will begin helping children from across the state heal.
Recognized for Asphalt Roofing Excellence
For its displays of craftsmanship, Roofing Solutions LLC was honored at the International Roofing Expo by the Asphalt Roofing Manufacturers Association (ARMA) through its Excellence in Asphalt Roofing awards program. The free-to-enter program recognizes outstanding steep and low-slope asphalt roofing projects and contractors from across North America.
"Excellence in Asphalt Roofing allows us to recognize contractors who use asphalt roofing systems to make a difference in their communities," says ARMA's Executive Vice President Reed Hitchcock. "Asphalt roofing's aesthetics, durability and reliability provide peace of mind to building and homeowners alike. We are truly proud that asphalt roofing played an important role in establishing Our Lady of the Lake Children's Hospital."
Submissions are now open for the 2020 Excellence in Asphalt Roofing awards program. To submit your project or to learn more about asphalt roofing systems, visit www.asphaltroofing.org.
About the Author: Chadwick Collins is ARMA's Director of Technical Services. For more information, visit www.asphaltroofing.org.
TEAM
Architect: HKS Architects, Dallas, Texas, www.hksinc.com
Roofing Contractor: Roofing Solutions LLC, Prairieville, Louisiana, http://roofingsolutionsla.com
MATERIALS
Insulation: SOPRA-ISO+, SOPREMA, https://soprema.us
Cover Board: 1/4-inch SOPRABOARD, SOPREMA
Base Ply: ELASTOPHENE FLAM 2.2 SBS, SOPREMA
Cap Sheet: ELASTOPHENE FLAM LS FR GR, SOPREMA
Base Flashing: SOPRALENE FLAM 180, SOPREMA
Flashing Cap Sheet: SOPRALAST 50 TV ALU, SOPREMA