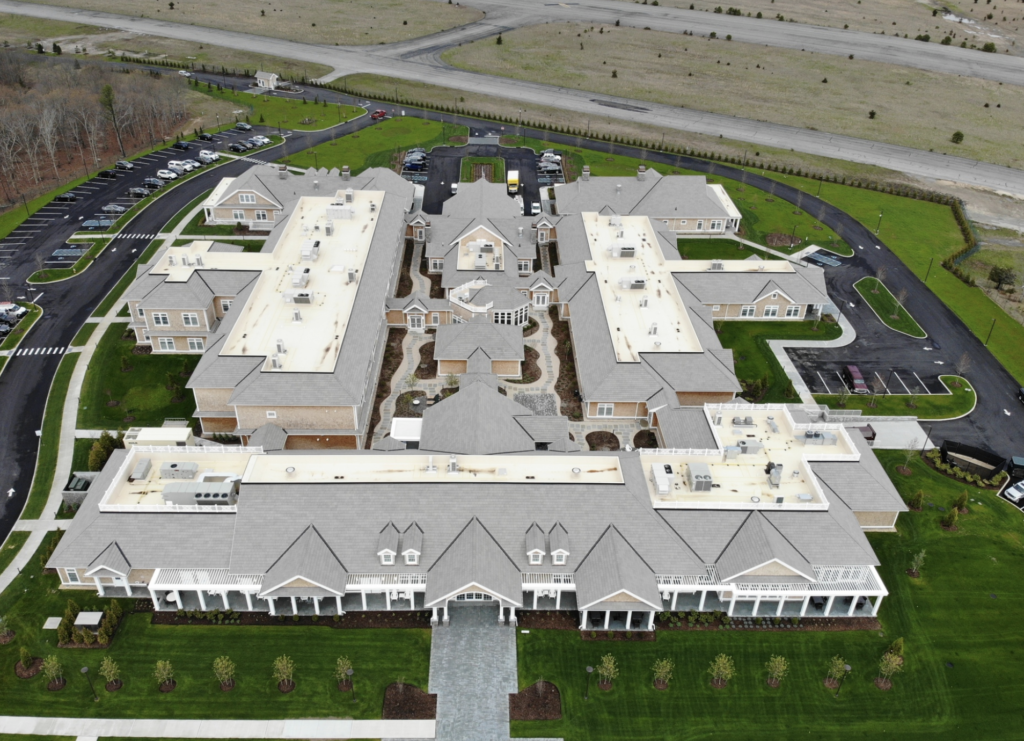 Take exit 69 off the Long Island Expressway, and that's where you'll immediately find the impressive new Wellbridge Addiction Treatment and Research Center. The 96-acre campus in Calverton, New York, consists of six buildings, all of which have composite shake roofing overhead.
Opened in April 2020, the 80-bed facility includes a two-story main building. This structure houses the primary treatment facility, labs, care sections and auditorium. It also has a dining room, chapel and a variety of offices.
The massive main building connects to other buildings via paved garden paths. The campus, which has 134,000 square feet of space, includes a short-term care building, wellness center, creative expression center, and maintenance building.
"We designed this complex with low maintenance in mind," says Ron Whelan, senior project manager for Engel Burman. "The DaVinci Roofscapes composite shake product fits our needs. We want the exteriors of the buildings as easy-care as possible."
"Our company has used DaVinci's synthetic roofing products in the past," Whelan notes. "The Bristal Assisted Living project in Garden City, New York, also features DaVinci's low maintenance roofing tiles. The product looks great at both facilities. I believe it's a beautiful composite roofing product that seems to hold up well to the environment with no fading or other problems."
Largest Project to Date
Soon after the project started, the team at Premier Building & Renovations Corp. was brought in. Their task was to install DaVinci Bellaforté Shake roofing on the structures as they were built. Their work started in February of 2019, and completed 10 months later in October.
"This is the largest DaVinci project we've ever tackled," says Robert Foreman, owner of Premier Building & Renovations Corp. "We had ten people working on this project continually. The Bellaforté Shake product is great to work with. It's lightweight and installs easily."
Premier Building & Renovations is proud to point to this project as an example of the company's outstanding workmanship. "In the five years we've been installing DaVinci composite roofing tiles, we average about three or four major projects a year," says Foreman. "No matter how many roofs we do in the future, this project will stand out for many years to come. The Weathered Gray shake tiles give both a unified and unique look to this complex of buildings. The composite shake tiles look great and provide the owners with the low-maintenance roof they wanted."
TEAM
Designer: Engel Burman, Jericho, New York, https://engelburman.com
Roofing Contractor: Premier Building & Renovations Corp., Farmingdale, New York, https://premierbuildingny.com
MATERIALS
Synthetic Shake: Bellaforté Shake, DaVinci Roofscapes, www.davinciroofscapes.com