When he was designing the Shops at Terravella in Queen Creek, Arizona, Robert Hansen had some overarching goals in mind. Hansen, Lead Architect at SEG Architecture in Scottsdale, Arizona, wanted to design a retail center that was functional and interesting to look at, as well as a complex that embraced the character of the surrounding area. The building envelope would be the key to executing his vision.
"We are flexible and design with context and client in mind," Hansen says. "The town and community of Queen Creek is fast-growing but determined to reflect through architecture their roots of farming and agrarian history. With this underlying direction, we chose simple, durable, functional materials: concrete, steel, brick/block, and wood."
The durable materials were also designed to last. "The solid base of concrete/block systems allowed for long roof spans to make the uses efficient," Hansen says.
The main roof system specified incorporates a PVC single-ply membrane manufactured by Carlisle SynTec. The walls were constructed of a variety of materials including Echelon block and complemented by Petersen's PAC-CLAD Flush metal panels. The crowning aesthetic touch — a water-tower feature at one corner of the complex — was clad in PAC-CLAD Corrugated panels.
The Installation
Installing the roof system, metal wall panels and soffits would be the province of Starkweather Roofing, a full-service commercial roofing contractor tapped for the project by Campbell Development, the general contractor. "We do quite a bit of work with them," notes Starkweather estimator Dave McCarty.
The low-slope roof was installed first. The Carlisle 60-mil PVC was mechanically attached over two layers of 2.2 inch insulation and custom-fashioned tapered crickets. Edge details included 2-foot base flashings and the coping cap, which was installed over Carlisle's 300 HT high-temperature underlayment. "We fabricated the coping in-house and put that up," McCarty notes.
"Safety is the first priority of Starkweather Roofing," McCarty says. "It's safety, quality, production. It's been that day since Day 1. We have a full-time safety officer that's employed by Starkweather Roofing and we also have a company under contract that does spot checks for us. We have every piece of safety equipment that you can imagine, and if something new comes on the market that helps our guys work more safely and efficiently, our owners, Jeff and Diane Starkweather, are all for it. We are 100 percent tie-off. We don't use safety monitors; it's not an option. Our guys go home every day."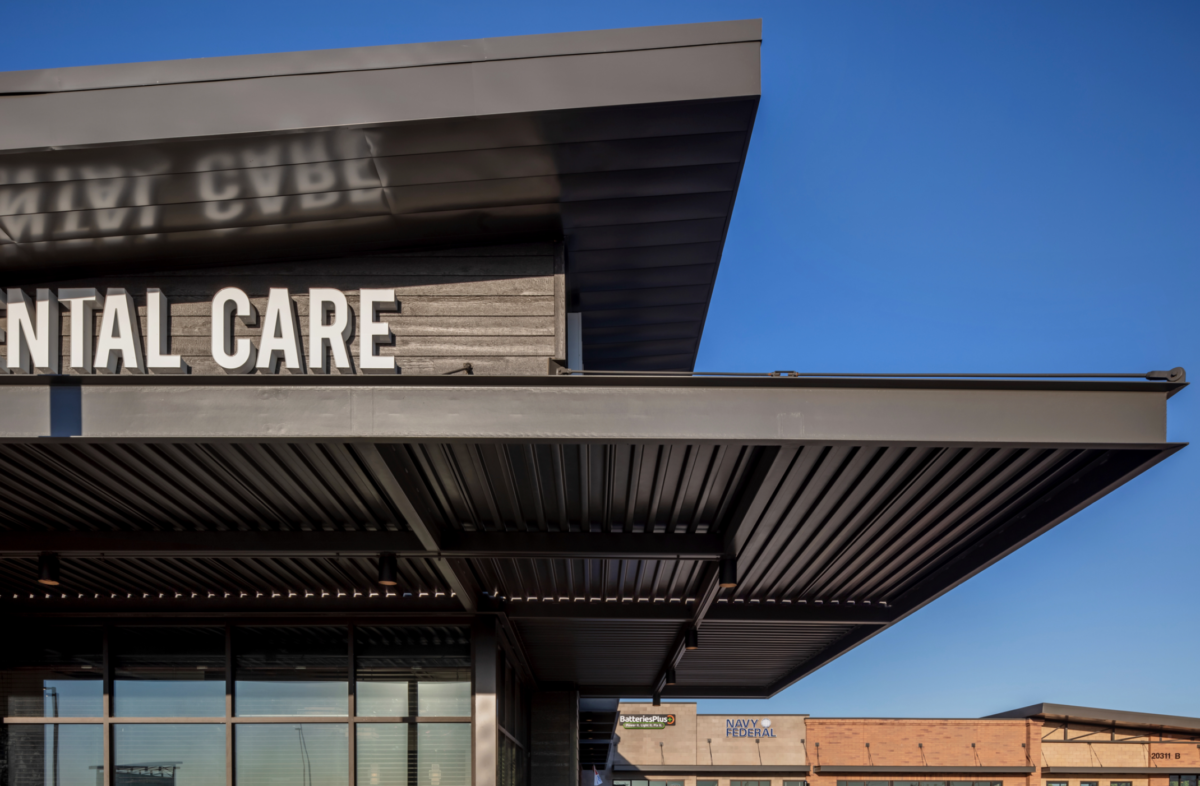 The scope of work for the wall panels included approximately 2,900 square feet of 24-gauge PAC-CLAD Flush panels in Graphite and 1,300 square feet of Petersen PAC-CLAD Corrugated panels, also in Graphite.
Starkweather often roll-forms panels at the site, but not in this case. "We typically just buy coil, but for this project we ordered the panels from PAC-CLAD," McCarty recalls. "If they are longer panels, we will form them on site."
The 12-inch-wide Flush panels were used for both soffit and walls. The Corrugated panels were installed on the art installation designed to resemble a water tower. "That's a popular feature here in Arizona," says McCarty. "It's absolutely hollow on the inside. We did a tapered batten seam panel on the top of it."
Details included tying in the water tower to other wall elements. "Most of it was pretty straightforward," McCarty recalls. "We fabricate all of our own trim. We have an automated brake and shear, so even if we buy panels from PAC-CLAD, we still make all of our own trim. Having that capability of being to make pretty much whatever we need to eliminates a lot of challenges for us."
McCarty credits his company's experienced crews for the smooth installation, despite the many challenging details. "We have the best guys in the valley," he says. "They just adapt and overcome."
Coordinating the installation of the wall panels with other masonry work was crucial. "That's always a challenge for our guys, but we're lucky. We do a lot of work for the same general contractors, over and over again, and they use the same trades, over and over again," notes McCarty. "We have really good relationships with the masons. We bend up a lot of their metal for them, so we make sure it gets put in the right place. It's just a partnership. We pride ourselves on having great partnerships with our general contractors as well. We always want to be the ones coming up with the solution."
TEAM:
Archtitect: SEG Architecture, Scottsdale, Arizona, azseg.com
General Contractor: Campbell Development, Phoenix, Arizona, campbell-development.com
Roofing Contractor: Starkweather Roofing, Phoenix, Arizona, starkweatherroof.com
MATERIALS
Roof Membrane: 60-mil PVC, Carlisle SynTec, carlislesyntec.com
Wall Panels: 24-gauge PAC-CLAD Flush and Corrugated panels in Graphite, Petersen, pac-clad.com