Curved metal roofs allow for unique designs, however installation can often be a challenge. Inspired thinking and teamwork between the architect, manufacturer and installer are critical to achieving a successful artistic vision.
University Boathouse Marries Form with Function
When Stetson University, located in DeLand, Florida, wanted to build a new boathouse to support its rowing teams and house its Institute for Water and Environmental Resilience, they hired architect Preston T. Phillips, principal at his N. Y. firm, Preston T. Phillips Architect. He explains, "From day one, I had this concept of a small building with a curved roof, so it's almost like a canoe turned upside-down." Petersen's PAC-150 180
 Double Lock metal roofing system was specified both for its ability to be curved to meet the desired aesthetic, as well as for its durability. Despite being inland approximately 40 miles, the area still gets heavy winds. Phillips also appreciated the convenience of Petersen's library of online materials when designing the boathouse, "Their website is fantastic – every product has a spec sheet and they gave us all the details right off the website. It was very seamless – one of the best experiences I've had." The metal roofing panels arrived as flat, 70-ft.-long panels, which were then curved onsite by the experienced installers of Sanford, Fla.-based Quality Metals. Phillips shares that the completed facility "is a unique building for them, and it's been met with really high praise – it's such a symbol of being a 21st-century university."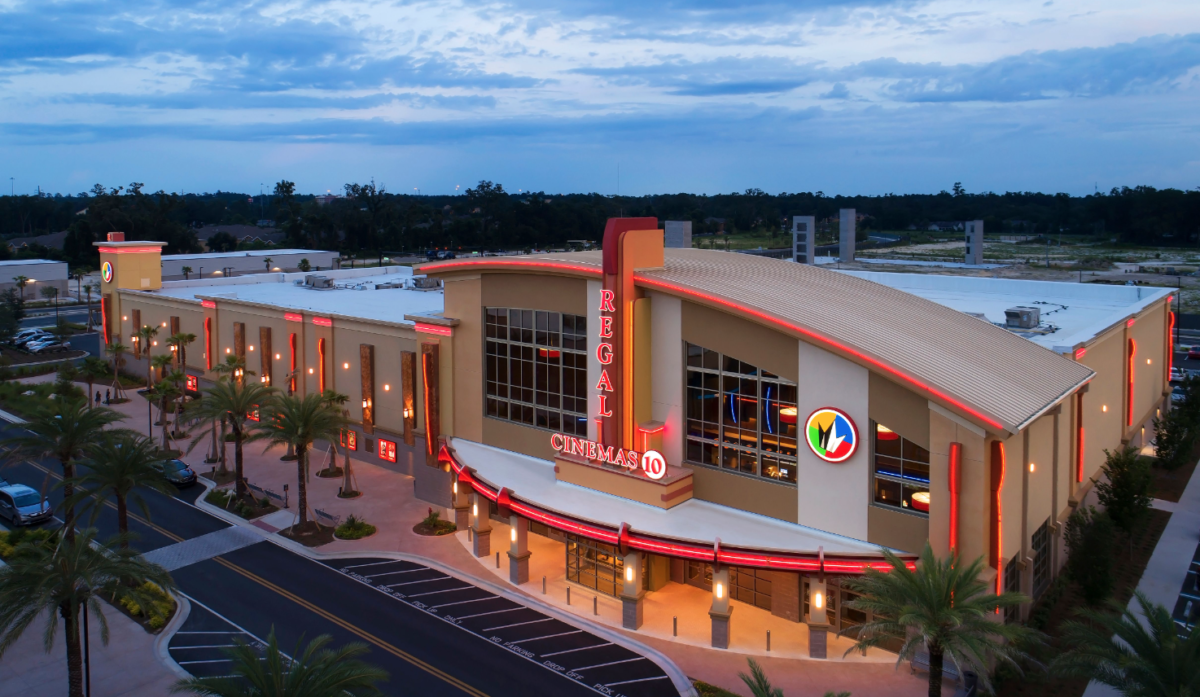 Sweeping Metal Roof Stands Tall Over Mixed-Use Development
Celebration Pointe, a mixed-use development in Gainsville, Fla., is anchored by a 10-screen Regal Cinemas movie theater. Architects with RLS Design Group of Birmingham, Ala., wanted the theater to stand out from the surrounding stores and restaurants, so they designed a sweeping metal roof of PAC-CLAD Tite-Loc Plus panels fabricated and installed as continuous curves. Perry Roofing of Gainsville, Fla., worked with ANCO Roofing Systems of Fort Myers, Fla. to curve and install the roof. Perry Roofing Senior estimator on the project, Austin King, shares, "The metal portion was not very big, but obviously, in complexity it was pretty significant." ANCO Roofing Systems formed the panels' curves, then Perry Roofing used a creative solution to get them up to the roof. "We had to make an engineered assembly that pretty closely mimicked the same arc as the panels," King says. "It was a 200-ft. piece of rigging. We ended up taking up one or two panels at a time."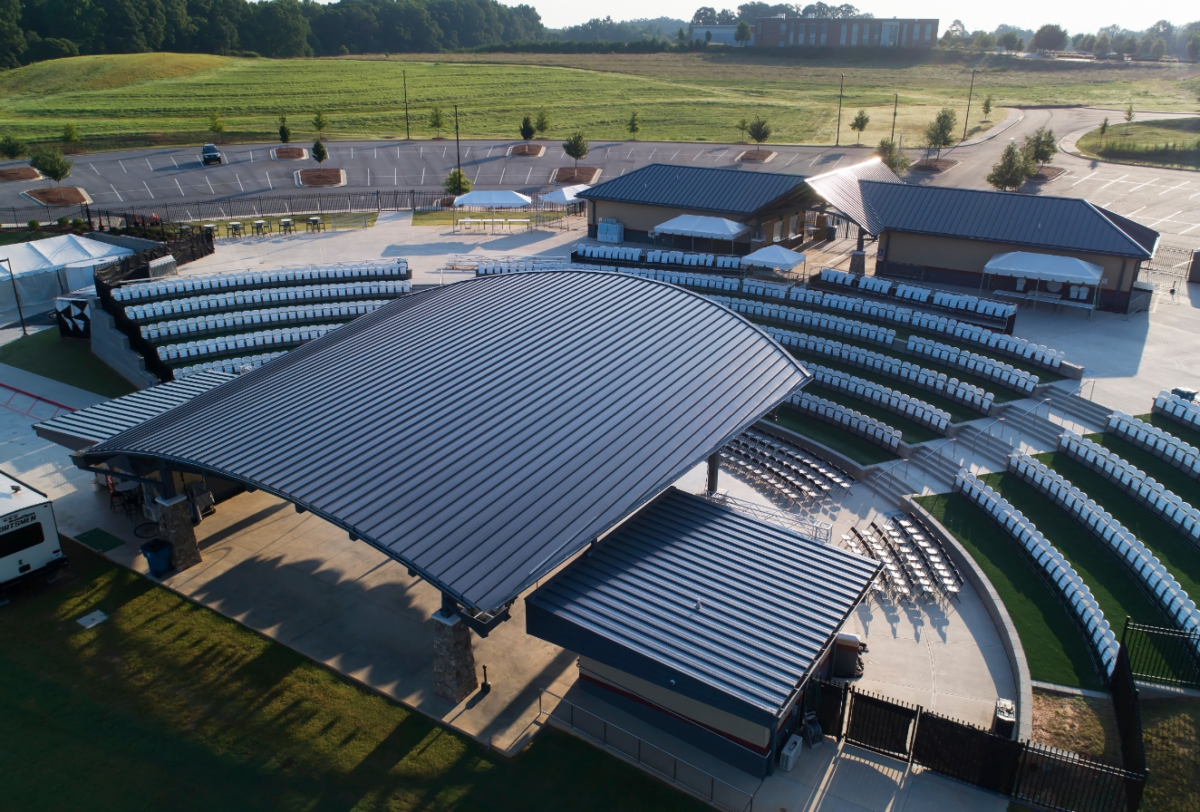 A Curved-Roof Conundrum: Solved
Like much of the Atlanta metropolitan area, Barrow County, Ga., has experienced a huge growth spurt, with its population up by 20% in 2020 over the 2010 census figures. To support a growing population, new amenities are being built, including the Innovation Amphitheater in Winder, Ga. The layout is fairly straightforward, with a ticket and concessions building, featuring a Snap-Clad roof, providing a gateway to the open-air seating of the amphitheater. The stage roof installation, however, was anything but straightforward. Architects with Lawrenceville, Ga.-based Lyndsay Pope Brayfield Clifford designed a clamshell with gently curved Tite-Loc Plus metal roofing panels above the performing space. However, the actual installation proved to be a bit of a puzzle, because the steel structure and roof deck were designed as flat components, which provided no support for the clamshell profile.
Petersen's Dave Landis made a site visit as installer Saco Systems, of Suanee, Ga., was preparing to install the first panel on the stage roof. Landis helped Saco Systems to formulate an installation method using two different types of clips, including 3/8-in. clips that lift the panel off the deck. John Salo, president of Saco Systems shares, "Everything worked according to his plan, and the clamshell design turned out perfectly." Salo also shares that the roof design only allowed for two downspouts, and his team was able to custom-fabricate two extra-large collector heads for the downspouts to prevent rainwater from overwhelming the gutters as it came off the roof. Salo's company often works with PAC-CLAD products and Petersen's Atlanta facility, noting, "The relationship literally spans decades. From the sales staff to the production floor and the field/technical services, the entire regional office is staffed with top-notch professionals."
For more information on PAC-CLAD metal roofing and wall panel systems, to view case studies, and to see our outstanding line of cool colors and finishes, including metallics, wood grain and ore finishes, please visit PAC-CLAD.com. Our representatives are always available to discuss your specific project needs.