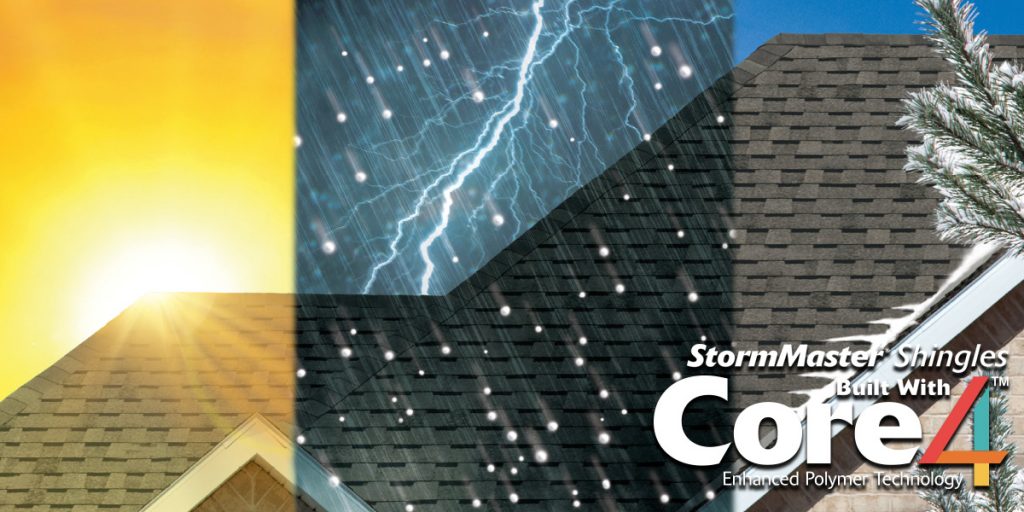 Atlas Roofing Corporation announced the launch of its StormMaster Core4 Enhanced Polymer Technology, which is available exclusively in Atlas StormMaster Shake and StormMaster Slate shingles.
In the early 1990s, Atlas was one of the first companies to manufacture polymer-modified asphalt shingles, known as SBS (Styrene Butadiene Styrene) asphalt technology. According to the manufacturer, Core4 moves beyond SBS to a more enhanced, proprietary polymer technology.
"Atlas has changed the industry benchmark for what an asphalt shingle should be," said Paul Casseri, product manager for Atlas Roofing. "In other words, we just raised the bar really high."
As its name implies, StormMaster Core4 Enhanced Polymer Technology consists of four key features:
1. PolyCore Technology is the science and engineering behind Core4. Made from proprietary enhanced virgin polymers, shingles with Core4 are stronger and longer-lasting, allowing them to perform better with increased consistency and reduced variability. 
2. FlexCore Technology keeps shingles flexible in cold weather. Because of their elasticity, these shingles exceed the industry's standard tear strength by 50 percent and lay flatter during installation so they seal more effectively. They're also less susceptible to tearing and cracking, which can lead to blow offs, leaks and compromised long-term roof stability.
3. WeatherCore Technology gives shingles the durability they need to resist damage from hail and high winds. StormMaster shingles with Core4 pass the UL 2218 Class 4 Impact Rating and offer the highest wind warranty in the industry, with up to a 150-mph wind limited warranty with special application on StormMaster Shake.
4. ThermalCore Technology mitigates the effects of shingle expansion and contraction due to temperature change, also known as thermal shock. Thanks to this enhancement, shingles with Core4 are less prone to thermal stress degradation, which can lead to premature shedding of granules, resulting in accelerated aging and deterioration of the asphalt shingle system. 

"These enhanced polymers, at a molecular level, are more advanced in our StormMaster shingles than in any other shingle on the market," said Stan Bastek, national sales director for Atlas Roofing. 
According to the manufacturer, the proof is in the decades of laboratory and field tests. "Results prove that polymer-modified shingles perform better than standard asphalt technology," Casseri explained. "Our research also shows that starting with a controlled virgin polymer is best versus recycled content, which can adversely affect the shingle's lifespan."
Core4 is available within the Atlas premium StormMaster Shake and StormMaster Slate shingle lines, which provide architectural style along with the durability to stand up to the toughest weather conditions. StormMaster shingles also feature the power of Scotchgard Protector by 3M, which resists the black streaks caused by algae.
"We've been investing in and researching asphalt polymer technology since 1990," Bastek said. "Atlas continues to evolve our products to give consumers long-lasting curb appeal and reliability on their roofs for years to come."
For more information, visit www.atlasroofing.com.