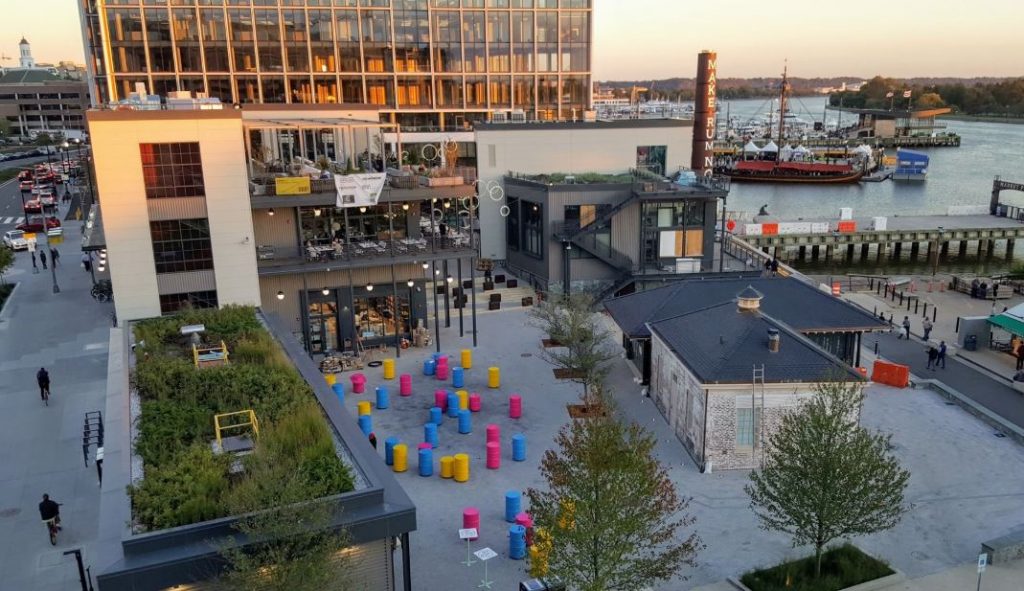 According to the Washington D.C. Department of Energy and the Environment, the District is home to more than 3 million square feet of vegetative roof assemblies (VRAs). A commitment to responsible storm water management has helped the nation's capital rank first among U.S. cities when it comes to green roofs installed. From the massive 500,000-square-foot VRA atop the Douglas Munro U.S. Coast Guard headquarters (featured in the September/October 2018 issue of Roofing) to elegant boutique cocktail bars, VRAs are helping Washington, D.C., manage storm water runoff and providing unique vantage points for taking in national landmarks. The Wharf, in the District's Southwest quadrant, represents a "neighborhood" approach to green roofs.
A riverfront community spanning nearly a mile of the Potomac River, The Wharf is a mixed use, public-private development, including high-end hotels, luxury condominiums, retail shops, commercial offices and even a 6,000-seat music hall. While the design and aesthetics of different buildings at The Wharf project a sense of diversity, VRAs are a unifying element. In addition to providing visual interest and elevated spaces for public gatherings, VRAs help The Wharf achieve its sustainability and water management goals.
Managing Storm Water, Supporting Sustainability
Water has long been a defining element of life in the District, whose neighboring waterways include not only the Potomac, but also the Anacostia River, Rock Creek and Chesapeake Bay. To help manage storm water runoff, the District makes use of a massive cistern system, permeable pavements, and extensive use of vegetative bio-retention supported by VRAs. The District of Columbia's Department of Energy & Environment mandates measures that retain runoff from a 1.2-inch storm event through green infrastructure and capture reuse systems. Specific storm water retention rates are specified relative to a building's footprint.
In addition to helping manage storm water runoff, protected roof membrane assembly (PRMA) systems at The Wharf also help to support the development's sustainability performance goals, which started at the master planning stage. Sustainability objectives supported by The Wharf's VRAs include reducing storm water discharge and improving thermal performance through the cooling and shading properties of soils and plantings — an important consideration in a region renowned for its humid summers. VRAs are also desirable in urban areas for the role vegetation can play in helping filter pollution and providing habitats for birds and other wildlife. Finally, VRAs offer an aesthetically pleasing environment for employees, occupants and visitors.
The Wharf development was designed to achieve LEED Gold, while individual buildings targeted LEED Gold or Silver. Constructed in phases, Phase One opened in 2017 and took nearly 15 years to complete. While the Great Recession slowed construction, an "upside" of the delay was that a proliferation of PRMA assemblies across the District helped inform the assembly of green roofs at The Wharf. Several high-profile buildings that employ similar roofing systems include the MGM Casino, the National Museum of African American History and the National Archives.
A PRMA Approach to Support Performance
More than half of the roofs in The Wharf make use of an Owens Corning PRMA that includes Owens Corning FOAMULAR 404 and 604 extruded polystyrene insulation (XPS) supplied by PPSI Maryland. XPS delivers unique water resistance and strength properties that differentiate it from other insulation products and make it ideal for VRA applications. In fact, the demanding conditions on rooftops helped prompt the National Roofing Contractors Association (NRCA) recommendation to use only XPS insulation for VRA applications. The innate water resistance of XPS helps a roofing system retain its R-value and energy-saving power while retaining its compressive strength to bear a significant amount of overburden. Strength is critical in a PRMA application, as the insulation must be able to withstand the weight of vegetation, rainfall, growing media, pavers and surrounding surface materials.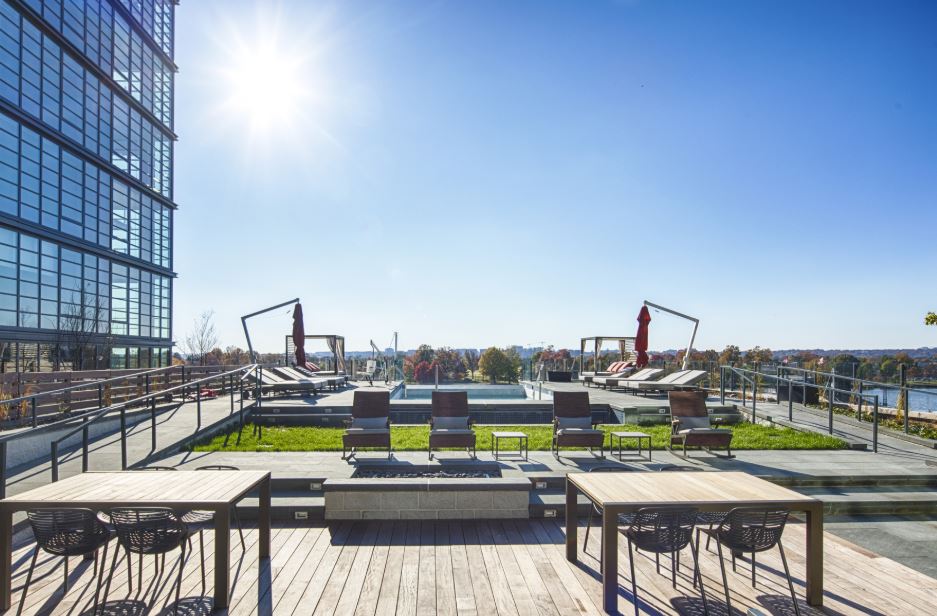 At the highest levels, the rooftop plants and vegetation help serve as a giant sponge to absorb the rainwater. In a PRMA roof, insulation under the plant layer, growing media and filter/drainage layer is placed above a waterproofing layer which directs water horizontally to a series of overflow vaults. A network of massive 700,000-gallon cisterns throughout the District collect and control the release of water.
In addition to water, wind was another consideration when planning VRAs at The Wharf. Rock curbs from Hanover Architectural Products help mitigate against winds coming in off the riverfront. Other roofing materials that help The Wharf PRMAs achieve performance include waterproofing membrane 790-11 Hot Rubberized Asphalt by the Henry Company, EMSEAL expansion joints to tie together air barriers, and Hanover Architectural Products pavers and sedum mats supplied by Sempergreen.
Contractor Coordination and Communications Are Key
As a community-focused development, The Wharf celebrated its grand opening with several public events. Hometown rock band the Foo Fighters performed for a sellout crowd at the Anthem music center on October 12, 2017. The enormous task of completing multiple buildings against a very tight timeline was a challenge felt by all of the contractor trades on site, according to Brian Davis, general superintendent at James Myers, the roofing contractor charged with installing green roofs at The Wharf. The immensity of the project required careful scheduling and logistics among roofers and other trades. Teams worked throughout the night and seven days a week as Phase One approached completion.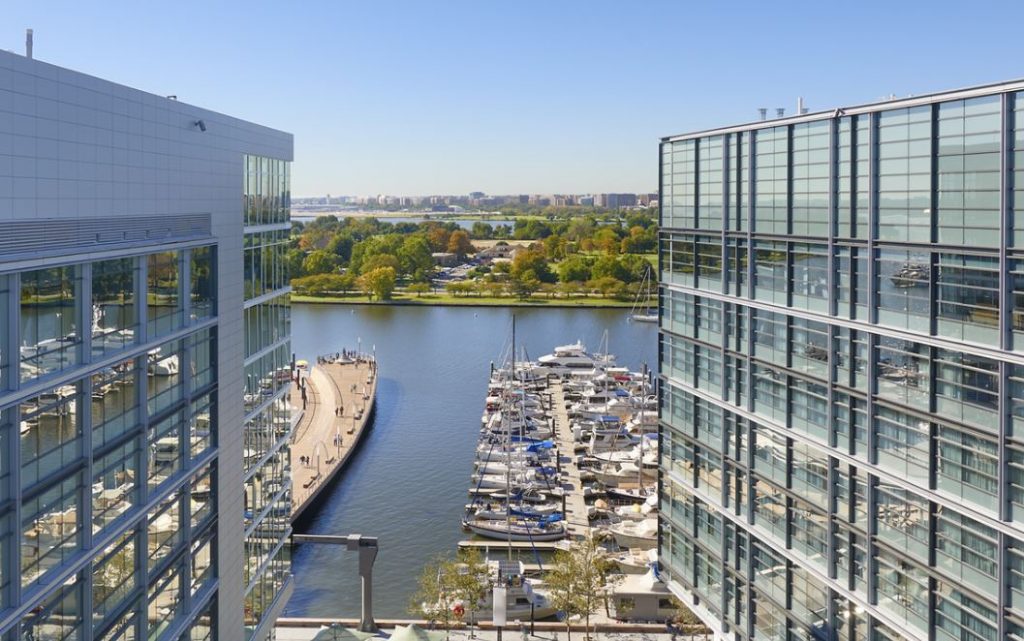 As the countdown to the October 12 grand opening approached, construction teams followed tight schedules outlining exactly what team members would be working in what area at a particular time. The logistical demands of building nine buildings over six blocks made traffic bottlenecks an ongoing challenge throughout the project. Scheduling details had to consider not only the District's notorious rush hour traffic but also events and attractions in the area. For example, the Washington Nationals baseball team played a number of weeknight baseball games at home. Trades working on The Wharf were required to clear the streets three hours before the first pitch of each Nationals home game. While navigating event schedules and a tight construction schedule, contractors also had to maintain high levels of safety and quality.
The public event commemorating the completion of Phase One celebrated a one-of-a-kind public space winding along one of the nation's most historic riverfronts with an epic rock concert. More quietly, the completion of Phase One celebrated Washington's role as a leader in the installation of VRAs while helping the District achieve sustainability goals and comply with storm water management mandates.
MATERIALS
Insulation: FOAMULAR 404 and 604 extruded polystyrene, Owens Corning, www.owenscorning.com
Waterproofing Membrane: 790-11 Hot Rubberized Asphalt, Henry Company, www.henry.com
Expansion Joints: EMSEAL, www.emseal.com
Sedum Mats: Sempergreen, www.sempergreen.com
Pavers: Hanover Architectural Products, www.hanoverpavers.com