The UNIROOF 700 automatic roof welding machine, developed at Leister Technologies AG in Switzerland, is designed to effortlessly weld thermoplastic membranes on flat and inclined roofs (up to 30 degrees). The UNIROOF 700 offers one-of-a-kind features including the Leister Quality System (LQS), Monitored Welding Assistant, Recipe Management and more. LQS is the advanced technology that gives contractors complete control of key welding parameters (speed, temperature and air volume) while documenting the welding process as an auto-generated data report. This service is referred to as "LQS Roofing" and can be used via the myLeister app.
LQS records data from each welded seam and transfers information to a mobile device utilizing the myLeister app. Users synchronize the data to a cloud-based account where the report containing key welding data can be reviewed, saved and shared as a PDF or CSV file. This allows contractors the opportunity to further validate the quality of their workmanship, setting them apart from their competition and establishing a new standard in quality assurance across the industry.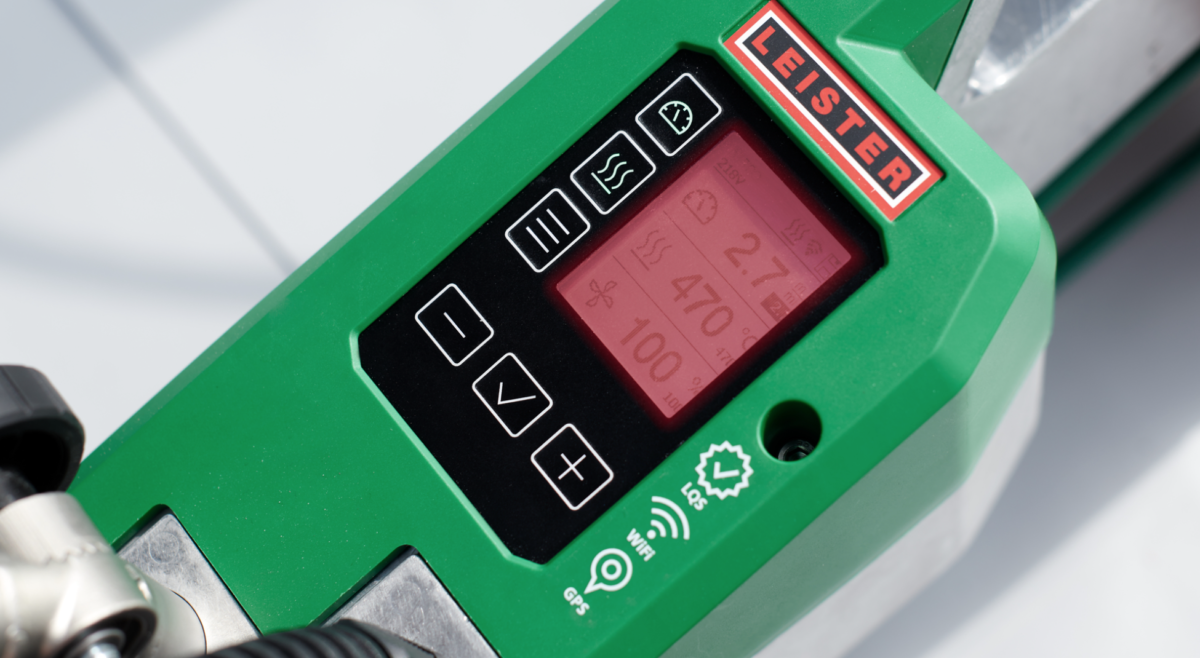 The Monitored Welding Assistant increases quality assurance in real time: The electronic assistant instantaneously issues an acoustic warning sound and the digital display flashes in bright red if the actual welding parameters deviate from the set welding parameters. This feature allows the operator to take immediate corrective action, which includes weld quality inspection, checking machine operating status and ensuring proper welding conditions. As an additional protective measure, the available Stop Device on Alert feature will automatically initiate machine shutdown if corrective actions are not taken.
In addition to the factory pre-set parameters available in the UNIROOF 700 menu, owners can create, store and transfer custom welding parameter recipes from within the myLeister app. Depending on material and ambient conditions, recipes can be easily accessed and changed from the display menu. After selection, Leister recommends performing test welds to verify weld quality.
Features of the UNIROOF 700 include:
Documented weld quality utilizing LQS and the LQS Roofing Service (free trial)
Improved quality assurance by means of the Monitored Welding Assistant
Manage custom welding recipes via the myLeister app
Power management system for consistent welding results, even in certain undervoltage conditions
Enhanced nozzle design to ensure uniform results under a greater range of speeds and temperatures
ECO Mode: Saving up to 30% on energy consumption
LiveView via myLeister app to check the welding parameters on your smartphone or tablet
Software updates, making the UNIROOF 700 a safe, long-term investment
LEARN MORE
Visit: leister.com/en/product/Uniroof-700
Call: (630) 361-9027