A place for community, friendship, worship and belonging are important characteristics for Fellowship of the Parks, an expanding church in Fort Worth, Texas. Members and visitors have been gathering in the area since 2017, but not every community location has had access to a physical place to call their church home. As Fellowship of the Parks continued to welcome new members into their group, additional campus facilities were needed.
After building locations for multiple campuses in several neighborhoods throughout Fort Worth, the newest campus was founded in the Northlake/Justin area. The goal was to successfully erect a building that would welcome people from all walks of life and give them a chance to worship together in a warm and inviting environment.
Calling on a Group of Experts
Fellowship of the Parks aligned their goals and visions for their facility with the expertise and knowledge of MBCI and Red Dot Buildings, who have been taking on projects together for decades. As a custom-engineered metal buildings provider, Red Dot Buildings has a longstanding relationship with MBCI and has been purchasing building supplies from the company for more than 20 years. "We buy most of our materials from MBCI. They provide the materials on time, and all the material comes out looking great. They're easy to work with. If we have any issues, we call them, and they're responsive," said Steve Jay, regional sales manager at Red Dot Buildings.
MBCI is a trusted partner for metal building projects of any scope and size all over the country. Delivering high-quality metal building components with 45 years of expertise in metal roof and wall systems, MBCI has a reputation for reliability throughout the Texas construction industry. "They have excellent products. Their quality is always consistent," said Gaylen Laing, principal architect at Gaylen Howard Laing Architect, Inc. (GHLA), who served as project designer. "[MBCI's product] is very dependable when you get it out on the site. What we draw is exactly what can be built when we get there," said Laing.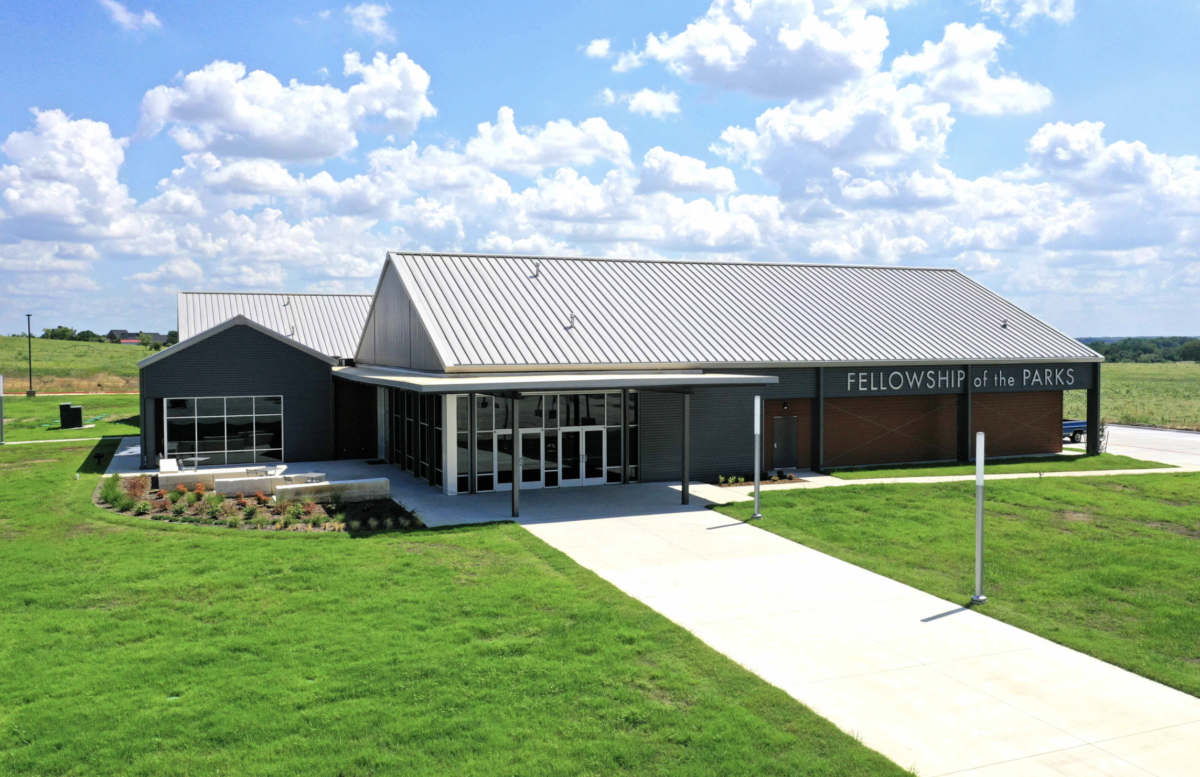 In order to accomplish the special layout for Fellowship of the Parks, crews combined multiple metal buildings in a modular fashion, creating hallways and common spaces in between – all under one roof – allowing the facility to provide appropriate space where needed in a configuration that worked for a house of worship. Working with metal buildings also kept the project well within budget and schedule.
"It's eight pre-engineered buildings attached to four conventionally framed structural components," said Matt Lewis, director of engineering at Red Dot Buildings.
This creative approach to construction provided 19,055 square feet for the building and a worship center built to seat 300, ready for worship services, gatherings and community activities.
Design, Direction and a Little Courtyard Inspiration
"We decided that we didn't want just one giant metal building, so we then thought of the campus as sort of a little village of small, interconnected metal buildings," said Laing.
"By nature of turning the buildings in different directions, we could minimize the overall scale of the project to something that really felt very homey. We arranged all the clustering of buildings around a courtyard in the center," said Laing. Connecting multiple buildings to create one single facility presented a unique set of difficulties; however, the difficulties were overcome by the experience and expertise of the partners involved.
"The design program we use is called MBS and it allows us to combine multiple pre-engineered metal buildings (PEMBs) into one," said Lewis. "It does a lot but can't do everything. What we can't do is designed by an engineer by hand and added to our 3D model in a program, Tekla Structures."
"[Fellowship of the Parks] came to us because we've done several campuses for them," said Laing. "All of them have been more traditional commercial construction types. We've not done a metal building type of campus before. They brought the idea of doing metal buildings to us because it can be done faster than what a typical time period would be for traditional construction methods."
Although timelines were tight, Laing and Fellowship of the Parks did not compromise on the facility's aesthetic. They strategized to make the church look as open and inviting as possible.
MBCI Products Lead the Way
To capitalize on the open and inviting aesthetic, MBCI provided SuperLok® panels in Ash Gray for roofing. SuperLok is a mechanically field-seamed, vertical leg standing seam roof system that combines a 2-inch tall slim rib with exceptional uplift resistance.
"MBCI has a wide variety of panels and options to choose from. Also, their website is the best in terms of getting all the information you need on a panel on one page," said Lewis.
For climates that experience extreme weather conditions, such as the Texas high heat and hard freezes, SuperLok is the perfect option.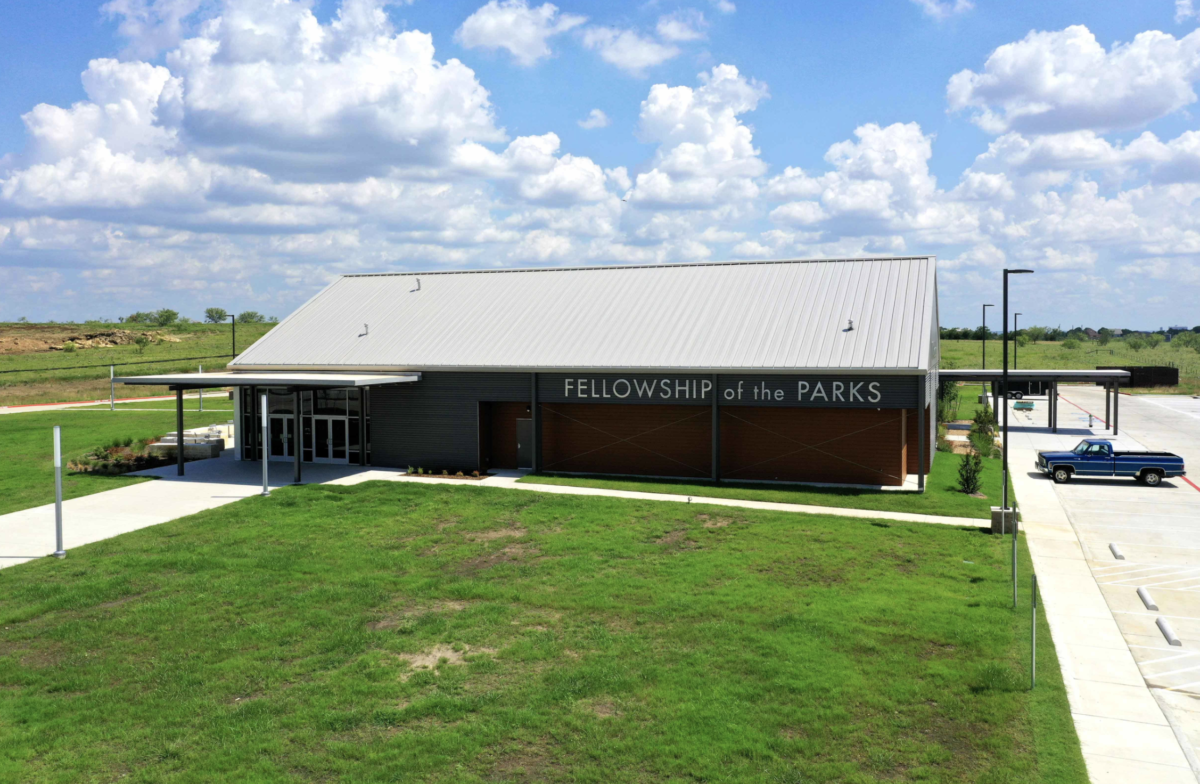 When the panels are installed, "there's a mechanical seamer that runs down the lap and rollforms the male and female leg together," said Bruce Green, general manager of componentized buildings at MBCI. Crews can install SuperLok panels directly over purlins or bar joists. These panels do not need a solid substructure for support. Green explained, "You can get a 20-year weathertightness warranty on this panel that essentially says it won't leak for 20 years and we guarantee it if it's installed correctly."
In addition to SuperLok panels for the roof, MBCI also provided PBU panels for the exterior walls. PBU panels are throughfastened panels that can be used in either roof or wall applications.
"The coverage is 36 inches … You put [the sheet] up against the wall, put a screw through it, and attach it. It's a pretty simple program," said Green.
PBU panels are durable, flexible and cost effective. With a wide range of color availability, these panels help designers accomplish a wide variety of aesthetic appearances for their buildings without sacrificing quality or budget.
Fellowship of the Parks, in collaboration with the architect, sought out MBCI's PBU panels in Ash Gray for what they could bring to the project in terms of appearance and durability.
"We specifically picked those out because of the shadow profile that we could get and the scale of the material," said Laing. "We decided to celebrate the fact that it was a metal building and not try to make a metal building look like it was something else. We let the structure be exposed in many areas. We just let it be what it was and worked a new design aesthetic around these metal buildings being just what they are."
Fellowship Finds Its Place
Because Fellowship of the Parks aimed to have the completed project turned around in a quicker-than-usual timeline, metal buildings ended up being an excellent solution.
"The speed at which the buildings went up was very fast. We could get them 'in the dry' much sooner than we could with conventional structural systems — that means we could continue to do work for the electrical and mechanical systems very quickly," said Laing. The project was completed on time and on budget.
In the end, both members and visitors of this new Fellowship of the Parks campus have enjoyed the innovative layout of their new facility. Though not built like a traditional church, the Fellowship of the Parks facility provides the same support and purpose for its community.
"It created a unique design that we've never done before," said Laing. "We were very pleased with it … and our client was very pleased."
Fellowship of the Parks took ownership and moved into its new building at the Northlake campus on Easter Sunday 2021, welcoming its community to a place where they can belong.
For more information, visit MBCI.