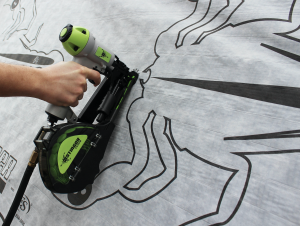 National Nail announces the newly-upgraded 18-gauge STINGER CS150B Cap Stapler with an enhanced design that improves performance with easier loading, longer tool life, and tool-free adjustable exhaust. Shooting 200 caps and 200 staples before reloading, the versatile cap stapler now also provides a wider range of operating pressure (up to 120psi) which makes it ideal for installing roofing underlayments, house wrap, and foamboard.
"We listened to our contractors to make several enhancements to the STINGER CS150B that make the tool even more efficient and easier to use over a longer period of time to meet the expectations of time savings on each job," said Roger Szotko, STINGER Product Manager, National Nail.  "Beyond that, the CS150B offers the same lightweight, compact design that reduces arm fatigue and with fewer stops to reload."
The Stinger CS150B shoots 5/8-inch, 7/8-inch, 1-1/4-inch, and 1-1/2-inch length 18-gauge staples with full 1-inch plastic caps. It also includes an installed belt hook, trigger with bumpfire and sequential modes, and durable carrying case.
For more information, visit www.stingerworld.com.