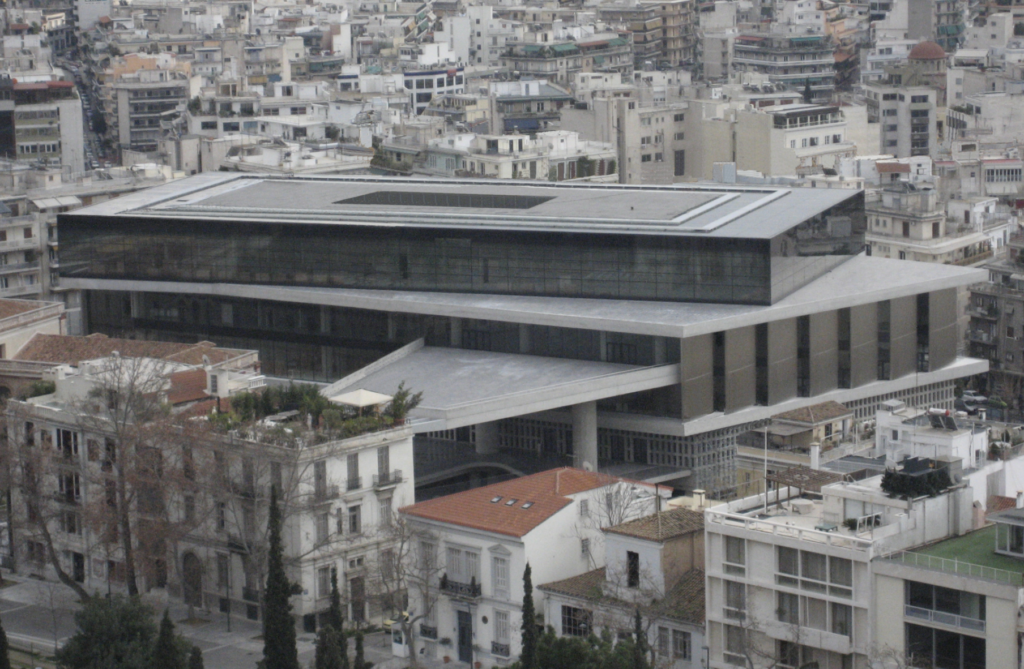 A museum built atop ancient artifacts reflecting human activities from the Greek Bronze Age to Roman and Byzantine Greece. A crescent-shaped design center sheathed in a copper/aluminum alloy. A paper mill that is home to the world's largest newsprint press, producing enough paper to cover 120 km of three-lane motorway every hour.
Each of these buildings presented a common dilemma for designers and contractors: How best to protect what's inside? The high-value products and processes these structures house span centuries — from ancient scrolls to high-speed presses. But despite the buildings' varied purposes, one material protects them all — cellular glass insulation.
Long trusted in Europe for its endurance and performance, cellular glass insulation is valued for a spectrum of performance criteria. These attributes include outstanding compressive strength, a moisture-impervious profile, redundancy, dimensional stability, fire resistance and sustainable composition. Collectively, these qualities provide a roofing insulation designed to weather the stressors of time, toil and the elements.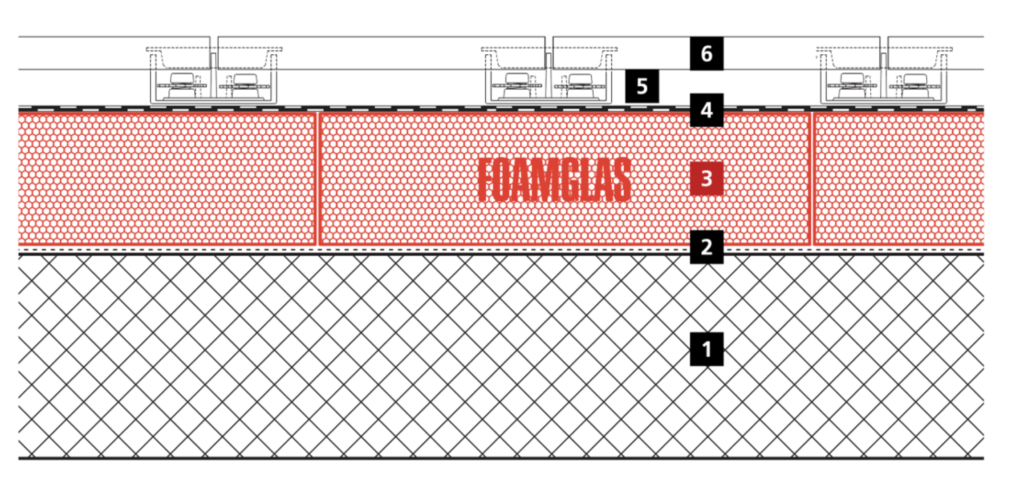 Below, we take a virtual journey "across the pond" to understand how cellular glass insulation is protecting timeless treasures with modern-day processes. Returning to America, we consider how this material has found a home in the New World and consider how cellular glass can help ever-industrious America protect mission-critical buildings.
New Acropolis Museum, Athens
Standing as a model of "living history," the New Acropolis Museum's collections allow visitors to experientially move through human civilization from prehistoric times through late antiquity. A window onto an archeological excavation area below the floor connects modern-day discovery with ancient artifacts preserved beneath the museum.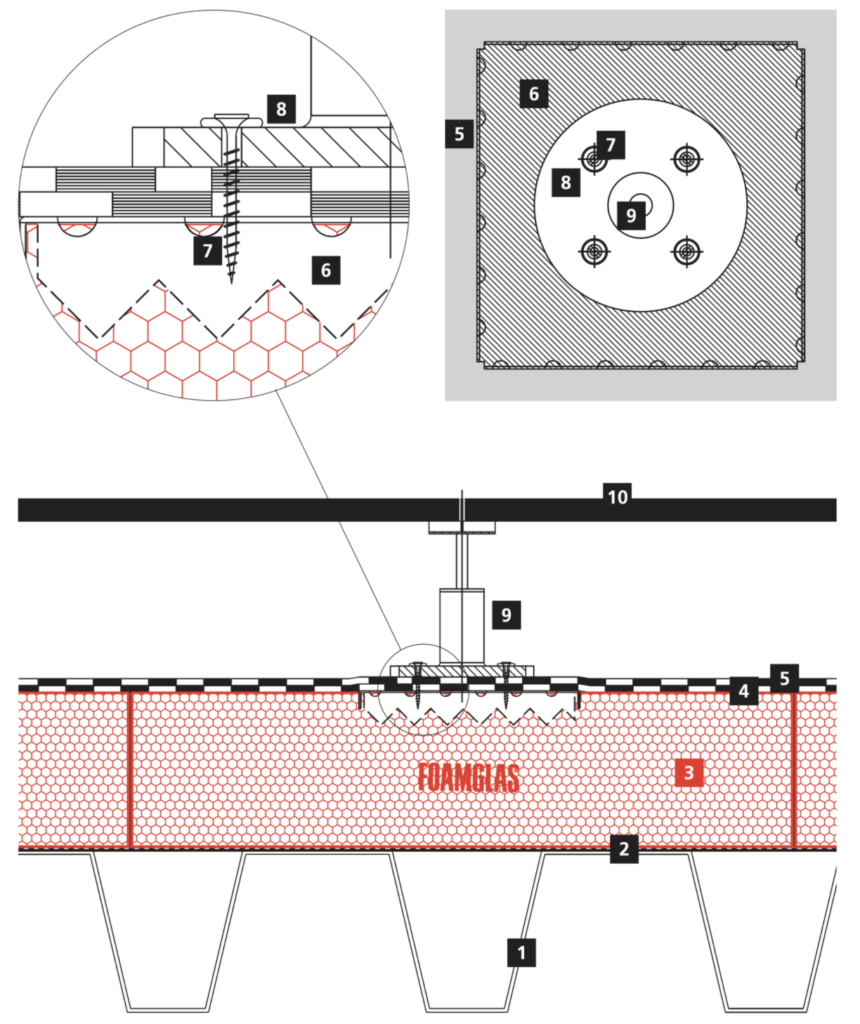 Comprised of a base, middle and top level, the museum takes the form of a cube. Viewed from the Acropolis perched above, the flat FOAMGLAS roof complements the geometric ethos of the design. Above a base level that allows viewers to watch excavation activity in real time, the middle level is a double-height trapezoidal plate accommodating galleries from the Archaic period to the Roman era. The top level is made up of a rectangular Parthenon Gallery. The gallery features a glass enclosure allowing natural light to show off sculpture while providing breathtaking views.
The cellular glass insulation in the main roofing system is placed atop a metal roof deck that includes a bitumen-based primer under FOAMGLAS tapered and fully adhered insulation. The insulation is placed below a layer of hot bitumen and two layers of waterproofing membrane which are reinforced with polyester material and covered with an embedded protection course. This surface is connected with a FOAMGLAS serrated plate, screw and rubber air- and water-sealing gasket ring to a support structure underneath non-transparent glass.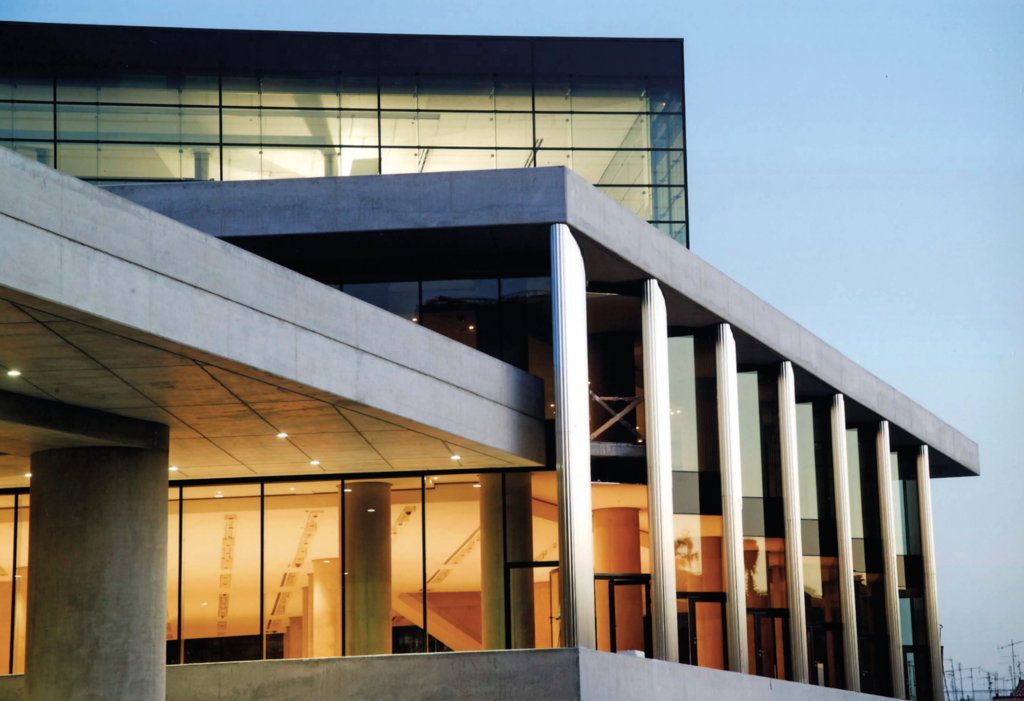 Marc Clynhens, Technical Director for FOAMGLAS and based in Belgium, was on the jobsite during the installation of the roof system. Installed during Greece's scorching summer weather, the material was easy for workers to handle on the jobsite, according to Clynhens. "FOAMGLAS is a very rigid material, but it is easy to cut into shapes to complement a building's unique design," he says. For example, a dome sitting atop the roof of the Qatar National Museum required cellular glass insulation to be precisely cut to create the specific domed shape.
Of course, every project has a few unexpected challenges. While lightning protection was being installed in the New Acropolis Museum, drilling through the cellular glass insulation punctured the waterproofing layer and was sealed with silicone instead of the sealant specified by the roof membrane manufacturer. Clynhens notes this turned into a "teachable moment" for the crews. Quick troubleshooting and a revised detail resolved this issue. A conduit was installed to attach the lightning protection system.
A few other "aha" moments that had to be managed on the jobsite were slight deviations between drawings and the actual roof measurements. This is a quite common occurrence on jobsites, and as cellular glass insulation is easy to cut, adjustments can be easily made to address these deviations. The tapered roof system is well known in Europe. The FOAMGLAS team often recommends tapered insulation to reduce the weight of the roof and ensure drainage, just as we would in the United States. Since the substructure was flat, the team had to slope the insulation to meet the design of the museum's top glass layer.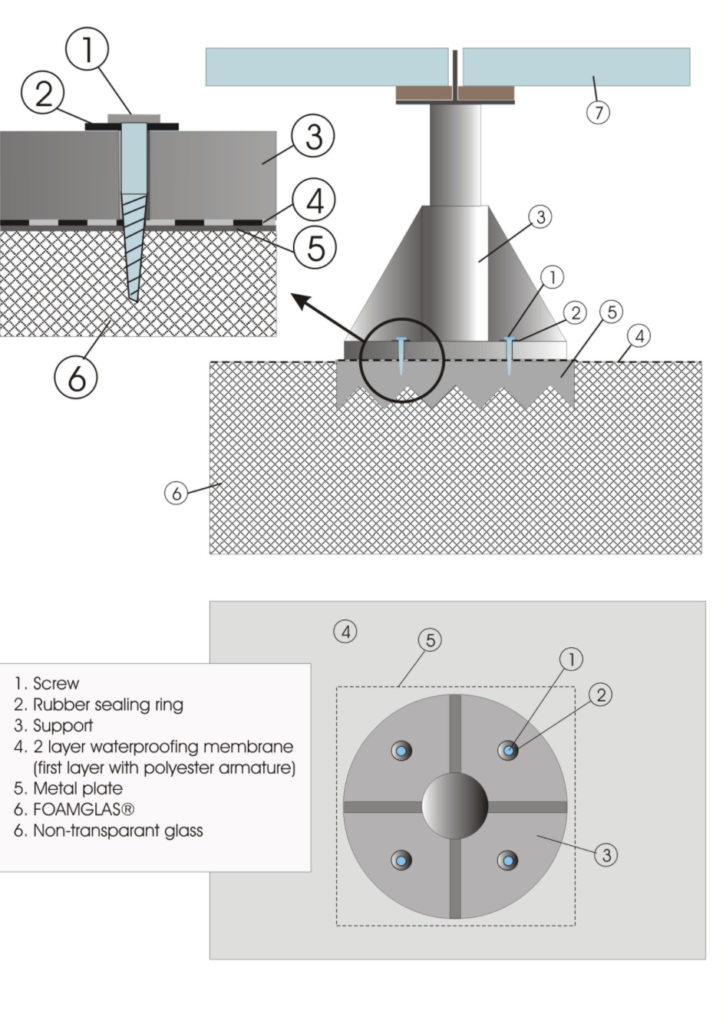 Even low-profile materials support the assembly's performance. Bitumen — a sealing and adhesive membrane material of choice since the 1960s — attaches the cellular glass insulation to the rest of the membrane. This material also complements reuse of FOAMGLAS in the future – for example, if building codes require modification to materials or if waterproofing membranes are replaced. Clynhens notes it is relatively easy to peel off the membrane from the FOAMGLAS, pour a new level of bitumen, and reattach the original insulation to the new membrane.
Europe has long been a leader in sustainable building, and the 60 percent recycled glass in FOAMGLAS supports this performance quality. Processes on the jobsite also support sustainability, with the goal always being to generate as little waste as possible. For example, Clynhens notes that FOAMGLAS production waste materials that cannot be recycled in the production process are remixed into clay for bricks.
Firstsite Design Centre, Colchester, United Kingdom
Located in Essex, about 90 minutes from London, the Firstsite Design Centre presents experiential contemporary art while paying homage to the rich artistic legacy of the local landscape. While studio and gallery spaces host workshops, lectures and events, the centerpiece of Firstsite is the Berryfield mosaic, an ancient artifact discovered in 1923 on the site where Firstsite stands. The mosaic — installed in a glass case built into the floor — was originally part of a Roman townhouse, circa 200 A.D. To protect the ancient artifacts underneath, Firstsite was erected on a concrete raft foundation, requiring no deep excavation.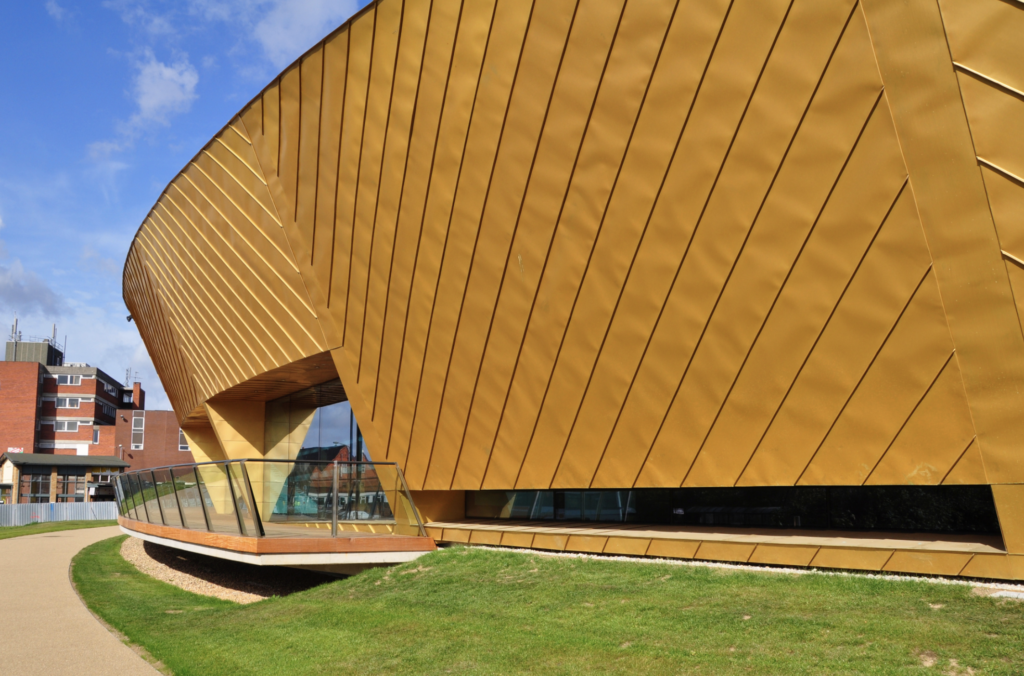 While much of the site's intrigue is underground, above-ground design elements — especially the roof — are pretty remarkable. FOAMGLAS insulation was laid onto beads of a cold adhesive on the metal roof deck with no through fasteners. Square plates for mechanical attachment were pushed into the insulation and a torch-on membrane was applied. Additional metal grips were screwed through the bitumen membrane into the metal plates below, providing the structure onto which the standing seams of Tecu Gold Sheets (a copper and aluminum alloy) could be folded and mechanically attached.
While cellular glass insulation provides a completely waterproof roof, it is also part of the intriguing façade. A FOAMGLAS slab of 100 mm was applied and adhered to the center's plywood substrate, enhancing the façade's resilience, while the Tecu Gold Sheets were seamed and fixed into position help achieve the aura of a golden glow.
Stora Enso's Langerbrugge Mill, Belgium
One of Europe's largest paper mills, Stora Enso's Langerbrugge Mill in northwestern Belgium produces 540,000 tons of recycled paper annually and houses the world's largest newsprint machine. The company is also a leader in renewable materials that replace fossil-based resources. In 2019, the company announced a pilot facility for enabling the production of bio-based plastics and, in 2020, the facility found a way to recycle used paper cups that will cut the carbon footprint of disposable paper cups by a compelling 50 percent.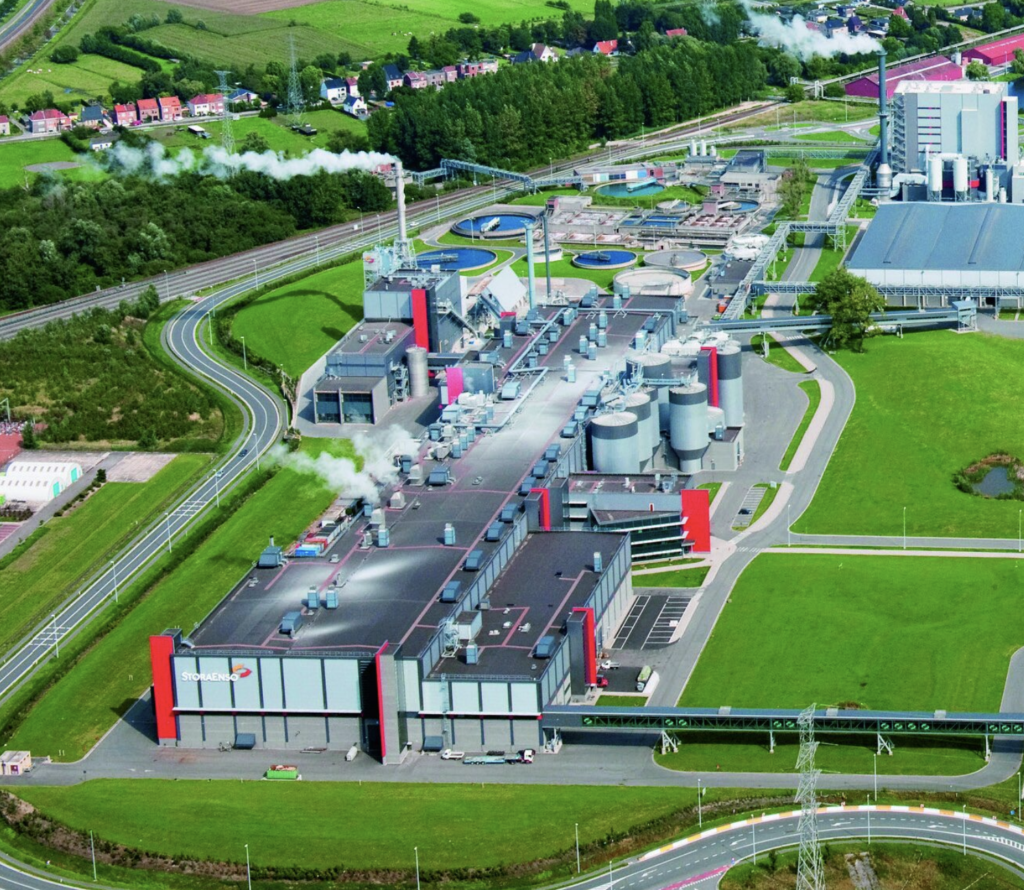 The FOAMGLAS cellular glass roof topping the 22,000 m2 (236,806 ft2) area of flat roofs at the Langerbrugge Mill aligns with the company's investment in ecologically responsible activities. From a sustainability perspective, cellular glass insulation is manufactured using more than 60 percent recycled glass. Totally inorganic, FOAMGLAS contains no ozone-depleting propellants, flame retardants or binders, and is free of volatile organic compounds. Sand is the primary ingredient used in the manufacture of cellular glass, along with some other ingredients, including limestone and soda ash.
Compressive strength is another consideration in the industrial environment. The Langerbrugge Mill's rooftop supports mechanical and electrical equipment that demand extreme loadbearing capacity. The lowest compressive strength of this type of cellular glass insulation is in the range of 50-70 PSI and can go much higher. High compressive strength complements its dimensional stability. The pure glass composition provides a low coefficient of thermal movement, comparable to concrete and steel. Such stability means there is no warping, dishing or shrinking of the insulation, even as the temperature fluctuates over seasons. Cellular glass provides a stable foundation for the roofing membrane, minimizing the stress arising from constant stretching that can allow a membrane to deteriorate over time.
Industrial operations present considerations when it comes to fire and moisture resistance as well. Noncombustible, cellular glass does not burn, spread fire, produce flames or present a fire risk in the building structure. Printing and biomass processes create a high vapor pressure, which cellular glass is well-suited to manage, given its ability to manage moisture.
The "layered" roof assembly consists of a prefab concrete slab, concrete topping, adhesive primer, cellular glass insulation fully adhered and sealed at the joints with hot bitumen, and two layers of bituminous waterproofing to complete the roof.
Stateside Proven Performance
In Europe, where space is limited and humans have been building for millennia, cellular glass insulation has earned a reputation for its endurance. But its qualities are not without precedent in North America. Cellular glass's performance attributes captured attention in the mid-20th century, but fell out of the spotlight as less-expensive foam products were introduced. However, when considering the longevity of FOAMGLAS insulation across a building's life and its ability to maintain performance in harsh conditions, FOAMGLAS could potentially be a more economical choice than less-expensive insulating options.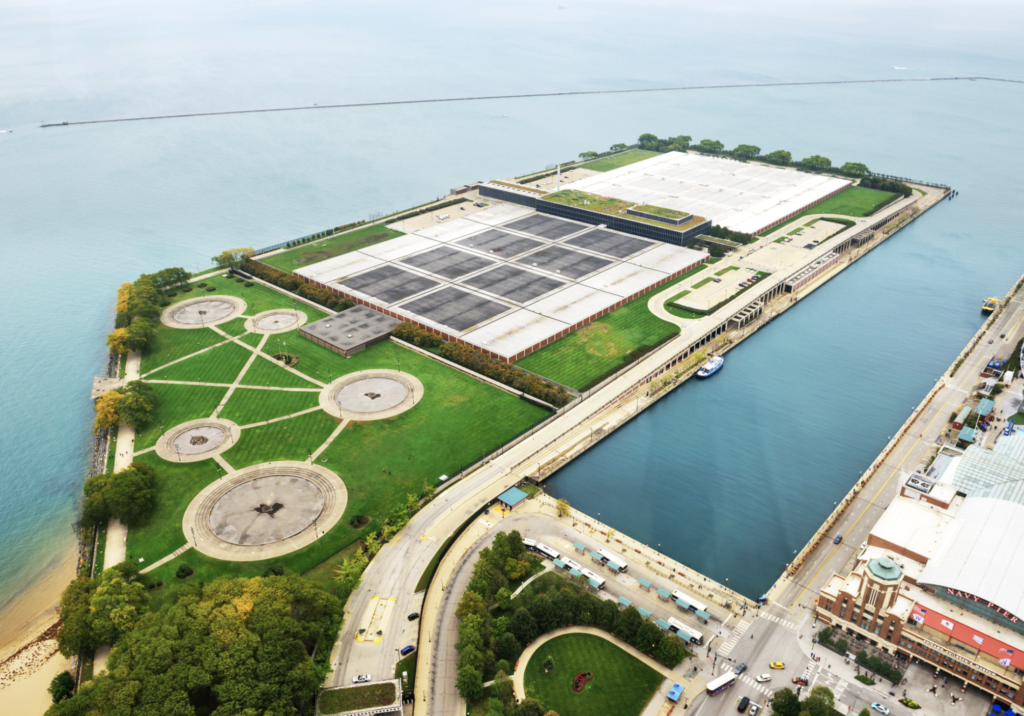 Still, for mission-critical projects, cellular glass insulation has been a trusted material for projects ranging from the roof of a Chicago water treatment plant processing one billion gallons of water daily, to the rotunda in New York City's iconic Guggenheim Museum.
The longevity of cellular glass was exposed, literally, during a re-roofing of the Jardine Water Purification Plant next to Chicago's Navy Pier. Each day, the plant processes almost a billion gallons of water (that's about a million gallons per minute) from Lake Michigan. Considered critical to the city's infrastructure, it falls under the protection of the Department of Homeland Security.
The building's roof was designed with cellular glass insulation to withstand the harsh conditions of Chicago's climate, as well as the corrosive conditions that accompany water treatment processes. The insulation's effectiveness in meeting performance expectations came to light in 2012 when the plant's original concrete and coal-tar pitch roof, spanning 10.3 acres, began to show signs of moisture infiltration after nearly a half-century in use. As the roof was disassembled, the cellular glass insulation was found to be completely intact, installed in place and performing without flaw — even in extreme conditions for nearly 50 years.
When Performance is Paramount
In Europe, America and around the globe, designers have many choices today when it comes to roofing options. Quality is non-negotiable and performance levels are high in today's roofing materials. But when a project is mission-critical, and performance is paramount — such as buildings that house timeless treasures or cover one-of-a-kind equipment or processes — cellular glass insulation provides a level of performance that stands up to the tests of time, climate and designers' trust.
About the author: Tiffany Coppock, AIA, NCARB, CSI, CDT, LEED AP, ASTM, RCI, EDAC is the Commercial Building Systems Specialist at Owens Corning where she provides leadership in building science, system development, testing, and documentation.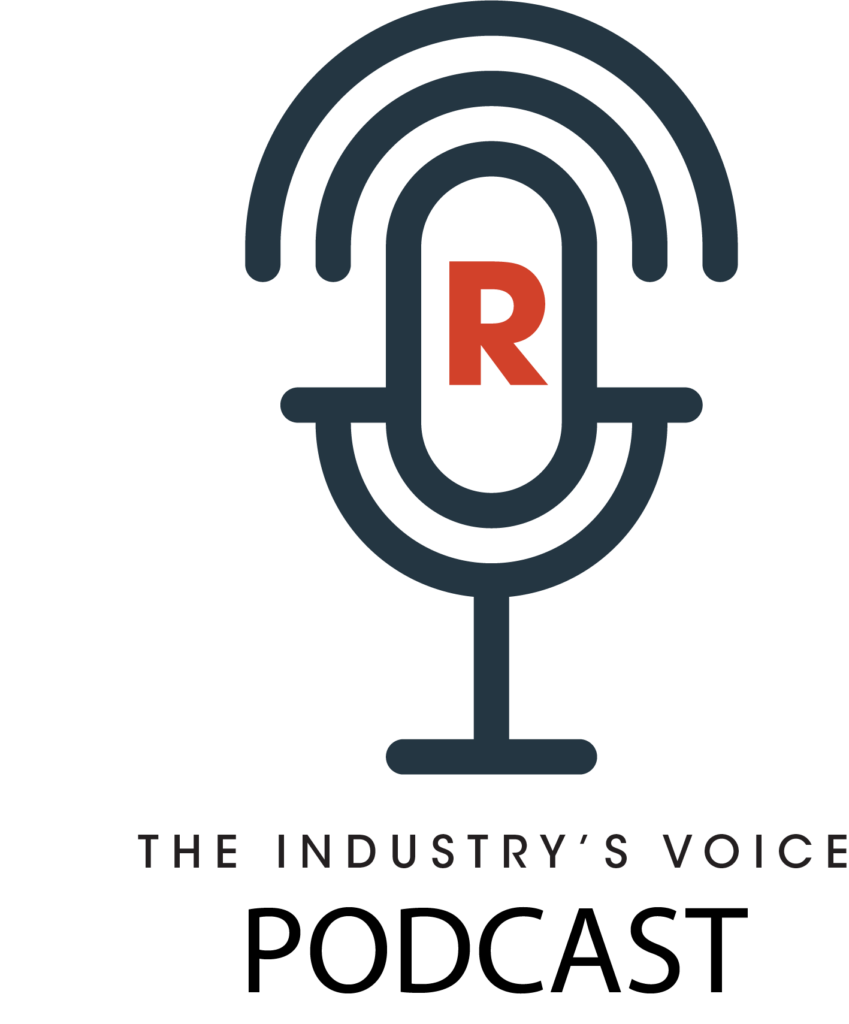 Roofing: The Industry's Voice
Episode 1: "Postcards From Europe: Mission Critical Roofs"
Chris King, editor of Roofing, talks to Tiffany Coppock and Marc Clynhens about the innovative roof assemblies on mission-critical structures including the New Acropolis Museum in Athens, Greece; the Firstsite Design Centre in Essex, England; and the Stora Enso Langerbrugge Mill in Belgium. Listen here or down below.