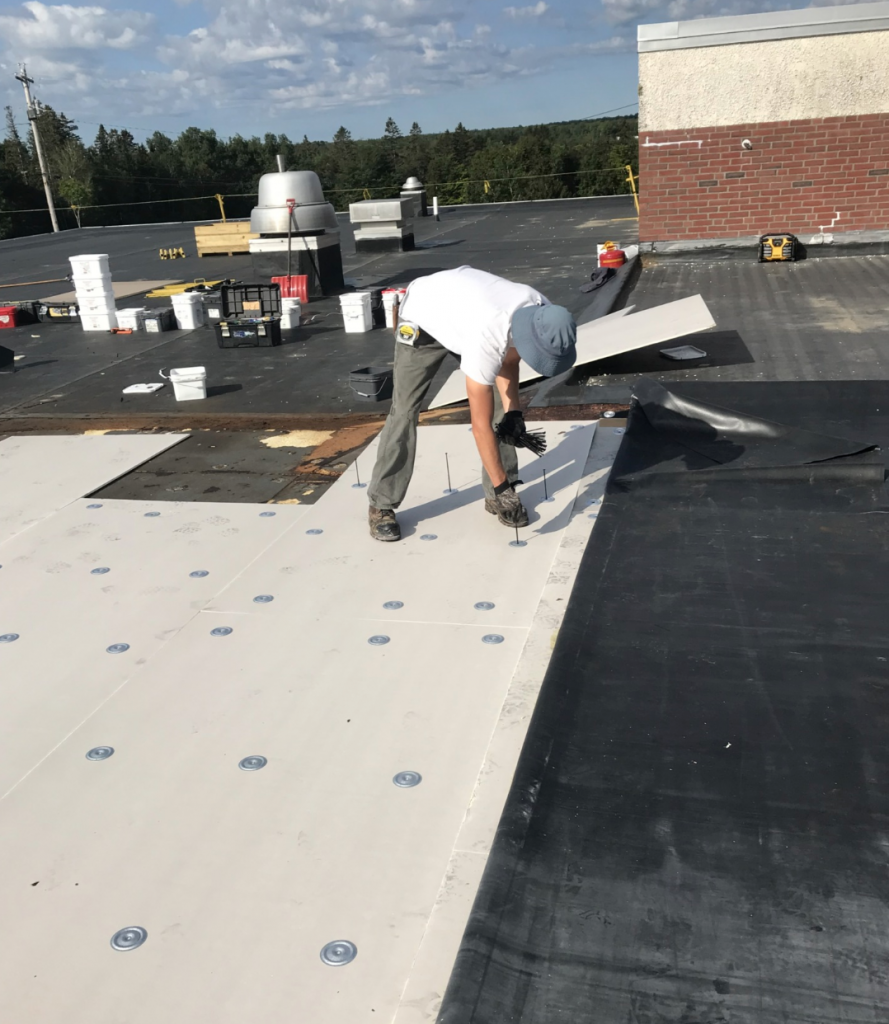 Rigid polyisocyanurate (polyiso) insulation board is one of the most widely-used insulation products on the market today and is manufactured in various forms for use in wall, roof, and other building construction applications. The different types, classes, and grades of polyiso insulation board are defined by the classification system in ASTM C1289 "Standard Specification for Faced Rigid Cellular Polyisocyanurate Thermal Insulation Board" and may be classified by the type of facer or facing material used to manufacture the products.
Polyiso is a thermoset, closed-cell, rigid foam plastic insulation that is manufactured in board form (typically 4-foot-by-4-foot or 4-foot-by-8-foot sizes). Through a continuous lamination process, liquid raw materials that make up the foam formulation are mixed and in a rapid chemical reaction form a rigid and thermally stable polymeric structure. During manufacture, the facers or facing materials enable the manufacturing process by containing the viscous foam mixture as it is poured and cured into the rigid polyiso core.
After manufacture, facers or facing materials perform a number of key functions for the installation and use of polyiso products. At the jobsite, the specific type of facer or facing material can determine the insulation product's compatibility with various substrates, which is an important consideration where installed as part of an adhered roof system. Once installed in a roof system, the facer or facing material can influence water absorption and water vapor transmission, which can be important characteristics in building envelope applications. In wall applications, polyiso may be used as a drainage plane to shed bulk water and with taped joints between adjacent boards can form both effective water resistive barrier and air barrier component. Facer or facing materials can positively contribute to the fire performance of the product and assembly, reduce air movement through the system, or provide for radiative properties. Finally, it should be noted that the same facer material is typically used on both sides of the polyiso board; however, different facer types may be used to meet specific project design and performance needs.
Facer Types
The three most common types of polyiso facers are aluminum foil, glass fiber reinforced cellulosic felt, and coated polymer-bonded glass fiber mat. The ASTM C1289 Standard contains classifications and descriptions for each facer type:
Aluminum Foil Facer (FF) is composed of aluminum foil that may be plain, coated and/or laminated to a supporting substrate.
Glass Fiber Reinforced Cellulosic Felt Facer (GRF) is composed of a cellulosic fiber felt containing glass fibers.
Coated Polymer-Bonded Glass Fiber Mat Facer (CGF) is composed of a fibrous glass mat bonded with organic polymer binders and coated with organic polymer, clay, or other inorganic substances.
Polyiso products as shown in Table 1 may also be manufactured with other facer types or facing materials such as uncoated polymer-bonded glass fiber mat (AGF), perlite insulation board, cellulosic fiber insulation, oriented strand board (OSB), plywood, and glass mat faced gypsum board. Depending on the particular project requirements, a certain facer type may offer specific benefits and the most attractive option for that application.
Coated Polymer-Bonded Glass Fiber Mat Facer
Coated polymer-bonded glass fiber mat facer (coated glass facer or CGF) is used in polyiso insulation products installed as part the building enclosure, including roof insulation, high-density cover board, and wall insulation products. Coated glass facers consist of multi-layer construction and a coating to impart a versatile weather resistant outer layer. CGF facers offer dimensional stability and resistance to water absorption. The glass fibers in the mat provide tensile strength and moisture resistance characteristics, making the mats an ideal solution for other product applications that require high levels of performance link flooring products, underlayments, asphalt shingles, roof membranes, ceiling tile, and other construction products (i.e., glass reinforced panels and industrial applications).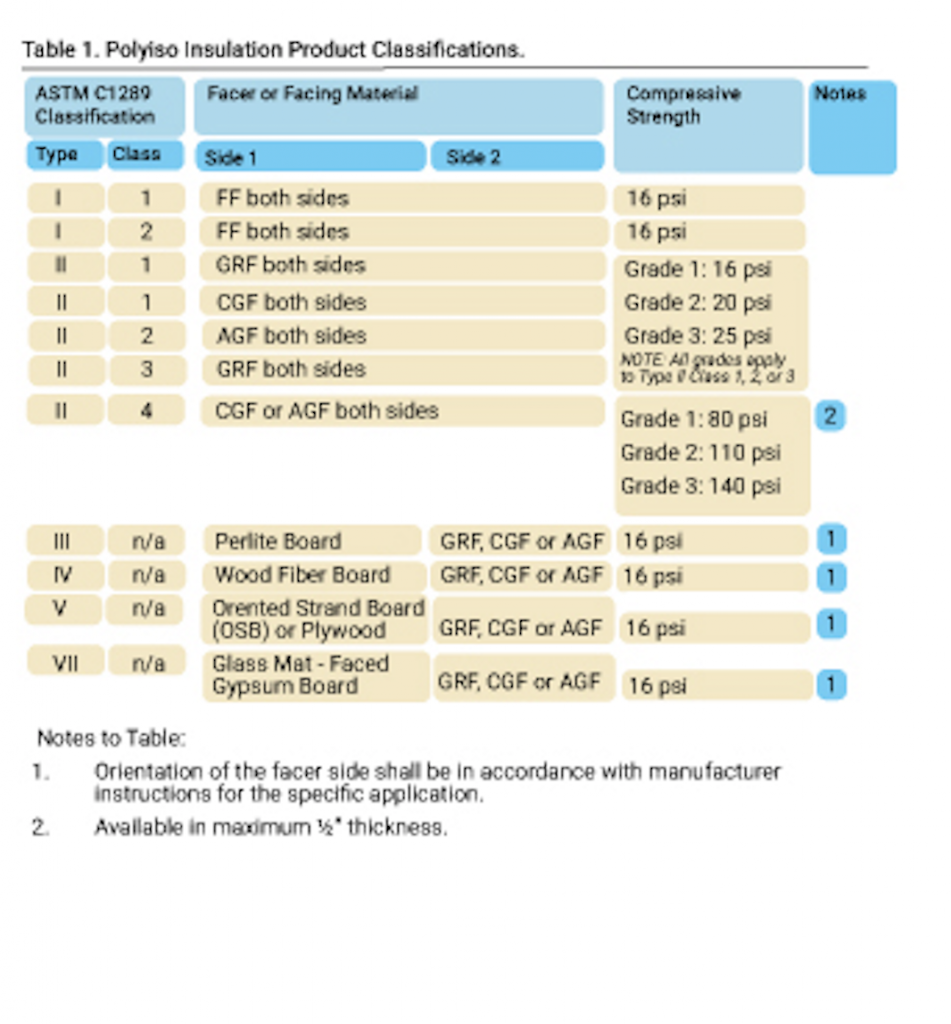 The CGF Manufacturing Process
For polyiso products, the CGF consists of a non-woven glass fiber mat as the substrate. The glass fibers that make up the mat are formed when minerals are batched together, melted in a large furnace, and extruded into strands through fine orifices in bushing plates. The fibers are mechanically drawn, cooled, and treated to impart the required handling and physical properties for the desired performance.
For non-woven applications, the fibers are chopped to the required length and sent to the mat forming line. The non-woven glass fiber mats (typically produced by a wet laid process on an inclined wire former) are impregnated with a synthetic water-based binder such as acrylic, urea formaldehyde, or renewable organic binders. The impregnated web is dried and cured in a direct gas-heated belt dryer. To produce the final coated glass facer, the rolled mat is coated with a mineral-filled latex coating to seal the mat. The coated mat is rewound and packaged according to individual product and customer specifications. After inspection, the mats are slit and wound in-line on cardboard cores in a turret winder.
The rolls of CGF are delivered to polyiso manufacturers where they are loaded into laminators to become the top and/or bottom facers of the finished polyiso insulation boards.
CGF and Polyiso Performance Benefits
Coated glass facers do more than hold the polyiso together as it cures; they add certain performance characteristics that can enhance the effectiveness of the final polyiso product. CGF as a material is noted for offering the following benefits for polyiso insulation:
Mold resistance
Enhanced fire performance
Excellent strength and durability
High moisture resistance
Excellent dimensional stability
Resistance to delamination
A reduction in knit line appearance
Since every type of polyiso product has its unique advantages and uses, choosing the right facer for the right application can have long-term impacts on the entire system's performance and resilience. For example, some moisture is always present in our environment. CGF can provide added resistance to moisture absorption for polyiso products and help improve the performance and durability of the overall roof system.
Polyiso insulation products offer:
A high R-value per inch compared to other insulation products.
A certified LTTR value (roofing products).
The performance to meet today's code required R-values while minimizing assembly thickness, and material and labor requirements.
Excellent performance in fire tests.
Ease of use and peace of mind, as polyiso products are designed for use in an expansive assortment of tested, approved, and code-compliant assemblies.
As a thermoset plastic, stability over a large temperature range (-100°F to +250°F) and can be used as a component in roof systems utilizing hot asphalt.
Versatility as a multi-attribute weather barrier product.
A continuous insulation solution to minimize heat loss through thermal bridges.
In summary, the combination of polyiso insulation and coated glass facers provide building owners and contractors with a solution that can meet thermal, moisture, and durability considerations. A wide variety of CGF polyiso products are available for specific applications in roofing or wall construction. Consult with a polyiso manufacturer for guidance on design and technical information for various insulation systems. Further information can be found at www.polyiso.org, the website of the Polyisocyanurate Insulation Manufacturers Association (PIMA), along with updated Environmental Product Declarations (EPDs), and technical bulletins for polyiso applications.
About the author: Marcin Pazera, Ph.D., is the Technical Director for Polyisocyanurate Insulation Manufacturers Association (PIMA). Dr. Pazera coordinates all technical-related activities at PIMA and serves as the primary technical liaison to organizations involved in the development of building standards. He holds a doctoral degree in mechanical engineering from Syracuse University and, over the course of his career, has worked in building science with a focus on evaluating energy and moisture performance of building materials and building enclosure systems. He has expertise in building enclosure and product manufacturing encompassed-research, testing, product conception and development, and computer modeling/analysis.