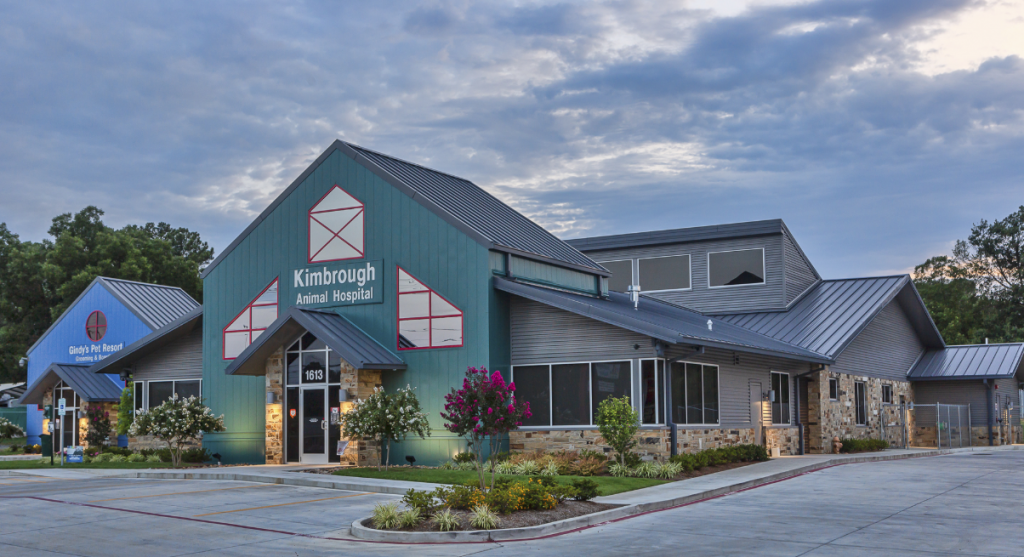 Kimbrough Animal Hospital in Longview, Texas, is designed to provide top-notch care for its furry patients. The building includes surgical suites, treatment areas, and an in-house lab, as well as boarding and grooming facilities.
The state-of-the-art facility is housed in a striking complex highlighted by colorful metal roof and wall panels. It was a complicated new construction project on a tight jobsite, but experience and planning made for a smooth, textbook execution.
Complicated projects are nothing new for Curtis-McKinley Roofing and Sheet Metal. Headquartered in Longview, Texas, the company has been in business for 33 years and does a variety of commercial, industrial and residential work, including modified bitumen, built-up, single-ply and shingle roofs, as well as metal roofing and sheet metal fabrication. "We did all the metal on the project," says Anthony McKinley, vice president of Curtis-McKinley. "We did the roof, the walls and soffit."
McKinley was confident his crews could execute the project smoothly, and his confidence was bolstered by his experience working on other projects with the general contractor, Transet Company, and the manufacturer of the roof and wall panels, Petersen.
"We have a good relationship with Transet Company and we've done so much work with Petersen that they know our company and our guys," McKinley says. "If there are any technical questions, they are very quick to help and get us answers, and inspections go great."
The Roof and Walls
The roof and wall panels were manufactured from 24-gauge steel. The roof was covered with approximately 18,000 square feet of 18-inch PAC-CLAD Snap-Clad panels in Charcoal. The exterior also incorporates 4,400 square feet of 16-inch HWP panels in Slate Gray and 5,250 square feet of 12-inch Flush Panels in three colors: Slate Gray, Teal and Berkshire Blue.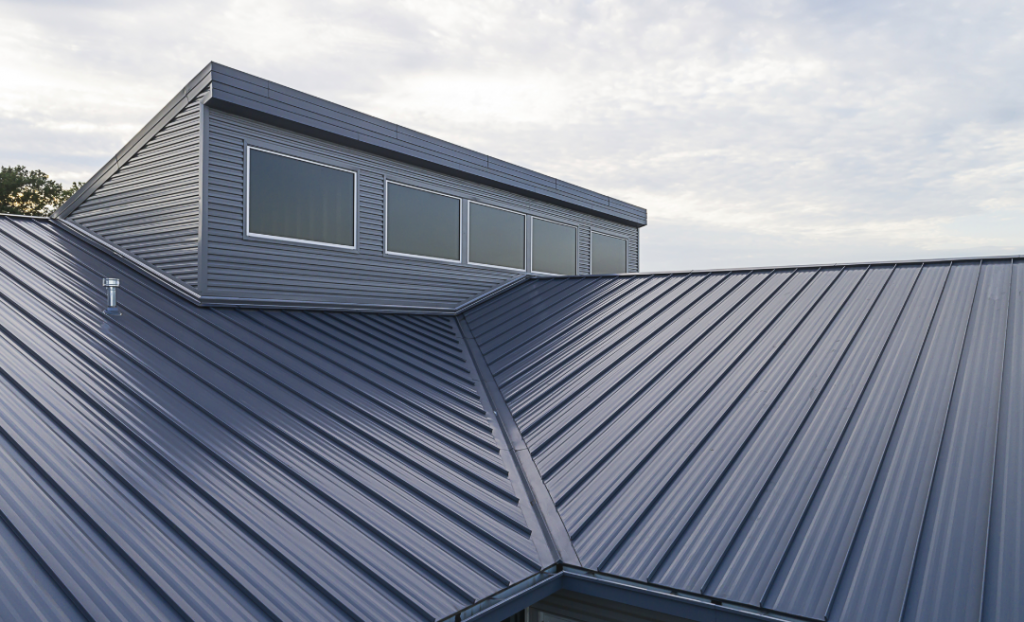 Crews from Curtis-McKinley dried the roof in with TAMKO's TW Metal and Tile self-adhered underlayment and tackled different phases of the project as the building came together. "We kind of did it all at one time," McKinley recalls. "First, we had a roofing crew come out and put the peel-and-stick on the roof, and we measured for the roof panels. Then we started installing all of the trim and had a few guys start installing the wall panels."
Petersen fabricated and delivered the wall panels, which were installed over plywood and cinder block walls using a man lift. On the cinder block walls, hat channels were installed to receive the clips. At two entrances, the Flush Panels were installed vertically. "We also installed regular flush soffit panels," notes McKinley.
A representative from Petersen roll-formed the roof panels on the site. Some of the panels were more than 50 feet long, and this posed some logistical problems. "It was a very tight construction site," McKinley explains. "We ran the panels on site and we had to lift them up with a crane. We couldn't use a lift because there was no way to turn the lift around when the panels were loaded. There was one long driveway down one side, and we had to stack all of the panels in one direction and lift them straight up."
Panels were lifted using a spreader bar as a cradle. "We strapped the panels to the spreader bar," McKinley notes. "We only lifted about 10 panels at a time and our guys would receive them and stack them at points along the roof. We had about six or seven guys on the roof and the rest of the crew on the ground to strap down the panels."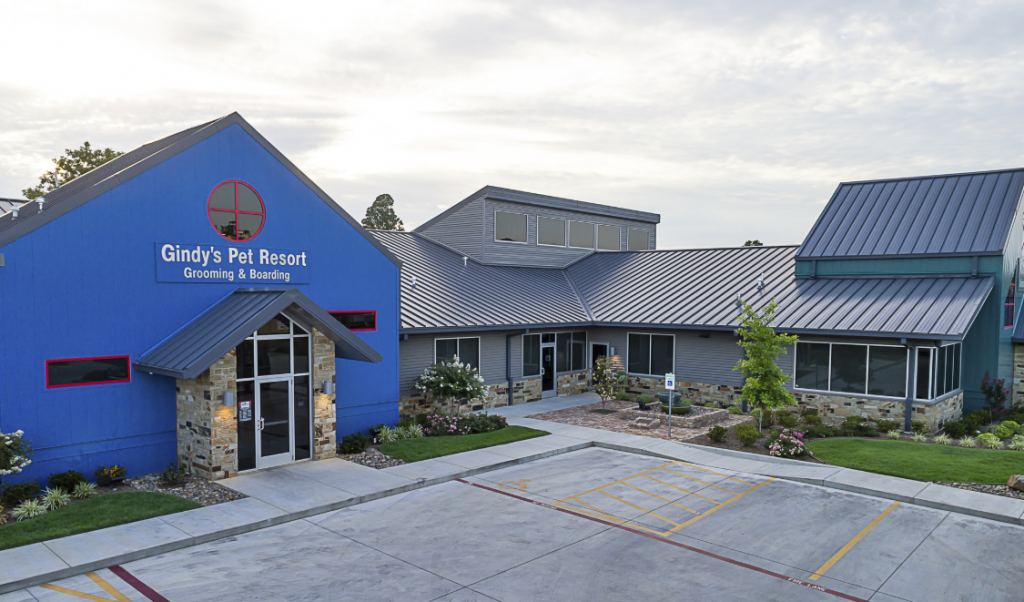 The crew started installing panels on the main roof and finished roof sections alongside the structure as the job progressed. Crew members were tied off 100 percent of the time, using temporary anchor points screwed into in the deck. "We started off on the main roof area and worked our way from the back to the front," McKinley recalls. "The shed roofs were incorporated as we worked our way forward."
While the main crew worked on the roof, a smaller group sometimes split off to install the wall panels. "We had a crew with a few extra sheet metal guys on it, and we moved them around as needed," McKinley notes. "That way they could start on the walls as the roof progressed and the job wouldn't lag on."
Planning Ahead
The main challenge on the project was the tight jobsite, according to McKinley. "It was a very limited site," McKinley says. "Once we got the roof panels on, we could breathe a little easier."
Despite the cramped conditions, communication between the crews kept conflicts to a minimum. "Working with other trades went fine," McKinley says. "The superintendent on the site was easy to work with. We worked with other subcontractors in Longview we've worked with plenty of times. Our guys knew their guys, basically, and they just coordinate well and work around each other as needed."
The project moved along smoothly and stayed on schedule. "We were blessed not to have any big weather delays," McKinley says. "When they were ready for us, we were able to get right out there and move things along in a timely manner."
McKinley also credits the manufacturer for help executing the project. "There are four or five different colors on it," he says. "Each entrance was a different color, and the walls and roof. That was pretty interesting. Keeping it all straight with the guys was a challenge."
Again, planning ahead was essential. "It just took a little more communication," McKinley says. "When we were making our trim, we just had to make sure it was the right color. It's very easy to work with Petersen. On a job like this one, the technical aspect of it was really very simple, but seeing all of the different colors on this project come together was pretty cool."
Curtis-McKinley crew members were able to execute all of the transition details themselves as they installed the roof and wall panels. "They were all standard details, really," McKinley says. "Almost all of the transitions were something the guys have done hundreds of times."
Exceptions included the large, irregularly shaped windows at the entryways, which were trimmed in red. "There were two entrances with windows that were a little different," McKinley says. "One set had a sort of triangular shape, which was pretty straightforward to flash. The other had a circular window, and that took a lot of time and coordination with the window people to ensure that we got it watertight with the flashing. Getting the trim for that wall custom made and fitting perfectly was a bit of a challenge."
Taking a complicated project and making it look easy is one of the strengths of Curtis-McKinley Roofing. "The key is having the right guys," McKinley says. "We are blessed to have very experienced professional roofers and sheet metal installers. Our sheet metal guys have done this for years. That's getting harder to find these days, and we still have some older guys that know how to do it. They've done so much of it that I often rely on them to tell me, 'This is how it needs to be done,' or 'This is a better way to do it.' Then we just make sure everything conforms to the plans and specifications, and we ensure the installation integrity. Obviously the most important thing is to keep the water out."
TEAM
Architect: Ron Mabry Architects, Tyler, Texas, www.ronmabryarchitects.com
General Contractor: Transet Co., Longview, Texas, www.transetco.com
Roofing Contractor: Curtis-McKinley Roofing and Sheet Metal, Longview, Texas, www.curtismckinleyroofing.com
MATERIALS
Roof Panels: 18-inch, 24-gauge PAC-CLAD Snap-Clad in Charcoal, Petersen, www.pac-clad.com
Wall Panels: 16-inch, 24-gauge HWP, Slate Gray and 12-inch, 24-gauge Flush Panel in Slate Gray, Teal, and Berkshire Blue, Petersen
Underlayment: TW Metal and Tile, TAMKO, www.tamko.com