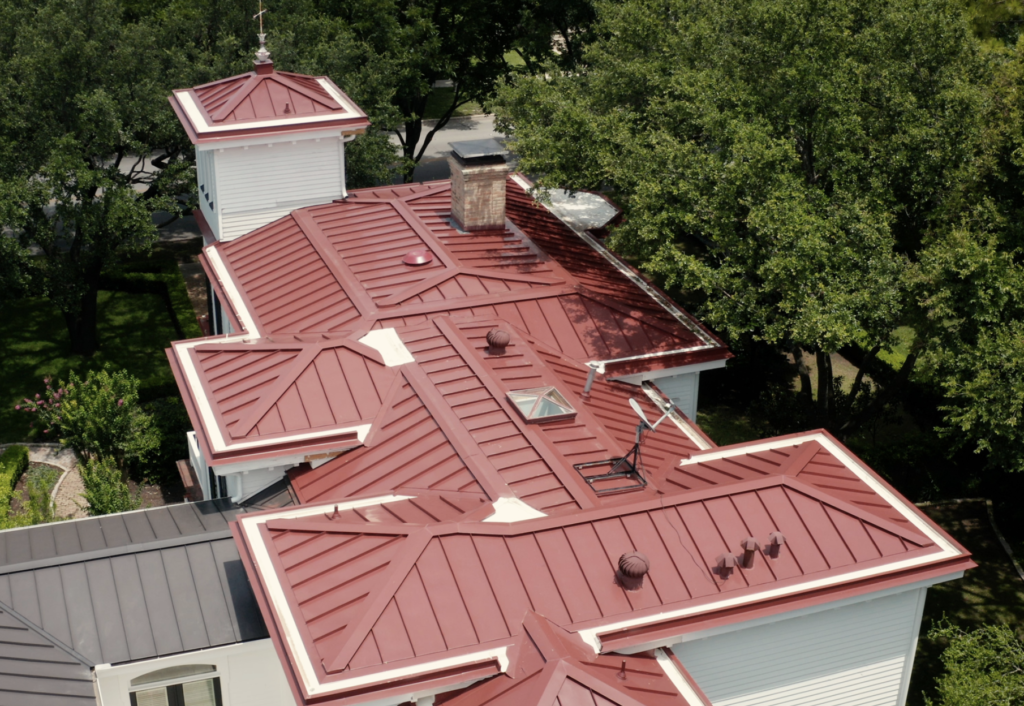 Located just outside of Austin in Georgetown, Texas, the historic Dilley-Tinnin home dates back to 1879. When it was struck by lightning, the main roof was damaged beyond repair. The original soldered, flat panel roof would have to be removed and replaced as part of a restoration project that posed numerous challenges.
The roof was made up of some 20 roof planes and included an internal gutter system, numerous penetrations, and multiple low-slope transitions. The new metal roof would have to be watertight and durable — and meet strict guidelines for historical accuracy.
Crews from nearby Texas Traditions Roofing were up to the challenge. They removed the damaged sections of the existing roof and installed a striking red standing seam metal roof manufactured by Sheffield Metals.
Michael Pickel, vice president of Texas Traditions Roofing, was called in to assess the damage. The original roof had a standing seam look to it in some sections, but it was comprised of metal panels that were soldered together. "It was metal 100 percent, from the fascia, to the gutter, to the flat portion, all soldered together into one piece," he notes.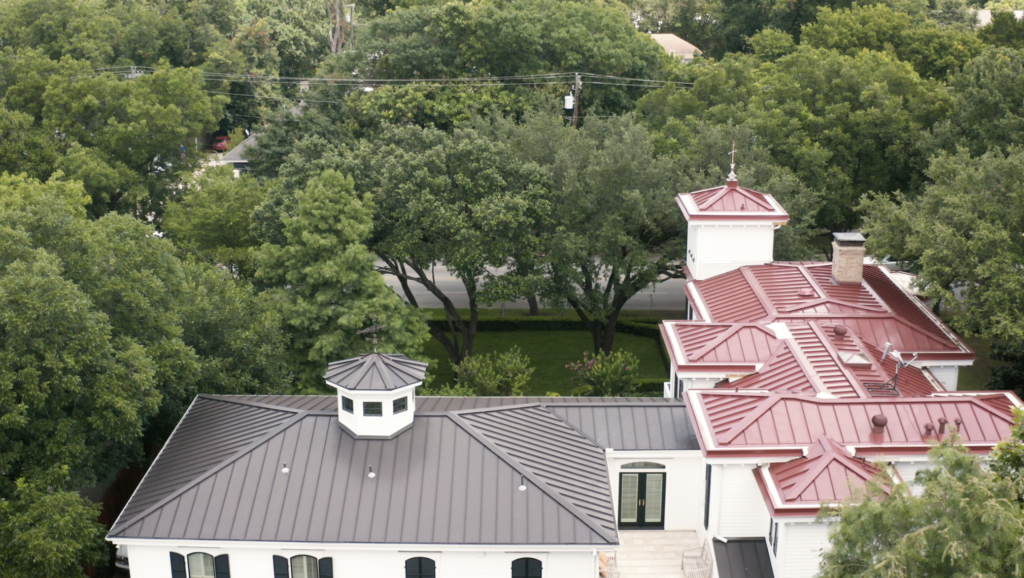 The entire main roof area would have to be replaced, while the gray metal roof system on one wing was left in place. The main roof was comprised of multiple roof areas with slopes ranging from completely flat to pitches of 3:12 and 4:12. "It really wasn't that steep, and that's what caused us to recommend the double-lock panels," Pickel says. "Given all of the soffits and all of the transitions, the slope required us to use a double lock."
The Texas Traditions team worked for eight months with the local historical committee to ensure that the new roof would meet its guidelines. The committee approved the 2.0 Mechanical Standing Seam roof manufactured by Sheffield Metals, and the roof restoration work began.
The metal panels of the original roof were removed, along with most of the internal gutter. "The home was leaking pretty bad," Pickel recalls. "There was some significant damage to the integral gutter, and we had to rebuild at least 80 percent of it. It was flat, and we added slope to it. It was a beast. We tore the whole thing off and came in with all manufacturer approved products: high-temp synthetic underlayment, high-temp ice and water, and the metal panels and butyl sealant."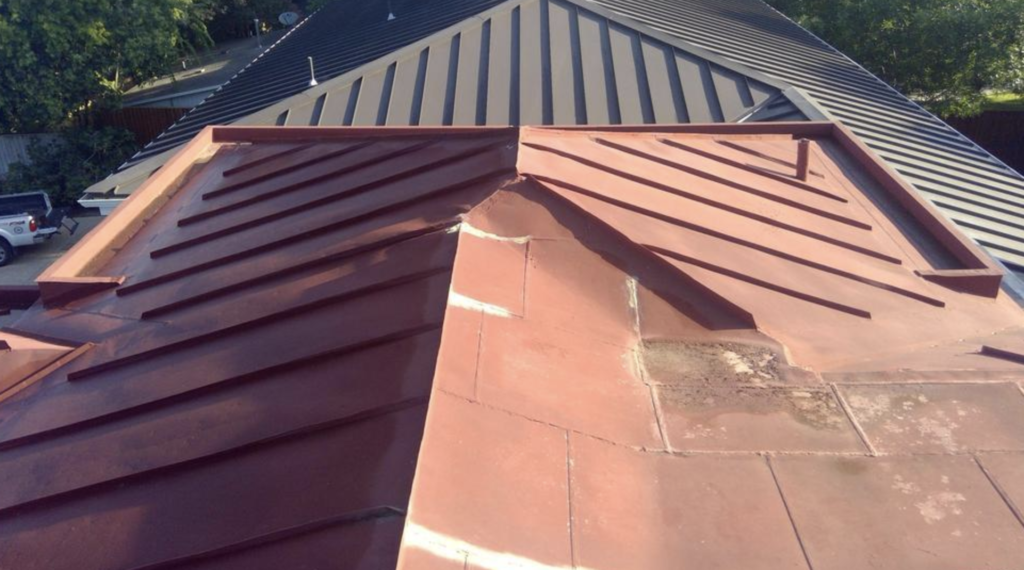 Most of the deck was in good shape, but the fascia needed extensive repairs. Extreme care had to be taken to protect the custom carpentry just below the eaves. "It was a crazy custom fascia," Pickel notes. "We've never seen anything like it before."
After the internal gutter was rebuilt, it was lined with a 60-mil TPO membrane from GAF. "We did a metal fascia, and it was also lined with TPO. It ran about 18 inches up behind the field panels to give it some added security. It was also lined with ice and water shield."
The metal panels were roll-formed on the site. "Due to all the different lengths, we took measurements, rolled them on site, and applied them one at a time," Pickel explains. "All of the trim and accessories were manufactured in our metal shop and brought to the site."
Panels were lifted into place with a rope-and-pulley system and installed over Viking Armor synthetic underlayment and GAF StormGuard leak barrier. The re-roofed area was approximately 2,500 square feet, but the project was a labor-intensive puzzle. "It was a small project, but it was really cut up," Pickel says.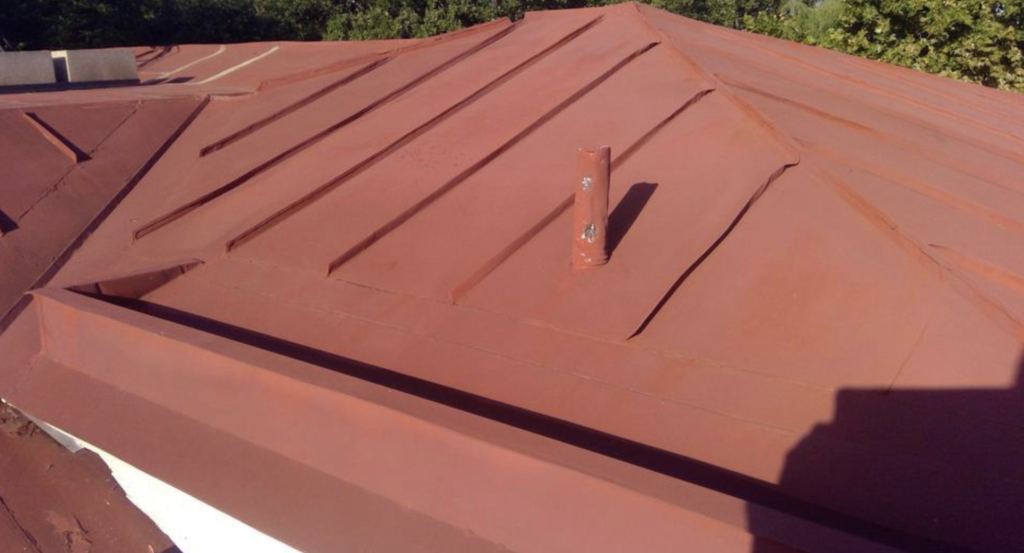 Crew members were tied off 100 percent of the time at the eave and while installing the metal panels. "The nice part was it wasn't too steep, and the lip of the integral gutter added another layer of safety as well," Pickel explains. "From a safety standpoint, it was pretty basic; the steepest section was 4:12, and a lot of the work was done on the flat area."
In the flat area, crickets were used provide adequate slope beneath the metal panels. The transitions made for some tricky details. "When you hit the low slope on metal — and that's really 2:12 or less — you start to be more concerned about making sure you're doing everything you can to get that water off that roof," Pickel says. "If the water moves slowly, you have to do all you can to make sure that roof is fully sealed and ensure it just won't leak."
Crews tackled the challenges one at a time. "Just like any project, once you start to move on it, it gets a little bit easier," Pickel says. "We learned a lot as we progressed. Each section made the next section a little bit easier."
Texas Traditions submitted the project to Metal Roofing Alliance (MRA) for its Best Residential Metal Roofing Project competition, and MRA selected Texas Traditions Roofing and Sheffield Metals as the first-quarter winners in the category.
"When we got the news, we were just ecstatic," Pickel says. "I think roofers are very proud of the work they do, and to get that recognition is fun and exciting. It also gets the team fired up."
Pickel credits his company's success to a simple formula: quality craftsmanship by talented and experienced crews. "One of our owners has been in construction for 40-plus years," he says, referring to his father, Mike Pickel. "He handled multi-million-dollar commercial projects for a very large general contractor. His experience and ability to manage our jobs, educate our crews, and educate our superintendents helps out gain knowledge beyond the roof. There's more to it than just the roof, and being mindful of the entire building is a huge advantage."
For more information about how to enter MRA's "Best Metal Roofing" competition for the trades, visit www.metalroofing.com.
TEAM
Roofing Contractor: Texas Traditions Roofing, Georgetown, Texas, www.texastraditionsroofing.com
MATERIALS
Metal Roof: 2-inch mechanical lock panels in Cardinal Red, Sheffield Metals, www.sheffieldmetals.com
Underlayment: Viking Armor synthetic underlayment, VB Synthetics, www.vbsynthetics.com
Leak Barrier: GAF StormGuard, GAF, www.gaf.com