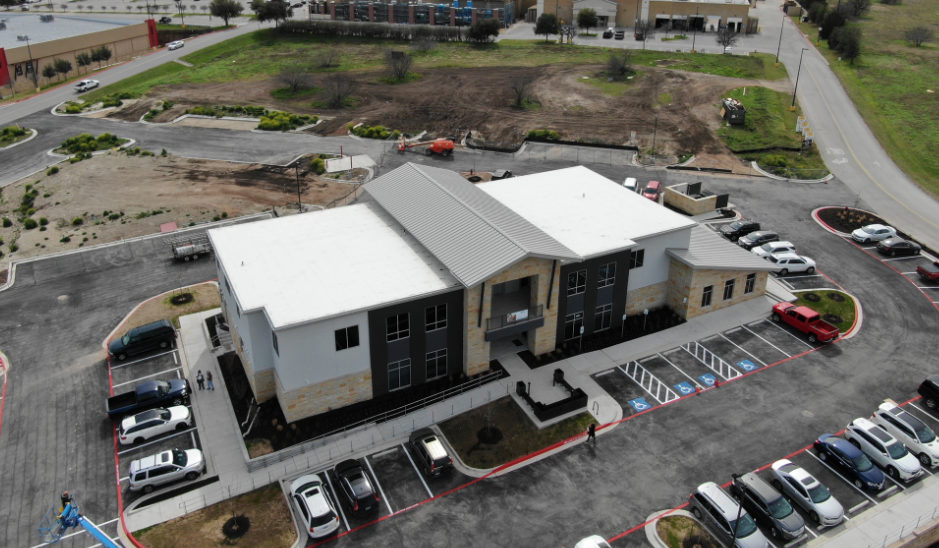 The Pflugerville Parkway Medical Office Building features a metal roof, a TPO roof, metal wall panels, soffit, fascia, gutters and downspouts. The new construction project was perfect for Texas Traditions Roofing, which prides itself on its versatility and quality craftsmanship.
Headquartered in Georgetown, Texas, the company handles a variety of commercial and residential work. "Residentially we do replacements and custom home new construction," says Michael Pickel, estimator, Texas Traditions. "On the commercial side, we do mostly new construction, but we also do commercial repair and replacement as well."
Pickel was the estimator on the project, but he feels the term "estimate" doesn't begin to cover what his job entails. "We want to be the experts and provide all of the information for the general contractor, rather than just throwing an estimate at them," he says. "We take that responsibility very seriously, whether it's residential or commercial. We don't necessarily like the word 'estimate' because it sounds like you're guessing and just hoping it's right. We understand that commercial new construction involves an estimate, but what we try to do is just be very specific and clearly define what we're going to be doing, how we're going to be doing it, and what the manufacturer and what the NRCA recommends us to do. That way nothing is incorrect, it's not going to leak, obviously, and you have the backing of the manufacturer because it was installed properly."
Multiple Systems
The scopes of work included two sections of metal roofing — a peaked section in the middle of the main roof and a shed roof off to one side of the building. A TPO roof system was applied over the main roof on either side of the metal roof in the center. "We started with the metal roofing panels on the top first, and then worked our way down to the lower section on the side," Pickel notes. "Shortly after that, we came back and installed the TPO roof. It was pretty open, so it was fairly easy to put that down."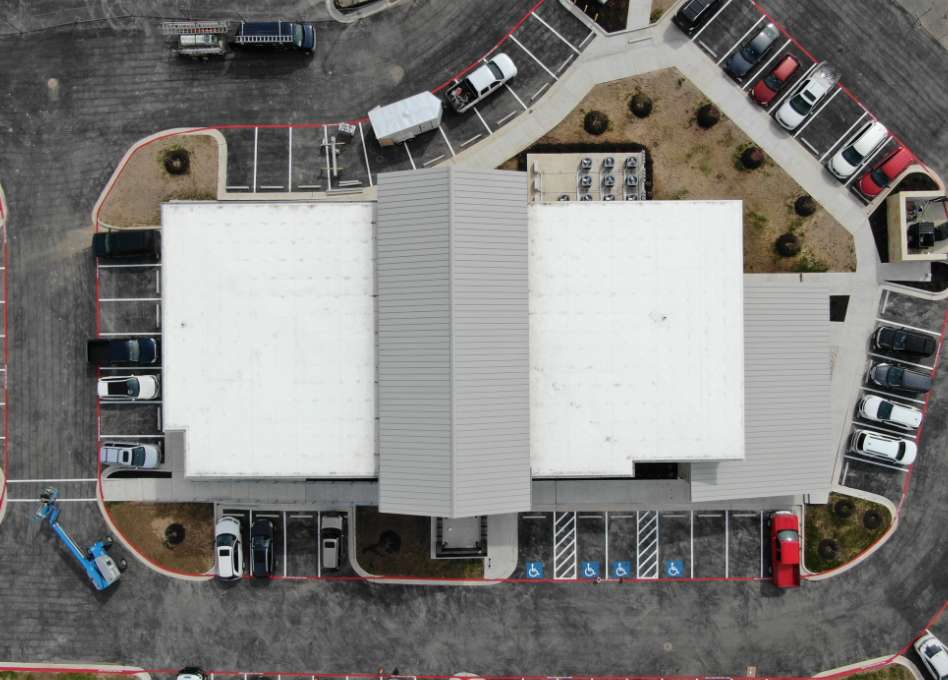 The metal roof system manufactured by Sheffield Metals features 1.5-inch Snaplock 450 Panels in Ash Grey. Approximately 4,000 square feet of roof panels were installed over two layers of 2.2-inch polyiso insulation, which was mechanically attached. The underlayment used was Viking Armor from Viking Barriers.
The 6,000-square-foot low-slope roof was topped with a 60-mil TPO system manufactured by GAF. First, two layers of 2.2-inch polysio were mechanically attached to reach R-25. A tapered insulation system was then fully adhered across the entire roof to ensure proper drainage.
The safety plan utilized a Raptor safety cart, which was lifted to the roof with a SkyTrak. "The Raptor system was either on the left or right side of the roof, depending what side we were working on," Pickel says. "Any time workers were on the roof, they were tied off."
After the roofs were completed, the focus shifted to the wall panels. Berridge Vee Panels in Charcoal Grey were installed using a man lift. "We put Z-purlins down horizontally over the vapor barrier," notes Pickel. "Then we installed the 1-inch, four-by-four mineral wool insulation, and attached our panels over that."
Metal crews also installed 11-inch fascia across the entire edge of the roof, including both the metal and TPO sections. "There are some tricks involved with that because it was a fully tapered TPO system, so your height differences can vary," Pickel explains. "Making sure the fascia wrapped smooth and properly, and was the proper height, was a little tricky."
Gutters were not originally specified, but they were added at the suggestion of Texas Traditions. "We talked to the G.C. about talking to the owner because we felt they were going to want gutters," Pickel recalls. "They came back to us and said they wanted gutters, so we issued a change order for it."
The company installed 6-inch box gutters and four-by-four downspouts matching the metal roof.
A Challenging Schedule
The jobsite was relatively open, accessible and easy to navigate, so some typical problems that can crop up with new construction projects weren't a big issue. The HVAC units were installed on a pad within a fenced-in area on the ground, minimizing roof penetrations as well as foot traffic on the roof. Crews were able to focus on doing the job right — and doing it safely. "Installation-wise, it wasn't too tricky," Pickel notes. "We just had to ensure that everything was installed to the manufacturer's requirements."
Manpower and scheduling posed the toughest hurdles, notes Pickel, but the general contractor, Lott Brothers of Austin, Texas, did a great job of keeping everyone on the same page. "We had weekly mandatory meetings that were set up by the G.C., and it was very helpful for us and other trades as well," Pickel says. "Having to coordinate multiple trips is very common with new construction, unfortunately, but it's great that we are able to do so much work. We did everything down to the gutters and downspouts — the full system — but it takes a lot of coordination and scheduling of the crews, especially when you have other jobs as well."
One advantage of the multiple scopes of work was that Texas Traditions crews didn't have to worry about coordinating transition details with crews from other companies. "It's also nice for the owner," Pickel adds. "If they have any issues or if they have any questions, they know the roofer did every bit of the metal on this job, and all of the TPO roof, and they know who to contact."
Versatility is one of the company's strengths, and for that Pickel credits the experience of the company's owners, including his father, co-owner Mike Pickel, who has more than 30 years of experience in the construction industry, including 20 years working for a general contractor.
"He understands the complexity of coordinating multiple trades because he did it for so long from a G.C. perspective," Pickel says. "His ability to know what needs to be done when allows us to be more effective and more efficient with our time. It allows us to be the expert in front of a general contractor because he was a general contractor. He worked with superintendents. He worked with multiple trades. His ability, knowledge and expertise within our company allows us to be the roofing expert."
Texas Traditions strives to make the best use of that wealth of knowledge. "Each job is treated with care," Pickel says. "It's treated with expertise because it's not just another job — it's someone's home, it's someone's office. We do apartment complexes, we do office buildings, we do residential homes, we do churches. Mike treats it with care, and it trickles down to everyone else to treat it with care as well."
TEAM
Architect: Tim Brown Architecture, Austin, Texas, www.timbrownarch.com
General Contractor: Lott Brothers Construction, Austin, Texas, www.lottbrothers.com
Roofing Contractor: Texas Traditions Roofing, Georgetown, Texas, www.texastraditionsroofing.com
MATERIALS
Low-Slope Roof: 60-mil TPO, GAF, www.GAF.com
Metal Roof Panels: Snaplock 450 Panels, Sheffield Metals, www.sheffieldmetals.com
Underlayment: Viking Armor High-Temp, Viking Barriers, www.vikingbarriers.com
Metal Soffit Panels: FWP non-vented Soffit Panels, Sheffield Metals
Metal Wall Panels: Berridge Vee Panels, www.berridge.com