For over 30 years, Benny's Transmission & Auto has been family-owned and operated in Whitehouse, Texas. Employees specialize in auto diagnostic services and transmission and automotive repair.
Problem
The building's existing galvanized roof was starting to deteriorate. After sheltering the building for 41 years, the roof was leaking in several places and the Light Transmitting Panels (LTPs), or skylights, were no longer allowing enough light to get through. Rust was starting to show in a number of places and several old roof penetrations were no longer needed. It was important for the roof to be fixed in such a way that Benny's Transmission & Auto could remain open and not lose business or working hours.
Solution
In order to avoid closing the business and risk his tenant losing revenue, the building owner chose to do a retrofit of the roof with MBCI's Retro-R® panel. This panel does not require the original roof to be removed and was a great solution to the shop's roofing problem. The Retro-R® panel is installed directly over the existing R panel roof, allowing Benny's Transmission & Auto to continue with normal work hours without any disruptions to their day-to-day business. Noise during construction was also kept to a minimum, further allowing work to continue as normal. Benny's Transmission was able to retain all revenue that would have been lost, had a full roof removal process been required.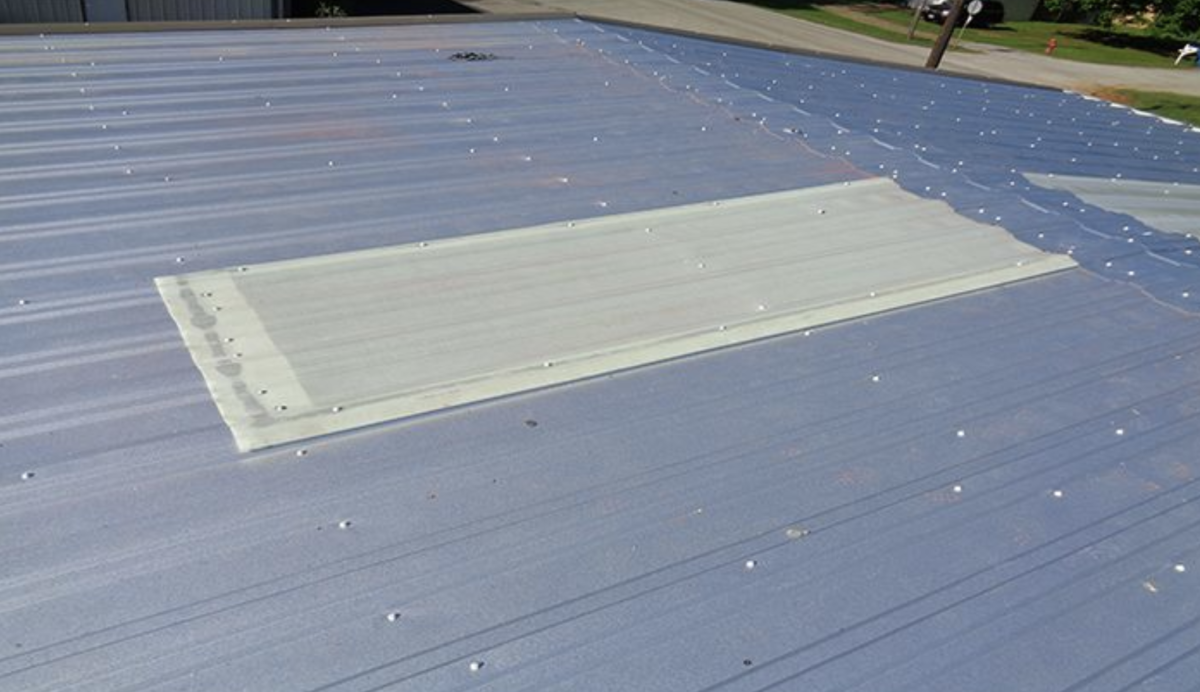 Installers were able to reuse all of the trim from the original building. The building rake, gutter and down spouts did not have to be removed or even disassembled for the retrofit. Installers only needed to take the ridge vents up in order to lay the panels flush and were able to reuse them once the new roof was installed. This provided significant cost savings for material and labor for the building owner. In addition, the factory-applied membrane adhered to the bottom of the Retro-R® panels will help prevent the transfer of existing rust from the roof onto the new roof panels.
The color chosen for the 40×100 single slope roof was Galvalume Plus®, which comes with a 20-year roof warranty through MBCI. While no extra insulation was added, the high reflectivity of the Galvalume roof increases the building's overall energy efficiency. This type of roof is especially beneficial in areas with a high heat index to help with cooling down facilities. The building owner's satisfaction is evident, as he even compared it to having a brand-new building. The installation took place over a two-and-a-half-day period with a crew of 3 people.
The building owner's decision to retrofit Benny's Transmission & Auto with MBCI's Retro-R® panels resulted in cost savings, increased energy efficiency, the convenience of a low maintenance roof and a happy tenant who was able to continue working throughout the process.
For more information on MBCI building solutions, contact your local representative.