When the aging coal-tar pitch roof on Holy Cross Hospital began to fail, leaks posed a danger for patients and staff and threatened to damage expensive equipment. Re-roofing the entire medical campus in Fort Lauderdale, Florida, would be a challenge for many reasons, including the logistics of accessing multiple roof levels and working atop an active hospital without disrupting patient care.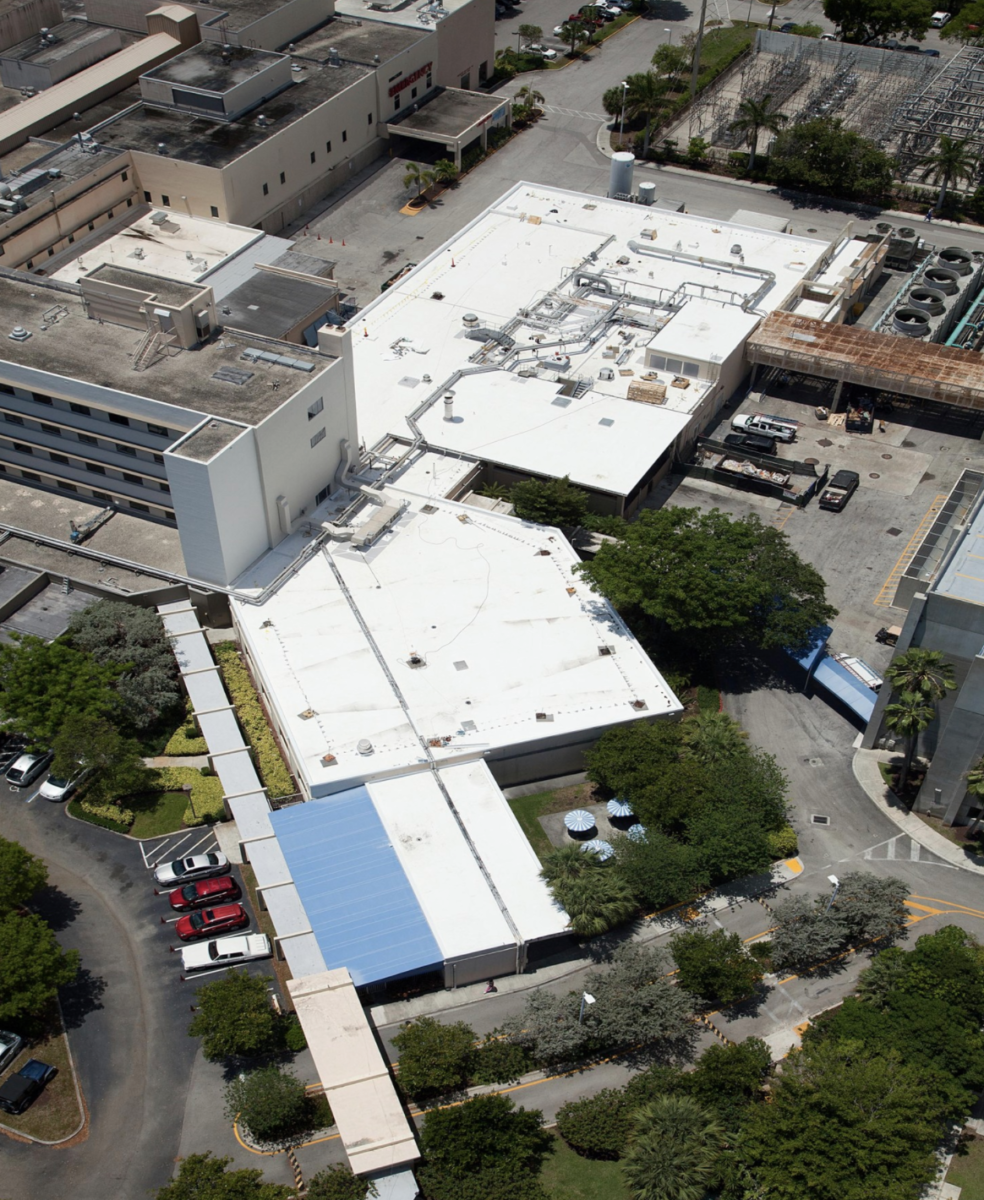 Fort Lauderdale-based Advanced Roofing Inc. was built for just such a challenge, according to Vice President of Construction David Baytosh. "We specialize in re-roofing projects," he says. "The high, hard, difficult projects that most of the contractors will shy away from, that's where we excel — occupied buildings, busy spaces, hospitals, schools, shopping centers."
The company has a roofing division, sheet metal division, service division, and safety division, as well as its own HVAC division, crane division, solar division, and electrical division — to name a few. "The idea is it's a one stop shop," notes Baytosh. "With this project, what made it so special is that everything was done in-house through Advanced Roofing."
Due to budget requirements and the scope of the work, the hospital took a phased approach to replace the roof systems at its main campus. This final phase, completed in 2019, included replacing 113,800 square feet of roofing on several multi-story buildings. The first phase of the re-roofing project took place in 2015, but Advanced Roofing's work on the hospital began before that. "The hospital had leaks on their existing roof, and we were able to go out there and service their leaks," Baytosh explains. "That's what started the relationship."
Meticulous Preparation
Simply preparing for the project was a major challenge. Coordinating the work schedule, getting the permits, and approving the assemblies were among the initial hurdles, according to Jessica Kornahrens, project manager. "It was a Factory Mutual insured building, so everything had to be in compliance not only with Factory Mutual, but because we're in Fort Lauderdale, we're in the high-velocity hurricane zone for the Florida Building Code," she says. "So, we had to find assemblies that matched both the Factory Mutual testing and the high-velocity hurricane zone testing and had Miami-Dade Notice of Acceptance (NOA)."
The roof systems with the most leaks were the top priority, which complicated the schedule. "When we started, the buildings were not near each other and were not the center buildings, so the sequencing was not ideal for re-roofing," Kornahrens says. "We were kind of spread all over the place. By the final phase, we got to the roofs that were in the middle, and these roofs had the most difficult access."
Staging areas were set up in different parking areas with the goal of getting them as close as possible to the roof areas during each phase. "There were times we had to travel across several roofs to be able to get to a perimeter or to a parking lot with access, so we had to work closely with the hospital," notes Kornahrens. "We had pre-construction meetings and had to do reviews of every area where we had to move handicapped spots or set up access routes or closed off doors and set up different emergency exits."
Advanced's safety division prepared a site-specific safety plan for workers that went far beyond typical fall protection concerns. An additional level of safety included keeping hospital patients safe. Crews followed Infection Control Risk Assessment (ICRA) protocols that included sanitizing procedures, proof of recent flu shots for anyone accessing the building, and precautions to control dust, debris and fumes.
Roof access was primarily achieved using exterior ladders set up in fenced-off areas. Work on critical areas of the hospital, such as the emergency room and neo-natal intensive care unit (NICU), was restricted to certain hours or days, and even then the schedule was subject to change due to emergencies.
"The hospital staff was phenomenal to work with," Baytosh says. "You work as a team and navigate your way through the project, making minor adjustments. But a lot of meticulous thinking goes into it prior to the start of the project."
Demo and Installation
Using a 10-person crew, Advanced Roofing tore off the original system and applied a Pika-Ply preliminary roof system to keep the system watertight during the installation process. The finished roof system consisted of tapered polyiso insulation and a Carlisle Sure-Flex 60-mil PVC single-ply membrane.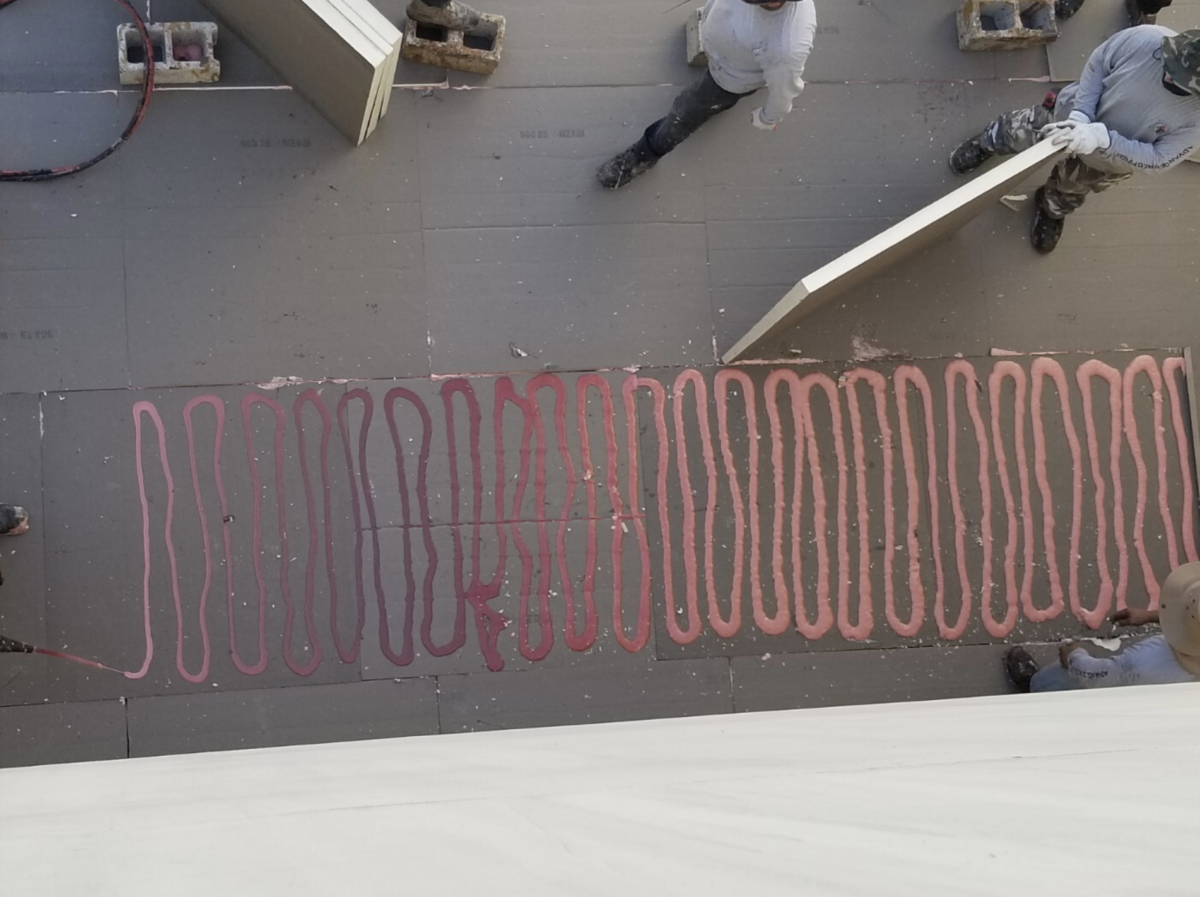 A variety of equipment was deployed to access different roof areas, including a tower crane, hoists, and 35-ton boom trucks. In many cases, material and debris had to be transported across several roofs. "One of the things that we're proud about at Advanced Roofing is we have the latest, greatest, most updated equipment and provide our guys with the best tools available," Baytosh says. "When we were working on lower roofs, sometimes we would set up a hydraulic hoist and be able to get the material from one level to the next, put it on a power buggy and be able to transport it across the roof. We would bring in larger cranes to reach over buildings. We had some pretty unique setups."
Crews removed the existing membrane and all of the lightweight concrete down to the structural deck. Removing the lightweight concrete was a labor-intensive task, and keeping the dust and debris to a minimum was essential. "The dust is the big thing with all the requirements with OSHA and silica," Baytosh says, "The guys are trained in it. We use a wet method, with a light misting. When you're cutting into it and tearing it up, you would have a guy with a hose to mist it to control the dust. There's also a wet method setup when it goes down to the dumpster to contain the dust."
Care had to be taken so that roofing work did not adversely affect the patients. Another concern was that cancer radiation treatments could also endanger crew members on the roof. Cancer treatments were carefully scheduled so crews could safely access the roof on designated days.
After the lightweight concrete was removed, the deck was cleaned and primed. Crews coordinated closely with the hospital to make sure fumes from the primer did not enter any air intakes. Vents were sealed off and charcoal filters were used to prevent fumes from entering the building.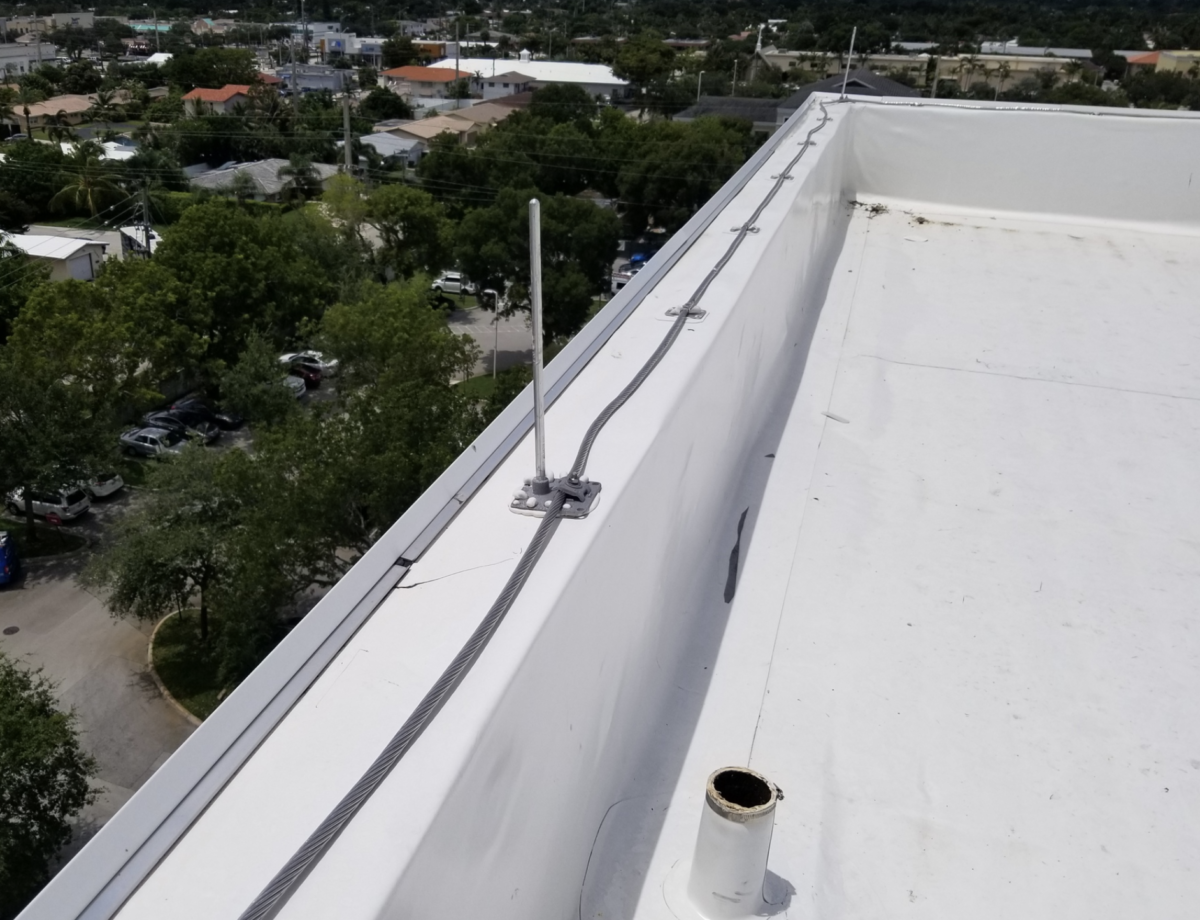 Pika-Ply by S.R. Products was then torch-applied to keep everything watertight. Use of a torch requires its own set of safety precautions, including proper fire extinguishers, use of a fire retardant, and a mandatory two-hour fire watch after the last torch is turned off. "All of our guys are torch trained and know how to safely apply this system," Baytosh says. "We do what's called CERTA training application, which is an NRCA safety program. We do that in house. Our safety directors are certified trainers, and all of our guys who are torching have that class and are renewed every two years."
After the temporary roof was installed, the crew came back and installed tapered insulation in low-rise adhesive to provide proper slope for drainage. The 60-mil PVC membrane was then adhered with bonding adhesive, and the seams were heat fused to create a monolithic membrane.
Advanced Roofing also replaced all of the lightning protection equipment. New edge metal was also installed. "Some metal was prefabricated Factory Mutual approved Carlisle metal. For anything else, we have a sheet metal shop where we custom fabricated all specialty metals needed," Kornahrens says.
Unexpected Challenges
The project had some unforeseen hurdles. Numerous abandoned curbs and other obsolete penetrations had to be removed. The tapered insulation plan also had to be adjusted when some roof drains that had been covered up were discovered during the tear-off process.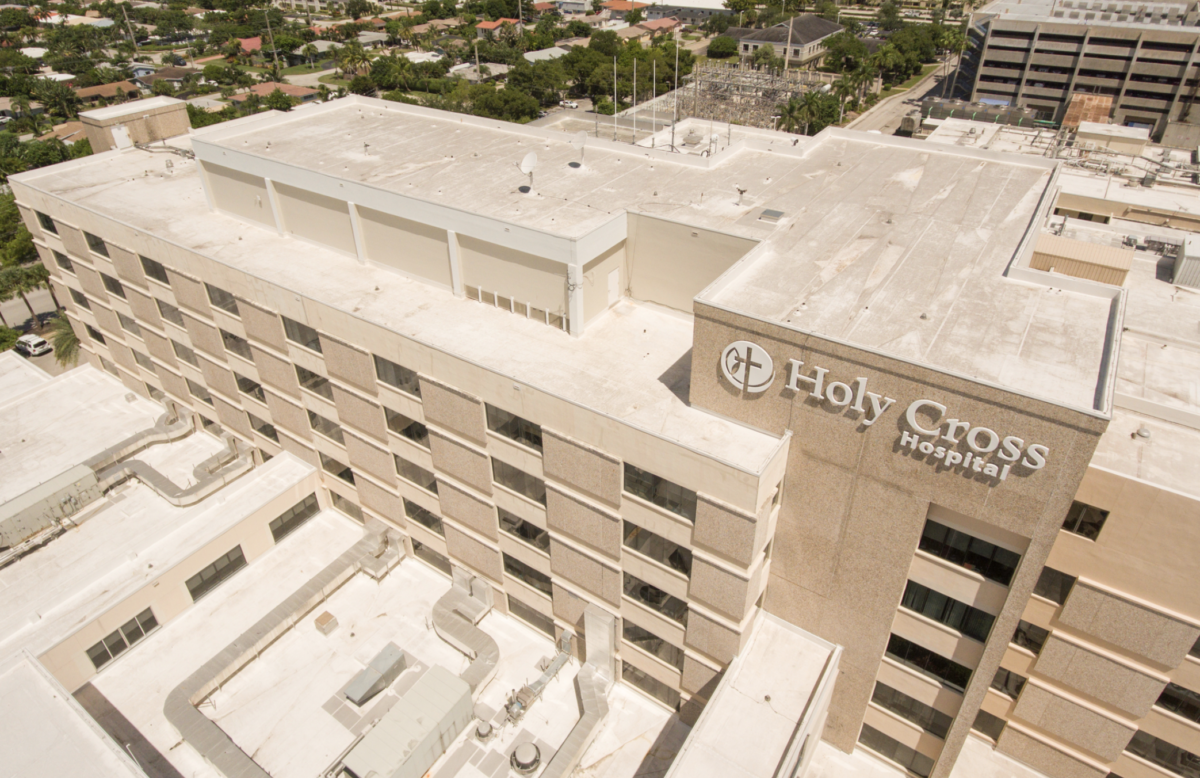 "We had our field technician go out and create roof plans showing where every drain was located," notes Kornahrens. "We provided it to our supplier and they designed the tapered layout to make sure that all the water would go to the drainage properly."
A review by an engineer found locations where there wasn't enough drainage to meet current codes, so plans were made to add new drains. When the buried drains were discovered, the plan was quickly altered. "With these buried drains we met the current code," Kornahrens says. "We just had to redesign the tapered layout to accommodate for the drains that were there and reactivate them."
Passing the Test
Factory Mutual testing was conducted upon completion of the job to ensure the roof system would perform as specified, and it exceeded all testing requirements.
According to Baytosh, the success of this project showcases not only Advanced Roofing's versatility but its ability to adapt to the customer's needs. "Our strengths include being able to deal with unforeseen conditions and work them out, scheduling on the fly, planning and working with the team, being able to coordinate work with multiple trades, and meeting the challenges of logistics," he says. "We put in a lot of time and take a lot of pride in pre-planning and prepping the jobs prior to getting the guys out there."
TEAM
Roofing Contractor: Advanced Roofing Inc., Fort Lauderdale, Florida, advancedroofing.com
MATERIALS
Membrane: Sure-Flex 60-mil PVC, Carlisle SynTec, carlislesyntec.com
Temporary Roof: Pika-Ply, S.R. Products, Macedonia, Ohio, simonroofingproducts.com