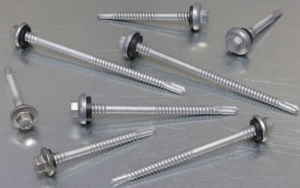 Triangle Fastener Corporation expands their line of BLAZER Drill Screws with new sizes designed to attach metal panels over rigid insulation. These unique screws have two different threads with a gap in between that eliminates jacking of the panel during installation.
Features and benefits:
A special ¼-14 "high thread" under the screw's head secures the metal panel tightly against the head for optimal seal
Unique unthreaded section eliminates the "jacking" of the panel during installation, improving the drilling and tapping performance
BLAZER 3 drill point for fast penetration with less effort
Lengths: 1-7/8-inch, 2-3/8-inch, 3-1/4-inch and 4-inch
TRI-SEAL 1,000-hours salt spray coating provides over 20-times more corrosion protection than screws with commercial zinc plated
Available with a zinc alloy cap or stainless steel cap providing corrosion resistance in harsh environments
For more information, visit www.trianglefastener.com.