Fluid-applied membrane systems have been available on the U.S. commercial waterproofing market for many years. Originally, the systems most frequently applied were hot-applied emulsions with or without reinforcements. In the early 2000s, a liquid rubber membrane system was developed that could be applied in cold-process fluid-applied applications. The liquid rubber material combines the elastic properties of rubber polymers with the weatherproof/waterproof characteristics of a highly refined emulsified asphalt. The resulting formulations are proprietary materials that, when properly applied, adhere to form a monolithic rubber membrane. The resulting membrane can be applied to range from 20 mils to 200 mils dry.
Unlike coatings that only provide a film surface or adhesives that require reinforcements for waterproofing capacity, the liquid rubber forms a seamless membrane that provides instant waterproofing/weatherproofing capabilities. The material cures within seconds to 80 percent of its full strength with full cure within 12 hours of application. The liquid rubber membrane is manufactured at the point of application through its dual component formulation; the system consists of a spray grade and a catalyst that are mixed together at the moment of application through specially designed spray rig equipment. The chemical reaction between the spray grade and the catalyst results in an instant, seamless rubber membrane. The instant set allows the seamless membrane to be in direct contact with water immediately. This feature also allows for the material to be applied either horizontally or vertically up to 200 mils thick in one application. Although the membrane still requires time to fully cure, it is approximately 80 percent cured when the two materials come into contact. This is a unique feature of the material, and it requires specialized equipment and training to be applied correctly.
Advantages of Liquid Rubber Membranes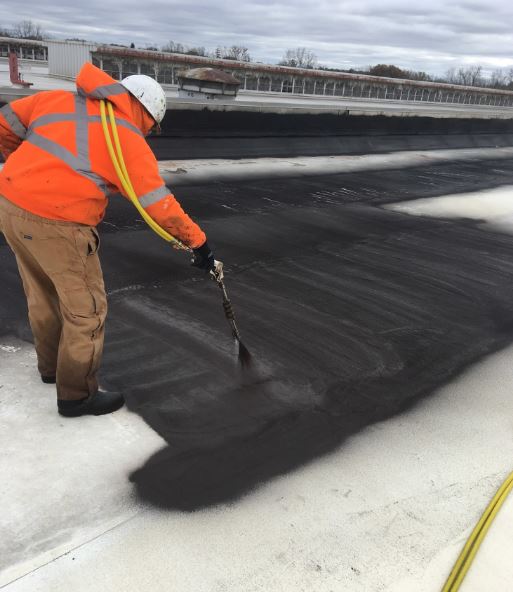 Liquid rubber membranes combine the properties of adhesives and coatings while adding significant technological advancements that create an instant-setting waterproofing/weatherproofing membrane. It is the 21st century version of a built-up roof (BUR) system that has the performance characteristics of modified bitumen and—because it is a monolithic, seamless membrane—it provides a longer service life with less maintenance than other options. Liquid rubber membranes provide economical solutions to almost all roofing and waterproofing/weatherproofing applications and offer excellent performance characteristics.
The primary advantages of the material are as follows:
· Superior elongation and recovery. Structures move. Surfaces expand. Seasonal temperature changes alter the size and shape of every object. Liquid rubber membranes have the capacity to stretch and recover, which allows for movement of the underlying surface. The average elongation is over 1,000 percent, and the material recovers to 90 percent of its original state after elongation.
· Excellent adhesion. Liquid rubber bonds to most substrates and forms a permanent bond with itself, resulting in self-healing and self-sealing properties. The liquid rubber membrane provides excellent adhesion to metal, wood, plastic, and concrete — even green concrete. It also provides strong adhesion to existing construction materials like BUR, modified bitumen, thermosets and thermoplastic membranes, and all waterproofing materials. In most cases, no primer or tack coat is required.
· Sustainable and environmentally responsible. The materials contain no VOCs and satisfy EPA regulations and environmental concerns. No special ventilation is required, as the material is non-toxic, odorless, and non-flammable.
· Safe applications. Products are available that can be applied with trowels or squeegees as well as a specially designed dual-component spray rig. No heat, kettles, torches or open flames are required in the application process. The material is safe to apply and poses no health risks to the applicators.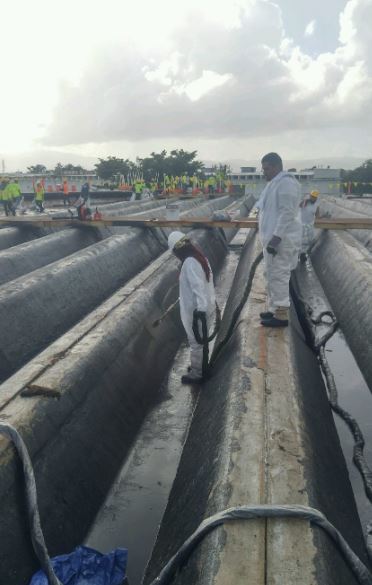 Another primary advantage of the liquid rubber membrane system is that the material is self-leveling. This allows the membrane to conform to substrate irregularities and provide a continuous seal at penetrations, which are typically the most difficult details in roofing applications. The instant, full adhesion of the membrane allows for continuous system application without additional components that would be required with other membrane applications. This eliminates the chances of deformation from the breakdown of different material system components. It also eliminates some of the application errors associated with multi-component systems.
Deformations of one of the materials in the multi-component system can lead to failure of the total system. Examples of typical defects in roofing systems include loss of attachment from improper adhesive application at substrate, insulation or membrane; improperly aligned insulation; loss of attachment of insulation due to substrate irregularities; voids in membrane attachment that lead to blisters and/or ridges; and slumping or buckling flashing due to improper attachment. The improper attachment of one component leads to differential movement in the system.
Liquid-applied systems form a monolithic membrane, eliminating the most vulnerable point of rolled membranes for moisture infiltration: the seams. The superior adhesion characteristics to all types of substrates and materials also eliminates the chances of moisture infiltration under the membrane.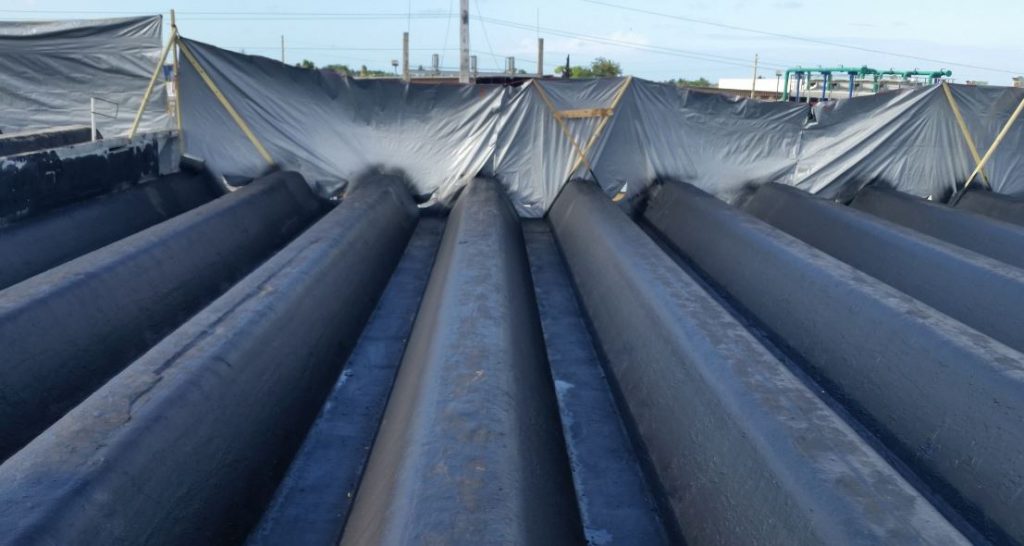 The elongation and flexibility of liquid rubber membrane exceeds industry standards. This allows it to withstand typical thermal cycling and perform well in extreme heat and cold. Application temperatures are wider than most other adhesives and coatings, and range from ambient outside temperatures of 20 degrees Fahrenheit to over 100 degrees. The membrane is naturally UV resistant and can be exposed throughout the lifetime of the membrane. The membrane is compatible with all types of reflective coatings if application is required. Granule surfacing can also be applied.
The membrane is also very durable. Depending on applied dry mil thickness, the membrane can withstand heavy force and is puncture resistant with self-healing and self-sealing properties.
The membrane can be applied over damp surfaces and it can be exposed to ponded water in unlimited duration. The material has been used as pond liners and in containment tanks since its introduction to the market. The water absorption rate is less than 1 percent—well below ASTM's minimum water absorption rate of waterproofing materials, which is 5 percent.
Benefits for Applicators
There are significant benefits to applicators of liquid rubber membranes. The foremost benefit is the reduced crew size required for application. This is an important consideration due to the severe labor shortages affecting the construction industry.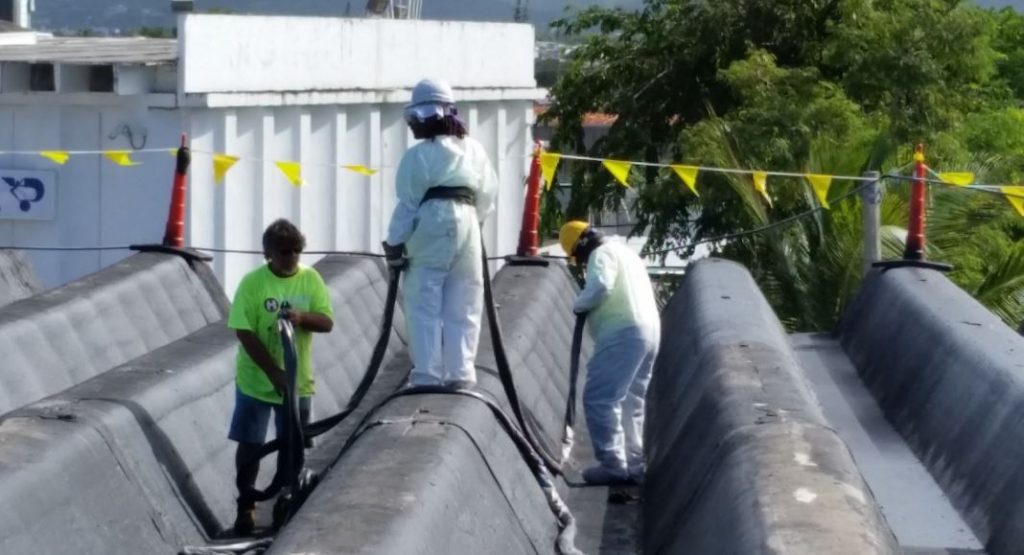 In most cases, a crew of three properly trained and experienced applicators using one spray rig can complete up to 10,000 square feet in one day. Additional hoses and/or spray rigs can double or triple those production rates.
In addition to the advancements in material technology, there are vast improvements to the specialized equipment used in the application process. The spray equipment is now portable and can be transported to construction sites without heavy trucks and covered trailers. The spray equipment is also lightweight and can be easily positioned on roof areas or waterproofing trenches. This equipment is housed on four-wheel carts for easy transport throughout the construction site.
The spray equipment consists of a high-volume, low-pressure system. The dual component equipment mixes the two components outside the gun to form a monolithic membrane upon impact with the substrate.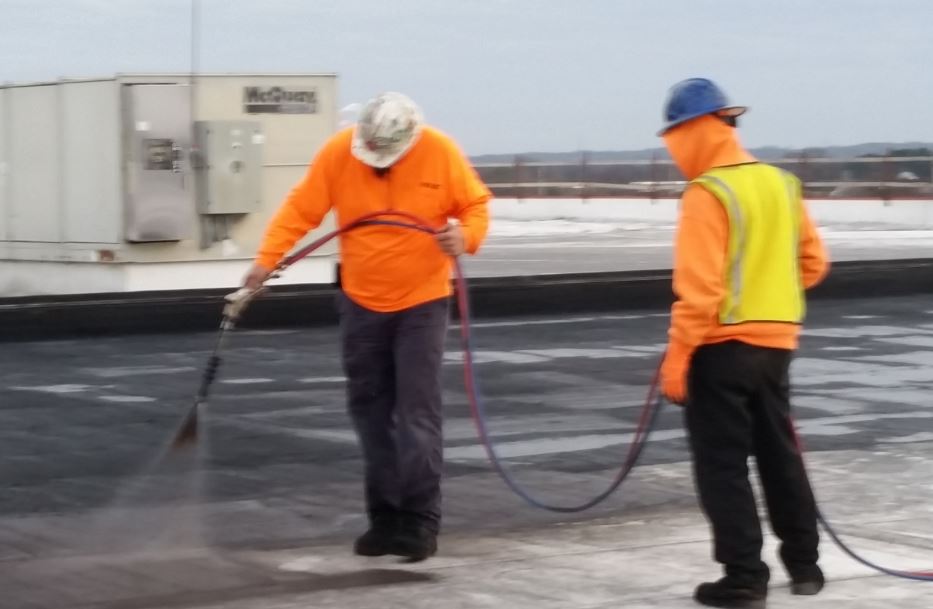 The equipment has a direct drive system to eliminate downtime associated with traditional belt drive systems. The application rate averages up to 1,000 square feet an hour for one gun. The equipment can run two guns at the same time, which increases production to 2,000 square-feet per hour. It can run up to 600 feet of hose and the material can be contained in everything from a 5-gallon pail to a 275-gallon tote. The most common container is a 55-gallon drum.
The spray guns have also improved. Advancements in manufacturing have eliminated most of the clogging issues that plagued spray guns in the past. The spray guns are lightweight and can be disassembled rapidly if material clogs occur. The older spray guns took up to an hour to take apart in the event of material clogs.
Overspray—a common problem with most spray applications—is minimized in liquid rubber membrane applications because it is a low-pressure application and the material cures instantly after release from the spray gun. Precautions, such as coverboards, should still be set at perimeter building locations and application should not be attempted in accelerated wind conditions, but the chances of excessive overspray are minimal.
Liquid Membranes and Roof Restoration
Because of their waterproofing/weatherproofing capacity, instant cure set, adhesion success with most substrates and materials, wide range of application temperatures and membrane mil thickness that can range from 20 mils to 200 mils dry, liquid rubber membranes can perform in most building exterior applications, including new and remedial roofing applications. At this time, the systems are being used primarily as roof restoration and repair products.
Typical roof restoration projects include applications over built-up roof systems (asphalt and coal-tar), thermoplastics, EPDM, sprayed polyurethane foam, metal and tile. The liquid rubber membrane systems were designed to significantly extend the service life of the existing roof system. They are also excellent for repairing flashings and penetrations. The spray equipment is small and mobile and most repairs can be completed with minimal manpower.
When it is applied by knowledgeable installers, the system is an excellent economical choice for building owners. The initial step in the restoration process is the proper repair of the existing roof system and preparation of the surfaces. All surfaces should be free from any loose dust, debris, oil, grease or foreign material. These items should be removed prior to application by means recommended by the manufacturer. The liquid rubber membrane can be applied over damp surfaces; however, extensive ponding water should be removed prior to application.
Proper roof repairs should be completed in compliance with roofing industry standards. The one-part emulsion can be used for repairs to the existing membrane. Reinforcements should be added as required. All cracks, penetrations, existing seams, corners should be addressed using polyester fabric with roller/brush or trowel grade.
Once proper repairs and preparation are completed, the liquid applied membrane can be applied to the existing roof surface. For most roof membranes and substrates, a light rinse/power wash of the surface is all that is required. A primer is required over existing EPDM membranes.
The other exception is on aggregate surfaced built-up roof systems, which require additional preparation. Removal of all loose aggregate is required. On asphalt-based BUR, the liquid applied membrane can be applied directly over the prepared surface. For coal-tar based BUR, a manufacturer-approved fabric is required due to the gassing of the coal tar. The reinforcement should be set in a 20-mil wet profile of one-part liquid rubber. The reinforcement shall be set in a full and even application so that it is fully adhered with no wrinkles, buckles or blisters. The liquid rubber membrane is then set over the reinforcement. For best application practices, the reinforcement should be set in place with a soft-bristle broom.
The application of moisture relief vents is also required on BUR systems to prevent gassing of bitumen, which could contribute to blisters. Typical applications require one vent for every 1,000 square feet. Additional vents may be used in areas with existing moisture in the system.
Once the preparation and proper repairs have been completed, the liquid rubber membrane can be applied. Application can be completed with brush, roller or trowel in smaller application areas. Spray grade material shall be applied using specialized equipment. Apply material in a full and even application. Always apply it in strict accordance with manufacturer's recommendations and approved submittals.
Stir materials during application in accordance with manufacturer's instructions to avoid product separation. Applicators should spray the fluid component as a continuous, monolithic and seamless membrane of uniform thickness, beginning at the lowest point and terminating at the highest point. In the event the membrane is applied too thin, contact the manufacturer for recoating guidelines. Prior to application, create a grid across the roof with spray paint, allocating one drum of material per section of the grid. Perform cut-outs to check mil thickness and retain samples. Typically, three test cuts are to be taken per 1,000 square feet. In addition, continuously check wet millage by using the "T" post on a caliper mil gauge. After the liquid rubber membrane has cured, apply trowel adhesive to any visible voids. Comply with the manufacturer's recommendations for proper membrane terminations.
For horizontal applications, apply the two-part liquid rubber membrane in a single, monolithic coat to minimum 80 mils wet/60 mil dry. Repair damaged installation in accordance with manufacturer's requirements. The spray application requires a 90-degree spray angle (a golf putting motion) with the spray tip within two feet of the surface. Wider spray angles will decrease mil thickness and can cause uneven application.
Ultraviolet stabilizers are added into the material formulation so the completed liquid applied membrane does not require additional surfacing for UV protection for short term (less than ten years) exposure. Long-term exposure (and warranties) require that some sort of surfacing is applied for additional reflectivity or protection. A variety of surfacing materials, including coatings, granules, pavers and living roof applications can be applied.
Liquid-applied membranes are typically eligible for warranties from 10 to 25 years. Contact the manufacturer for warranty requirements.
About the author: John A. D'Annunzio is the owner of Paragon Roofing Technology, headquartered in Troy, Michigan. He has been involved in testing, evaluating, and designing roofing and waterproofing materials and systems for more than 30 years. For more information, visit www.paragonroofingtech.com.