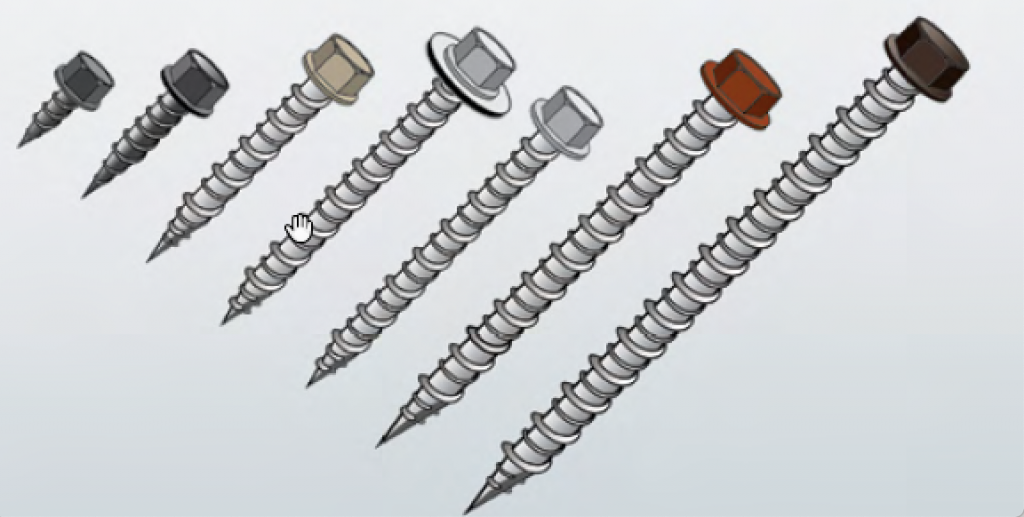 Boral Roofing LLC launches its official line of high-performance Screw Fasteners for use with Stone Coated Steel Roofing Tile. The comprehensive line of screw options is designed for durability and ease of installation. Weather resistant and designed for use in any climate, the best-in-class fasteners have all been performance tested.
According to the manufacturer, All Boral Steel screws are covered with L3 Dura Protec, a corrosion-resistant coating, and panel screw heads are colored to blend with roofing panels and trim. All Boral Steel screws have a finely detailed 0.25-inch Hex Washer Head (HWH), as well as a combination of a sharp T-17 self-tapping point along with H-Low high and low threads to ensure they drive quickly through the multiple layers of steel panels and into the wood decking and battens for fast, easy installation. By using screws to secure the stone coated steel roof panels and accessories, repairs and retrofits with solar, skylights and other roof upgrades in the future are made easier, according to the company.
"This line of screws is the culmination of in-depth company research into various fastener materials and technologies and represents the best options available for use with Stone Coated Steel Roofing," said Pete Croft, brand manager of steel roofing for Boral Roofing.
Boral Steel's high-grade carbon screws are corrosion tested to 1,000 hours of Salt Spray (ASTM B117). Boral Steel also offers Stainless Steel Panel screws, which have been tested to 1,500 hours of Salt Spray. These come with black coating on the head and shaft to easily identify them.Every box of panel screws contains a nut driver to ensure easy installation. Each nut driver includes a pre-set magnet.
For additional information on the screw collection, visit https://www.boralroof.com/wp-content/uploads/boral-resource/BoralScrews-0719.pdf. For more information about Boral Roofing, visit www.BoralRoof.com.