No roof is guaranteed to withstand a hurricane. However, a properly installed metal roof can often be your best bet. In high-wind areas from Texas to Maryland, the architects and designers for these projects chose metal roofs specifically for their ability to stand up to the weather.
A Hurricane Survivor
St. Mark's School of Texas features classic copper roofs as a signature design element. The campus' Winn Science Center, dedicated in 2019, featured a domed roof clad in PAC-CLAD 16-oz. copper Snap-Clad panels. John Wayne Whitton, director of operations for installer Texas Roof Management, specified the product, sharing, "They're the best quality of products, and the finishes are the best in the business. I've known them a long time – if I'm putting the roof on and I have a choice, it's going to be Petersen." The domed roof was a completely custom job, with panels made in the shop and locks handmade on site. Whitton's team received assistance from Petersen for the shop drawings for the roof, like they typically do. "We usually just say, let Petersen do them."
Shortly after the center opened, a tornado swept through St. Mark's campus. The Winn Science Center roof was the only one left in place on campus by the storm's end, remaining fully intact despite winds of almost 150 mph. Only two panels had to be replaced due to penetration by flying building materials.
Whitton says, "In terms of performance, the panels did just what they were supposed to do." He adds that when it came to replacing the torn-off roofs, the new roofs were all specified with PAC-CLAD products as well.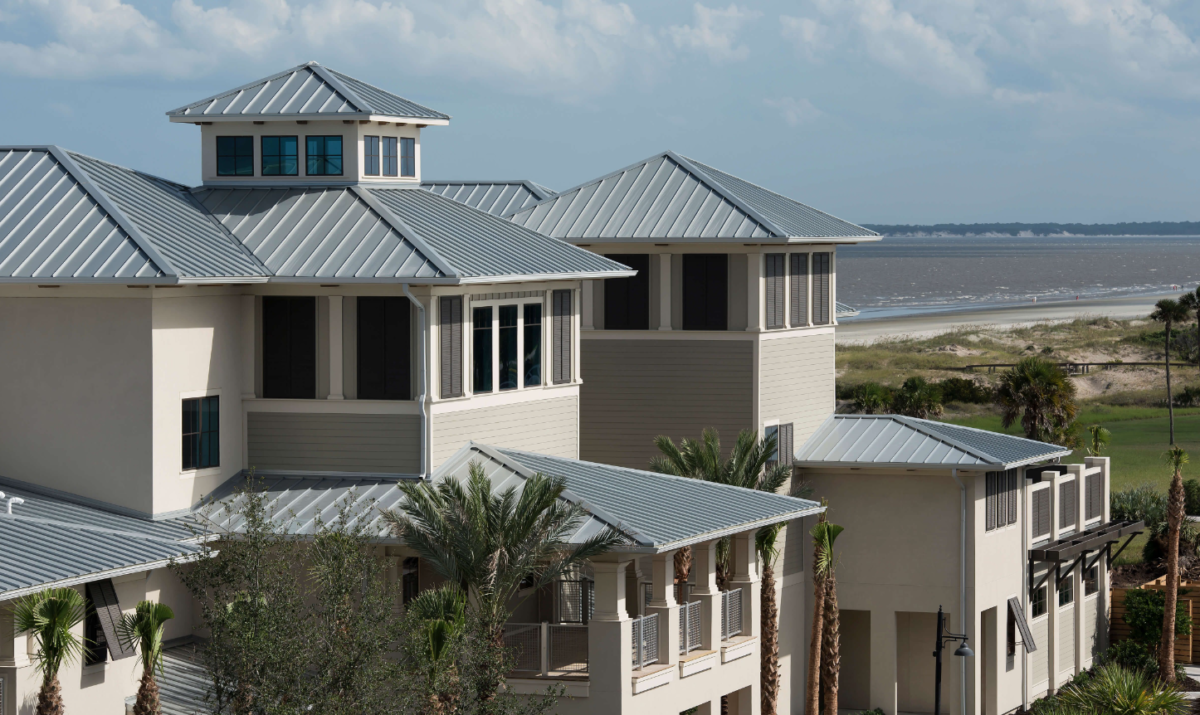 Installation Doesn't Falter, Despite Two Hurricanes
Jekyll Island Ocean Suites is a boutique oceanfront hotel in Georgia. The venue is associated with the nearby historic Jekyll Island Club, founded in 1886, which catered to the nation's wealthiest families, including the Morgans, Rockefellers and Vanderbilts. The harsh saltwater environment of the oceanfront made an aluminum roof the logical choice. The building design, explains principal John Cotner of Cotner Associates Inc. in Fernandina Beach, Fla., was to keep "the aesthetics of the historic club, yet incorporating a modernistic context. The design was a blending of the old and new."
Cotner hadn't been involved in any of the several previous PAC-CLAD projects on the island, however he was familiar with the brand, and liked the standing seam design. "It's a recognized name in the industry. Most importantly, we were looking for a panel that wasn't highly ribbed. A lot of manufacturers today are doing a very accentuated rib and I didn't care for that aesthetic. We were looking for a true flat panel. We wanted the more historic look of the standing seam."
Installation project manager Steve Halminski, of Commercial Sheet Metal Systems in Jacksonville, Fla., said they often work with both Cotner Associates and Petersen. "It's pretty much all coastal work using the Snap-Clad profile with stainless steel clips and engineered spacing. The .040 Snap-Clad meets the wind uplift criteria." Installers had to contend with not one, but two hurricanes during the installation process. Hurricane Matthew occurred during the initial membrane process, followed by Irma when the roof was being installed. Says Halminski, "Those were two pretty stout hurricanes, but the roof handled them really well. The weather was certainly the biggest challenge on the job."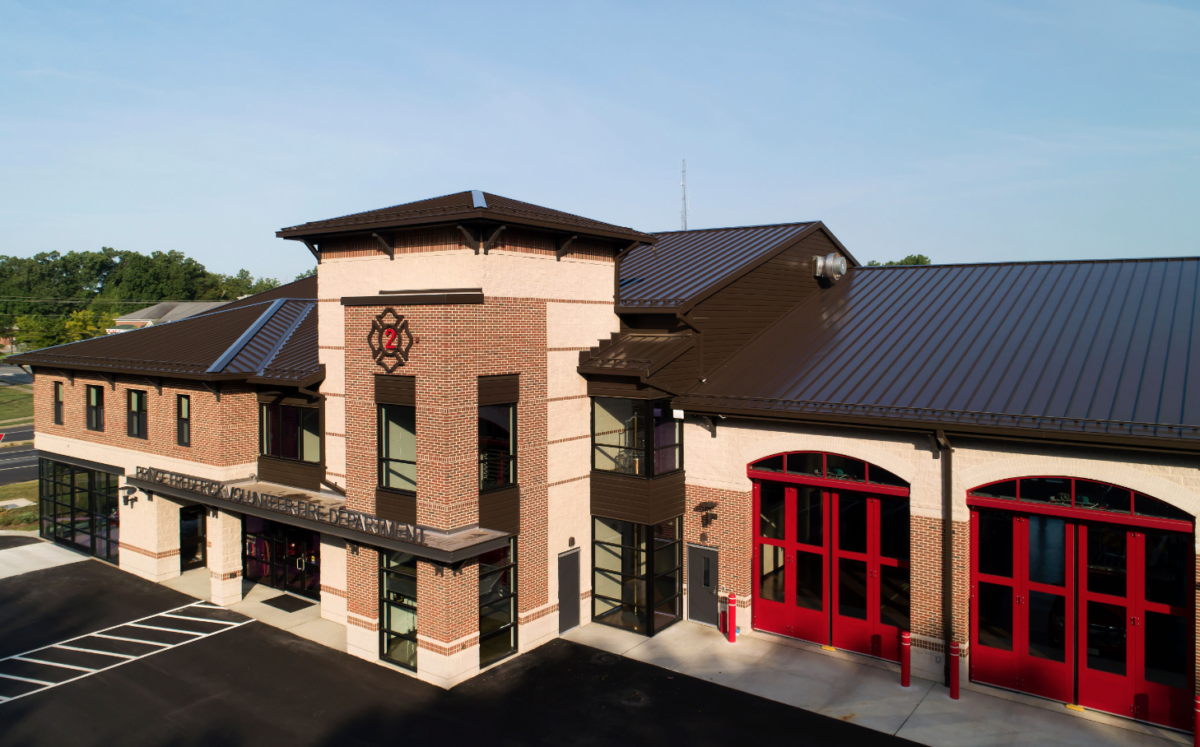 Landmark Volunteer Fire Station Features Outstanding Design and Performance
The Prince Frederick Volunteer Fire Department has been fighting fires in the area for more than 90 years. Department members started planning in 2004 to replace the previous station, built in the 1950s. It took almost 15 years to generate the $11 million in funding the project required. Annapolis, Md.-based project architects Bignell Watkins Hasser Architects ("Bigwaha") wanted the design to emphasize the department's pride in its history. Bigwaha project manager Michael Matula shares, "The building design was meant to convey a welcoming presence and is a modern take on the traditional architecture of the area. The building is clearly seen as a fire station that will be around for years to come."
When it came to roofing, performance was equally important as looks, because Prince Frederick frequently experiences high winds, due to its location less than five miles from the hurricane-prone Chesapeake Bay coast. Matula explains, "We decided to use a metal roof, due to the long-term reliability and look of the product. We wanted a roof system that will remain intact during the worst weather conditions."
Installers with Orndoff & Spaid in Beltsville, MD, installed several PAC-CLAD profiles, including 20,700 sq. ft. of 22-gauge steel Tite-Loc Plus panels in Dark Bronze for the roof. Mike McKinney, Orndoff & Spaid's project manager on the job, said they didn't need extra assistance from Petersen on this project, but felt confident they would be there if needed help. "I started putting on Petersen panels in 1979 – dealing with their details is second nature for us. Whenever we have any issues, they're always there to help us out."
For more information on PAC-CLAD durable metal roofing and wall panel systems, to view case studies, and to see our outstanding line of cool colors and finishes, including metallics, wood grain and ore finishes, please visit PAC-CLAD.com. Our representatives are always available to discuss your specific project needs.