For Rachel Price and her mother, Janice Stephens, the White Sands Inn represented 20 years of hard work and memories. Situated on Marathon, Florida's Grassy Key, the eclectic beachfront lodge looked out on tranquil blue waters framed by graceful palm trees. Idyllic and serene, White Sands was a vacation home away from home for legions of loyal patrons.
But the oceanfront location that made it so popular with visitors also put it right in the path of Hurricane Irma, one of the most powerful and costly storms ever to hit the United States. After making landfall in Barbuda as a category 5 on September 6, 2017, Irma roared through the Caribbean toward the vulnerable islands at the Sunshine State's southern tip.
The Keys bore the full brunt of Irma's Category 4 winds and rain on September 10. The storm then traveled directly north up the entire length of Florida and into Georgia before dissipating, leaving more than $50 billion in damage in its wake, according to the National Oceanic and Atmospheric Administration's (NOAA) Office for Coastal Management.
As Price watched the storm build and prepared to evacuate, she worried whether her hotel would survive. When an apprehensive Price finally returned, she found the inn practically in ruins and the roofs of both of the inn's buildings completely gone. Determined to rebuild and re-open, she knew that a new roof was a top priority. Contractor Charles King used Lapolla roofing products manufactured by Icynene-Lapolla to shield White Sands from the elements and help Price prepare to re-open her doors to guests.
Preparing for a Direct Hit
With one eye on the weather reports, Price began bringing in all of the hotel's outdoor equipment and battening down anything that could break or cause damage. Then she boarded up the windows, threw some essentials in the car and joined the line of Keys residents and Miamians headed north.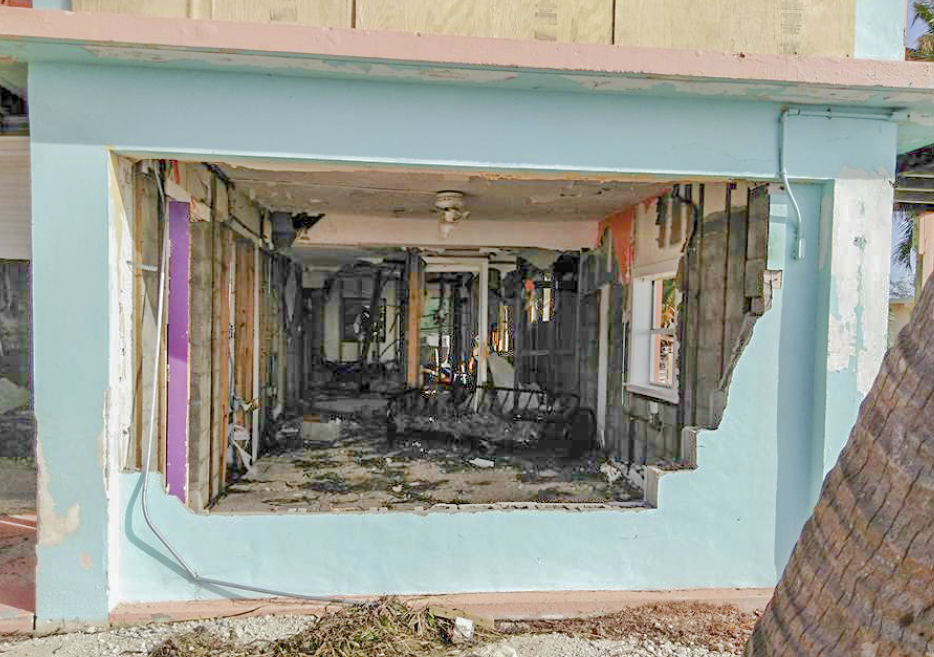 Evacuating, however, turned out to be a difficult task. With all of Florida in the storm's path, Price and her mother had no safe place to stop. They eventually ended up near their original home of Cincinnati, Ohio.
Not everyone left. A few "old salts," as Price calls them, weathered the storm in bars and restaurants. Photographers also traveled to the Keys expressly to document the destructive event.
In the days after the storm, photos depicted catastrophic damage: crumbled walls, demolished homes, crushed trailers, scattered debris, boats in the street and roofs damaged from the Keys to the Florida-Georgia state line. Tagged in online photos of the hotel, Price and her mother had some idea of the situation that awaited them.
Because of damaged and inaccessible roads, Price and her mother couldn't get back to Grassy Key for two weeks. The first thing she saw when they returned was that one of her buildings, a duplex, was missing a roof, exposing the interior to heavy rains. She found the roof on top of a car she had hoped to save from Irma. The duplex also lost windows, allowing waves up to 10 feet high to cause extensive water damage inside.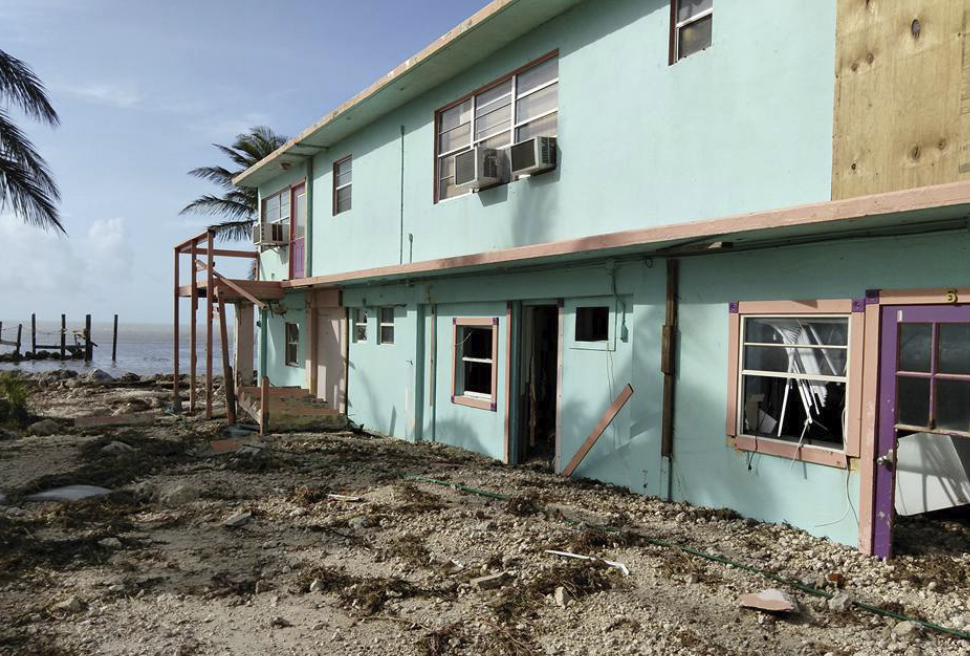 The other building, the main complex of the White Sands Inn, sustained serious damage everywhere. Waves had punched enormous holes in the ocean-facing side of the building and sucked everything inside out to sea. Furniture, toilets and showers were simply gone. One room remained salvageable, but it had to be dug out of a mound of sand.
The 4,500-square-foot flat, modified bitumen roof was gone, lifted completely off by the powerful winds and deposited a quarter of a mile away. The 20-year-old roof system was built before newer building codes were enforced, and its drip edge was not properly nailed down.
"The entire roof came off down to the wood," Price says. "The whole entire roof was just sheared off. It lifted up and split off of the building."
Steps to a New Roof
Price immediately filled out the Small Business Administration paperwork necessary for disaster loans and began getting quotes from roofing contractors. One of them was Charles "Charlie" King of Southeast Waterproofing and Coatings, a family-owned firm based in Geneva, Florida.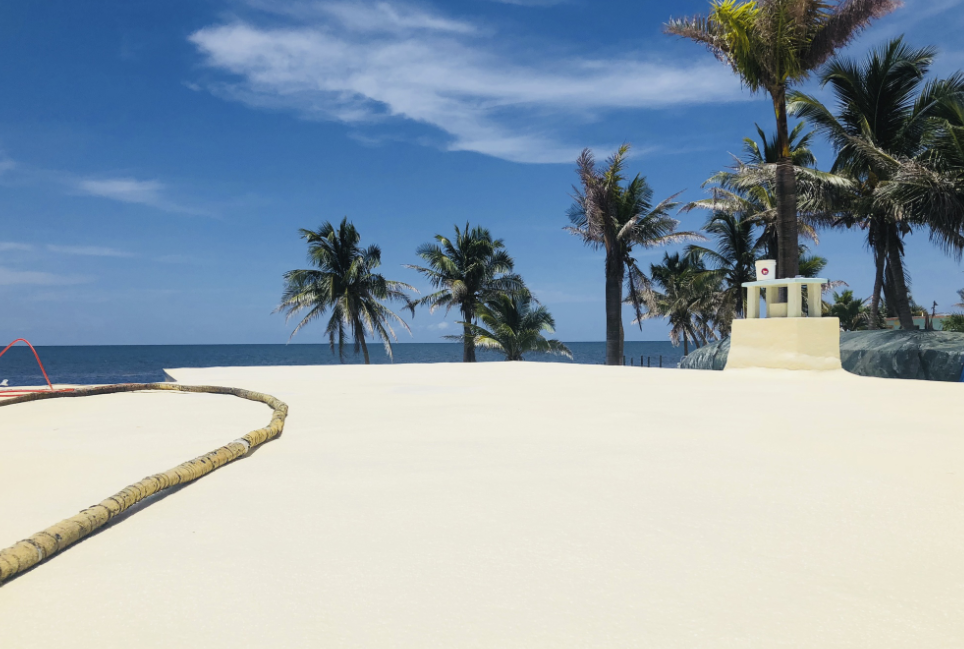 He didn't get the job — at first. Price opted to hire a local contractor who promised to do the roof of the main building as well as the interior, all in a couple of months. After a while, he failed to show up and sent another roofer in his place. By then, many months later, city inspectors had shut down the renovation project and found that the contractor had installed only half of a roof — and it was crooked.
Price went back over her estimates and this time hired King.
Rain was still falling inside the White Sands Inn building the next summer when King and his small crew made the trip to Grassy Key. Having previously made a fast and sturdy repair at the Marathon Community Playhouse and Cinema, King already had a good relationship with the local building department.
King and crew arrived on July 2, 2018. After finding a place to stay in the Keys on a holiday weekend — no easy task — he and his crew restored Price's roof in just a few days and still had time to go deep-sea fishing before heading home.
A Waterproof Roof for the White Sands Inn
One of King's primary challenges involved the previous contractor's botched fix, which had left a low spot in the roof over a main living area. The spot acted as a funnel, channeling rainwater into the building's interior and causing the ceiling and floor of the building's second floor to sink.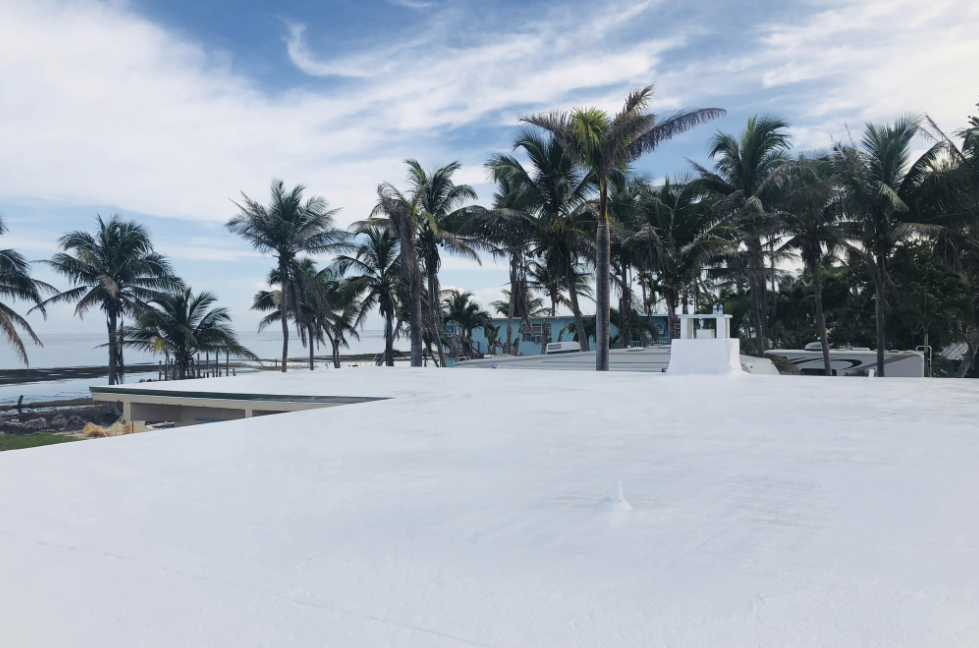 "First, we removed the previous contractor's single-ply roof and started over on the 4,500-square-foot White Sands Inn roof," King says. "The building was old and very little space was left for air conditioning ducts between the ceiling and roof."
The White Sands Inn's new flat roof included a three-quarter-inch plywood substrate nailed according to code. King constructed a custom gravel stop with a larger top than the previous roof's, which he then nailed and screwed every four inches, staggered.
"We anchored the face every 16 inches to 2-by-8 fascia," King explains. "That's beyond code. I just like the extra protection."
The crew worked quickly to avoid the inevitable moisture present in tropical areas, especially in the mornings and evenings, and laid down a nailable venting base sheet as the basis of the new roof. Atop this barrier they applied a Thermo-Flex polyurethane foam roof system featuring an acrylic coating.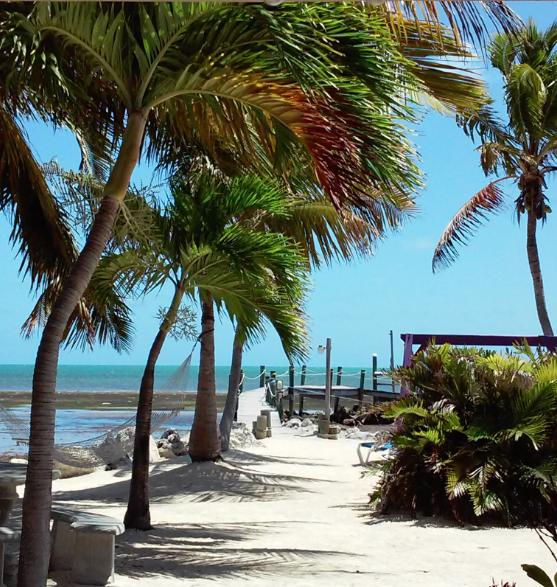 King and Price agreed that the roof system would offer the hotel the best possible protection against tropical storms, rain and intense UV exposure. FOAM-LOK 2800 is a closed-cell, polyurethane foam system used on a variety of substrates for both waterproofing and insulation purposes. Therma-Flex 1000, an acrylic coating designed specifically for roofing applications, protects and preserves roofs from heat, moisture and severe weather.
The crew sprayed the polyurethane foam onto the roof substrate in a sloping shape that channels rainwater toward the building's intended drainage pathways. Thermo-Prime and Thermo-Flex acrylics were applied on top of the polyurethane foam to completely seal the roof and ensure that everything adhered firmly to every square inch.
The roof system is designed to provide a lightweight and sustainable seamless umbrella over a wide variety of new and existing roof substrates to protect against rain and hail. It also includes a fire retardant and exhibits excellent dirt pick-up resistance.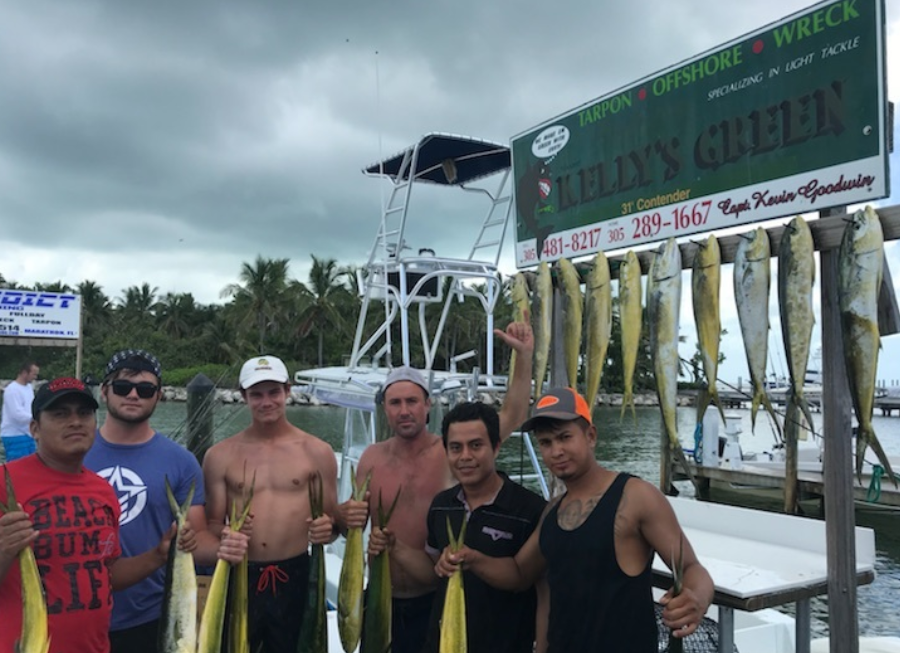 The system does, however, require a professionally trained roofer who understands the proper application procedures. King works regularly with Lapolla products and installed Price's roof to stand up to the heat and moisture of tropical conditions for the life of the system.
In fact, King's customer service is such that when Price called him about a small leak near the fireplace after the roof was finished, he hopped on a plane immediately — only to discover that the issue was not related to the roof at all. He fixed it anyway.
The Return of a Florida Keys Vacation Mainstay
The new roof should help protect the White Sands Inn if another hurricane hits the Keys. King noted that after Hurricane Michael, which devastated the Florida Panhandle in October 2018, most of the few buildings that remained standing had spray-foam and coating roofing systems.
King has a lot of faith in his work, and not without reason. In response to the adage, "They don't make 'em like they used to," King says: "You're right. They don't. They make 'em much better now."
An added bonus is that the Thermo-Flex system boosts the R-value of Price's roof, a plus in an area prone to high heat and direct sunlight. She expects her cooling costs to come down drastically in the near future.
King, who has extensive post-storm repair experience, advises home and business owners to choose state-licensed contractors for their roofing work. The savings promised by the other guys, he says, might end up costing a fortune when the work is either not finished or not done according to code.
Though the roof is completed, interior work is still going on and Price is not sure when the White Sands will re-open for guests. But one thing's for sure: King and Icynene-Lapolla products helped save Price's business, and once the White Sands opens, King has a standing invitation to stay at the inn whenever he's in town.
TEAM
Roofing Contractor: Southeast Waterproofing and Coatings, Geneva, Florida, www.foamittoday.com
MATERIALS
Spray Polyurethane Foam: FOAM-LOK 2800, Icynene-Lapolla, www.lapolla.com
Acrylic Roof Coating: Thermo-Prime and Thermo-Flex, Icynene-Lapolla