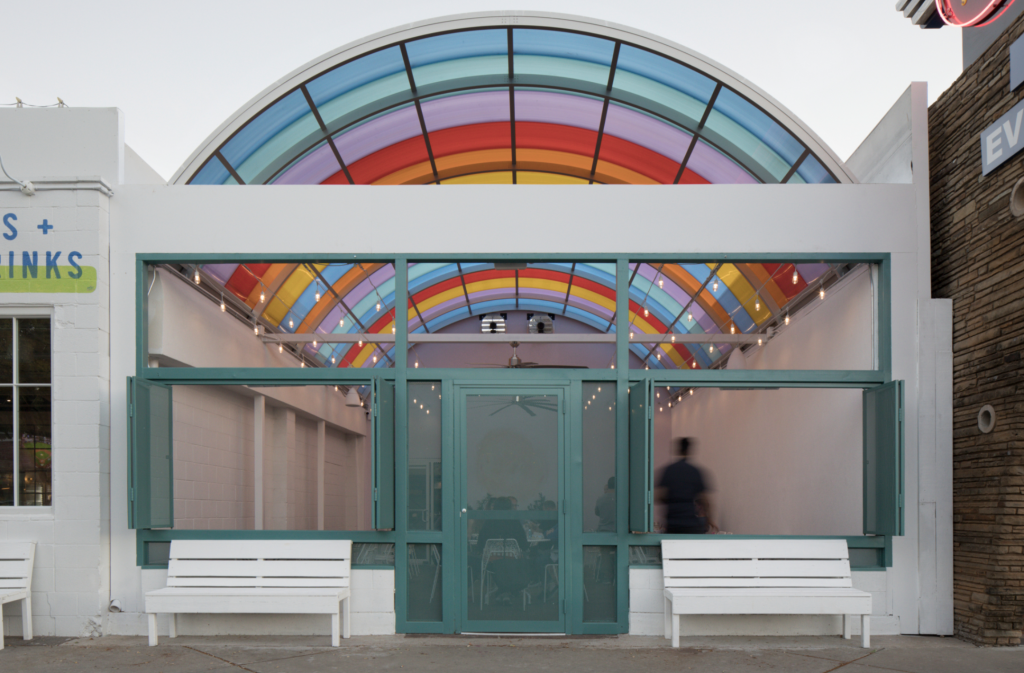 Located in Oklahoma City's Plaza District, Mexican Radio specializes in two things: tacos and cold drinks. The newly opened concept restaurant conceived by A Good Egg Dining Group occupies a lively, fun space.
The property's major restoration includes a covered outdoor dining area. There, a translucent vaulted canopy crowns the space in a swirl of bright colors. Inspired by a colorful fine art glass installation, the owners and architect collaborated to find the right solution.
The canopy adds more than just a bright accent for diners: It creates an additional dining space that protects diners from the elements and makes the space useful nearly year round.
Style and Substance, on Budget
During the renovation, the outdoor dining area was demolished down to the existing steel tube structure. Kingspan Light + Air manufactured a fully engineered, customized and prefabricated vaulted canopy to fit the existing steel structure. Kingspan provided a clear anodized aluminum structure, and six unique glazing colors designed to bring the owner's vision to life.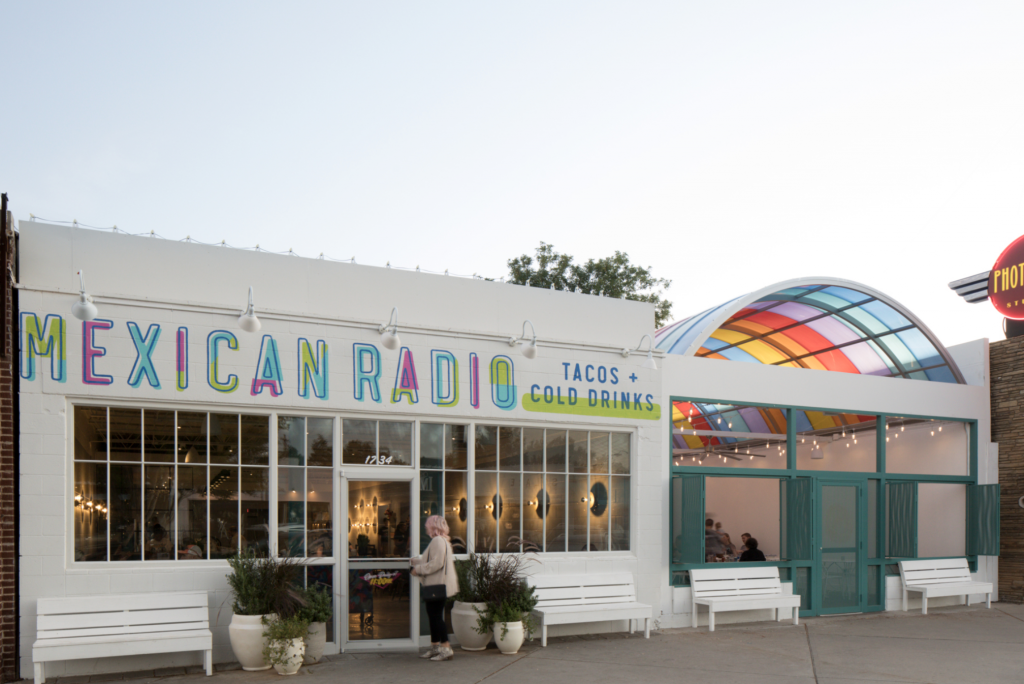 "We knew colored glass wouldn't work on this budget," says Zack Woods, AIA, with Gardner Architects. "But with the Kingspan product, we could get the bright tones of color the customer wanted, and we could cover more square footage, spanning a full patio instead of a very small area."
Mindful of the project budget, Kingspan provided a variety of color panels with no high setup costs. Non-standard "off the rack" hues lend a lush, custom-job look. "The tones of colors used give this a unique feel and kept the budget on track," Zack says.
The canopy provides a durable, inviting and comfortable venue for diners. Because one end of the canopy is open to the street and the other is connected to the building, the space is largely sheltered from the elements. Ceiling and attic fans circulate air and pull heat out in the warm summer months; patio heaters create a cozy space in the winter.
Providing more than just a comfortable environment, the Kingspan Light + Air Pentaglas canopy system is built to last. The system has undergone rigorous 10-year testing to ensure both color stability and impact durability over time. Should the need arise, the unique KLA system allows spot replacement of single panels, so the entire canopy does not have to be replaced.
TEAM
Architect: Gardner Architects, Oklahoma City, Oklahoma, https://gardner.studio
Contractor: J&R Windows, Goldsby, Oklahoma, http://www.jandrwindows.com
MATERIALS
Barrel Canopy: 12mm Pentaglas in six colors, glazing, purlins and rafters, Kingspan Light + Air, www.kingspanlightandair.us