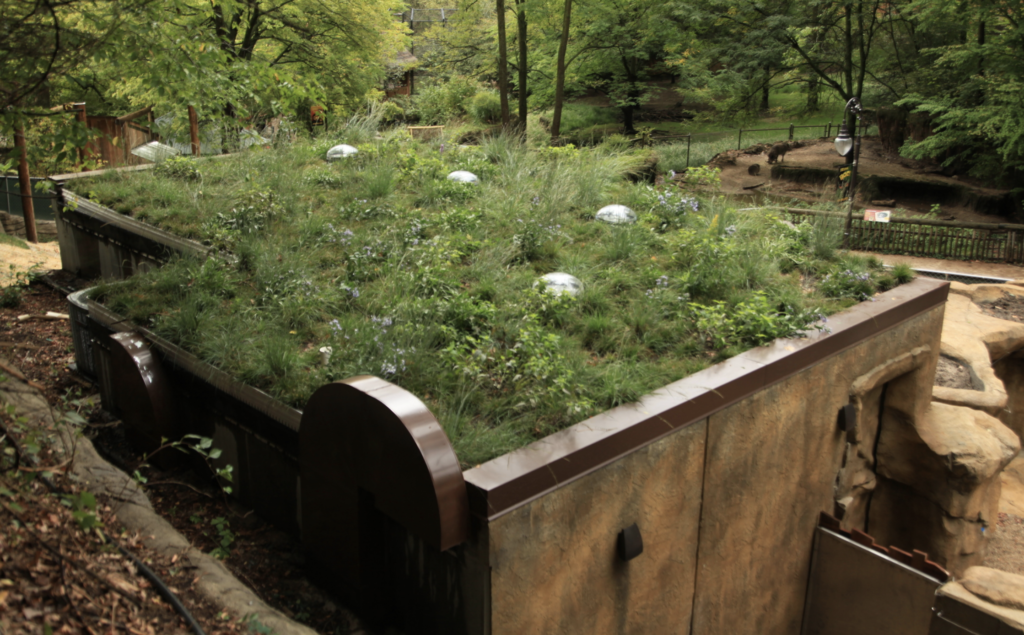 Since 1884, John Ball Zoo's 40-acre stretch of land has continued to flourish in the heart of Grand Rapids, Michigan. At the turn of the 20th century, the zoo population consisted of local favorites such as raccoons and deer. By 1927, Charles Lindbergh deemed the park a popular enough site to address crowds of onlookers after his trans-Atlantic flight. Throughout the 1950s and 1960s, the zoo expanded exponentially, adding a number of new exhibits including Monkey Island, an aviary, and an aquarium. In 1983, John Ball Zoo was the first zoo in Michigan to receive accreditation from American Zoo and Aquarium Association. Moving through the 21st century, the zoo continues to thrive with its innovative tiger exhibit, and a growing list of additions such as its most recent meerkat habitat.
John Ball Zoo has been a proponent of sustainability in all facets of its design — from the conservation of animals to creation of green spaces that make up the foundations to many of its exhibits. Living walls and living roofs are already a part of that architectural landscape, thanks to local experts such as LiveRoof, LLC. For more than a decade, John Ball Zoo and LiveRoof have turned many of its habitat roofs into viable and beautiful green spaces.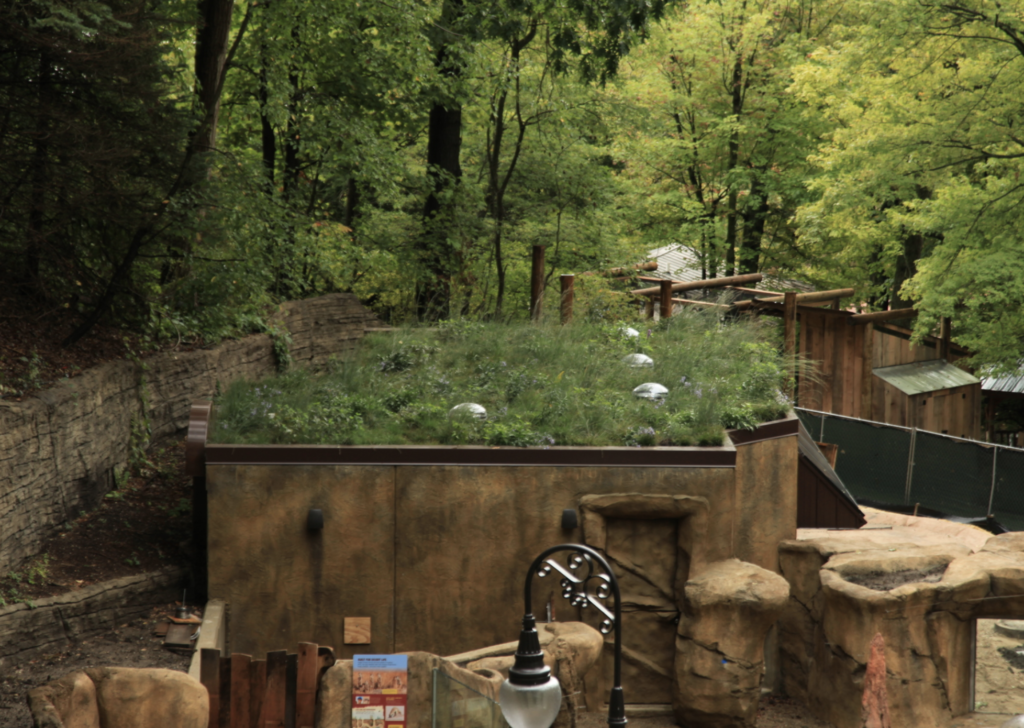 In keeping with this partnership, a new milestone was recently reached. John Ball Zoo has built a first in the nation meerkat habitat that is SITES-centered. A new green certification that considers all aspects of a building's sustainability, SITES is a set of comprehensive, voluntary guidelines together with a rating system that assesses the sustainable design, construction, and maintenance of landscapes. Unlike other green certifications, SITES is a voluntary assessment that is used from the earliest drafting phases, to the outlook of upkeep and maintenance for the foreseeable future. The zoo's goal is to be certified with SITES Gold Certification, which would make John Ball Zoo the first zoo in the country to receive this rating and the first SITES v2.0 project in Michigan.
The meerkat habitat building is topped with the LiveRoof Deep system pre-grown with native plants in locally sourced growing medium. "While John Ball Zoo's other green roofs are populated with sedum and allium selections, this one is different because it contains native grasses and herbaceous perennials," says Allmon Forrester, the zoo's horticultural director. According to Forrester, the existing relationship with LiveRoof was most important in selecting a green roof system because of the work their team has done with the zoo on multiple buildings and habitat enclosures. Forrester's team worked closely with LiveRoof and J&L Roofing, the contractor that installed the green roof system, to secure the necessary documentation on the sustainability of the system, its growing and production methods, and plants.
The roof system beneath the living roof consisted of two layers of 3-inch polyiso insulation, DensDeck Prime cover board set in foam adhesive, adhered 60-mil EPDM membrane and a 60-mil EPDM slip sheet.
In 2008, John Ball Zoo's first LiveRoof was installed atop the building in the lion habitat. Since then, additional green roof systems from LiveRoof have been planted atop buildings in habitats for monkeys, chimpanzees, bobcats, bears, and meerkats. Not only have the roofs been sustainable and met requirements for a number of green certifications, but they also have proved an aesthetic asset to the make-up of the zoo.
TEAM
Architect/Builder: Wolverine Building Group, Grand Rapids, Michigan, https://wolvgroup.com/
Roofing Contractor: J&L Roofing, Grand Rapids, Michigan, http://jlroofing.com
Green Roof Designer/Supplier: LiveRoof, LLC, Nunica, Michigan, https://liveroof.com
MATERIALS
Green Roof: LiveRoof Deep System, LiveRoof, https://liveroof.com