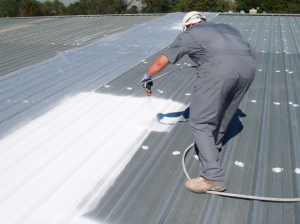 Kemper System America Inc. now offers two cost-effective 'cool roof' solutions for prolonging the life of metal, BUR, modified bitumen and aged single-ply roof systems.
Roof Guardian RG-170 is an elastomer-based coating system ideal for extending the life of many types of roofing assemblies. Formulated using a 100 percent acrylic polymer base for enhanced adhesion and durability, the coating features a high Solar Reflectance Index (SRI) rating of 109 and is Class A fire rated. Roof Guardian RG-180 is a fiber-reinforced elastomeric coating with an acrylic polymer base, ideal for metal, concrete, single ply, modified bitumen, and granular cap sheets. It offers an SRI rating of 108.
"Kemper System has been at the vanguard of liquid-applied roof waterproofing solutions for decades. These two new white Roof Guardian coating systems offer a quick and cost-effective approach for transforming many kinds of existing low-slope roofs into a cool roof that can help building owners cut cooling costs," says Jim Arnold, Director of Product Development for Kemper System.
Part of the company's Roof Guardian Technologies line, the roof coatings can be quickly applied with a commercial-grade sprayer or roller. The highly reflective bright white finish lowers the surface temperature of the substrate to reduce thermal transfer into the structure. This high solar reflectance helps lower indoor temperatures to reduce building cooling requirements.
Formulated to resist cracking and peeling, both products provide excellent waterproofing and long-term mildew resistance. Both solutions are Energy Star and Cool Roof rated.
"For more than 60 years, Kemper System has been a global industry leader in cold liquid- applied, reinforced roofing and waterproofing, having invented the technology and holding the first patents," says Arnold. "Today the company offers a full range of building envelope solutions to protect against weather, preserve the integrity of surfaces, and enhance the comfort and value of buildings."
This portfolio encompasses Wall Guardian fibered acrylic air barrier, Roof Guardian Technologies elastomer-based roof coatings, and HeatBloc-ULTRA radiant heat barrier. Other high-value brands include COLEAN traffic coating systems, and the company flagship for exterior and interior waterproofing, Kemperol reinforced membrane systems.
LEARN MORE
Visit: Kempersystem.net
Call: (800) 541-5455
Email: inquiry@kempersystem.net