"We always want to be on the cutting edge," says Sean O'Reilly. "We want to know what people want and need so we can ensure we will be able to deliver it now and in the future."
O'Reilly is the chief operating officer of SmartRoof, headquartered in McLean, Virginia. The company provides exterior home improvement services including roofing, solar, siding, windows, doors, gutters and insulation. SmartRoof jumped at the chance to team up with GAF Energy on its Timberline Solar system, and the company began installing it this spring. O'Reilly and Mark Lucas, SmartRoof's director of operations, shared insights on the company's first installation, which took place on a home in Falls Church, Virginia, in late March.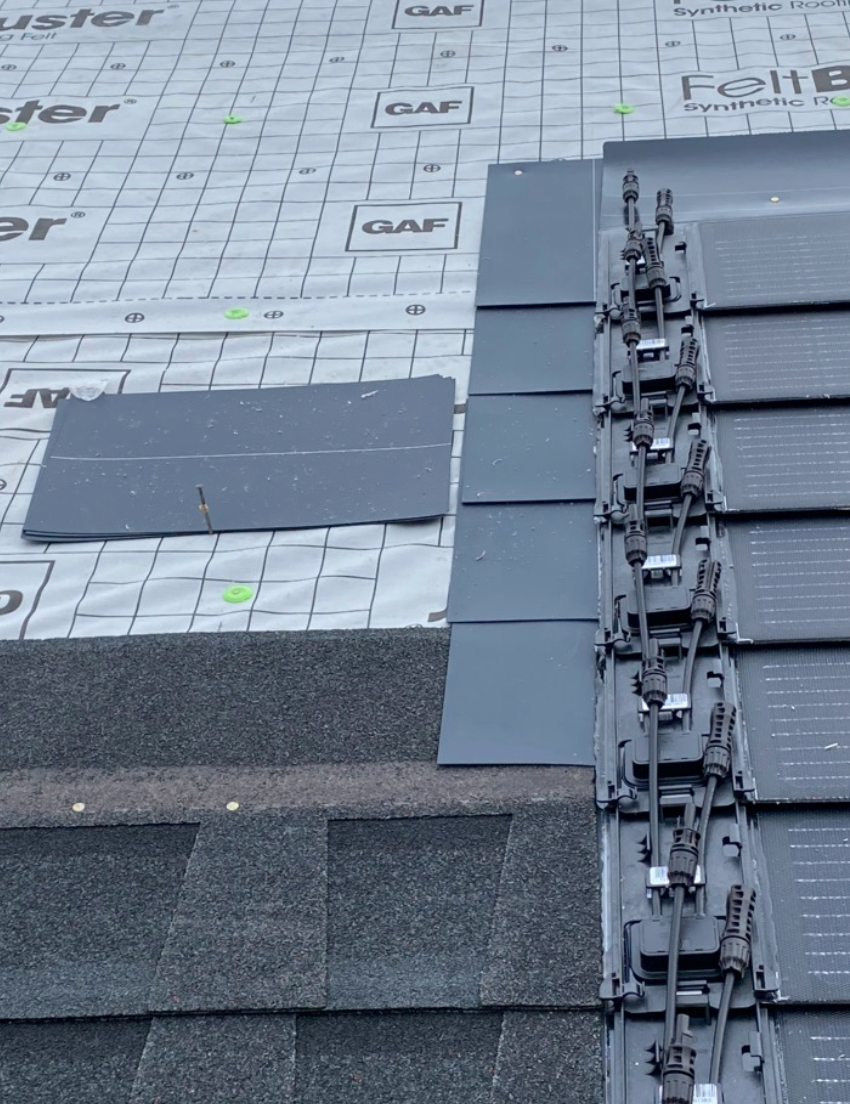 "SmartRoof became involved with GAF Energy as a pilot partner, which has been a fantastic experience the last few years, and we are excited to finally be selling and installing this new product," O'Reilly says. "This homeowner immediately saw the value in the new product and his home became our first Timberline Solar project."
The home's 5,100-square-foot roof was topped with approximately 4,000 square feet of GAF Timberline Solar HD Shingles and 1,100 square feet of GAF Timberline Energy Shingles to provide a 16.9 kw system. O'Reilly points to the superior performance and aesthetics of the system as its key benefits for homeowners.
"This home was a good fit for the Timberline Solar roofing system because they had a large roof area with good sun exposure," notes O'Reilly. "This particular home also had a pool, which meant energy consumption was higher than the average home of the same size. The homeowners needed to replace their roof with new shingles. Once they realized they could combine their need for a new roof with their desire to become more energy efficient and cut energy costs, it was just a matter of picking colors. The home is located in a beautiful and peaceful neighborhood, so the seamless, unobtrusive design of the Timberline Solar roofing systems was a much better match for their home and its appeal."
Standard Procedure
The product is also easy to install. "The best part about Timberline solar is that the majority of the installation involves standard roofing practices," O'Reilly says.
Crews begin as they would in any typical re-roof by tearing off the existing shingles and underlayment. After the deck is inspected and repaired and the new underlayment is in place, the Timberline Solar array is installed. The layout of the array is crucial, notes O'Reilly. "Laying out the system properly will ensure that the arrays line up perfectly," he says. "The goal is to maintain a consistent reveal between the energy and asphalt shingle, contributing to that seamless look. Once the layout is established, the roofer's muscle memory can take over. Each solar shingle gets nailed down with a six-nail pattern just like any other shingle."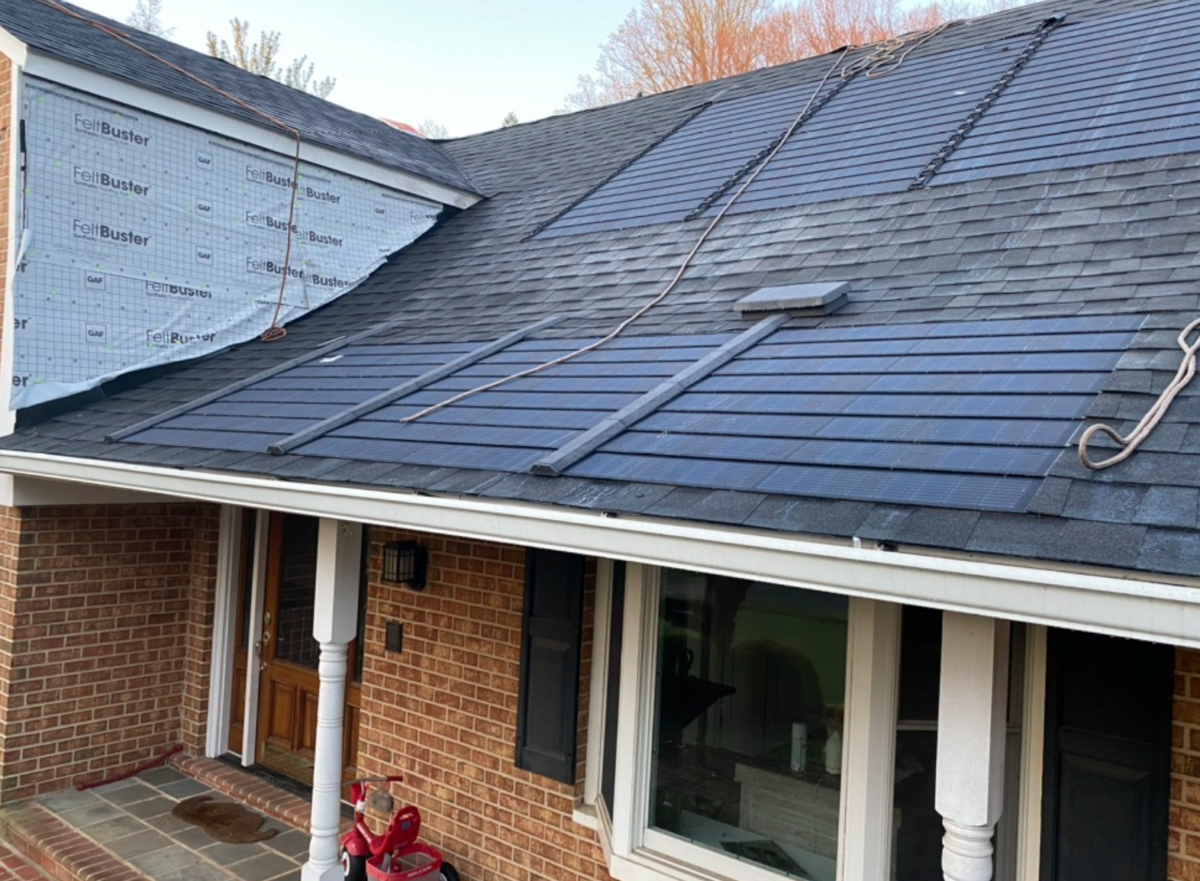 The Solar Shingle features a flap of TPO that is nailed to the substrate. "It's very straightforward," says Lucas. "The solar shingle also has sealant that is pre-attached to it and it has a film strip. You pull the film strip off and it actually bonds solar shingle to solar shingle."
One the array is in place, crew members simply connect one home run wire for each column, snapping together the male/female connectors. After the proper voltage is confirmed, standard roofing practices are used to shingle around and tie into the array.
Because this was SmartRoof's first installation using Timberline Solar, GAF Energy sent two trainers to assist with this installation. "The trainers were very thorough, assuring that the crew fully understood the concept of the installation," notes O'Reilly. "They started the training on the smallest of the nine arrays and with each progressive array the crew became more comfortable and proficient at the installation."
Challenges on the project included a complex roof structure consisting of multiple sections. The deck was also in poor shape, and more than 60 sheets of plywood had to be replaced. "The roof was really cut up," notes O'Reilly. "Solar arrays were installed on nine different roof sections, making durability and aesthetics even more important concerns. Aesthetically, it's much more streamlined than other solar systems out there."
While the GAF Energy trainers were on the site, the weather also posed a challenge. "We had a really good crew out there," notes Lucas. "Mother Nature decided to give us some rain, and that's where some ingenuity had to come in from everybody participating. We basically took tarps, two-by-fours and nail guns and built a temporary tent we could work underneath. We were able to work through it. It definitely slowed our process down, but it didn't deflate us. It was a can-do attitude, and we knew we were going to get this job done the right way and on time."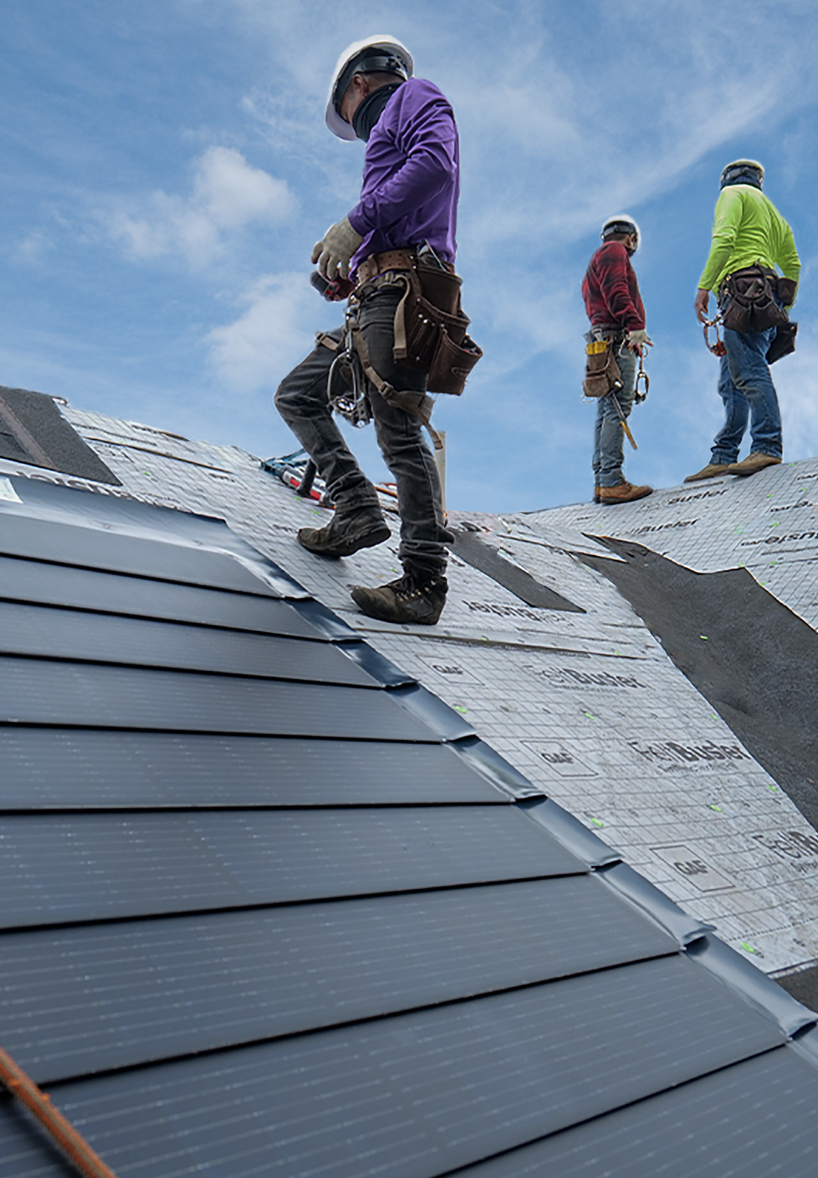 Bright Future
SmartRoof has moved on to complete several other installations, and the company is excited about the future of Timberline Solar. "At SmartRoof, we have three core values: impact, innovate, and improve," O'Reilly says. "Partnering with GAF to provide this new solar solution allows us to bring the greatest amount of value to homeowners and have a positive impact on their lives. This project and the product we installed clearly aligns to our drive towards innovation and our goal of impacting and improving lives of as many people as we can through roofing and solar."
TEAM
Roofing Contractor: SmartRoof, McLean, Virginia, smartroofinc.com
MATERIALS
Solar Roof System: Timberline Solar HD Shingles and Timberline Energy Shingles, GAF Energy, gaf.energy
Underlayment: FeltBuster, GAF, gaf.com
Inverters: Delta, deltaww.com