Thanks to a New Jersey homeowner's wise decision to perform a mold inspection, their home was saved from structural damage.
When the owners of a two-story Colonial-style home in Marlton, New Jersey, noticed unsightly brown and black stains on the exterior of their home, they initially dismissed it as dirty stucco siding. The homeowners considered cleaning the stucco, but decided instead to request a mold inspection by a stucco specialist.
It turned out the discolored areas signaled a much bigger issue — moisture trapped behind the stucco had caused a severe outbreak of mold. This is a significant problem in the region due to high precipitation amounts coupled with frequent temperature changes.
The homeowners' smart decision ultimately prevented what could have been significant structural damage to their family home.
Diagnosing the Problem
Mold feeds on organic materials, including wood. Today, many homeowners are familiar with how mold can negatively impact indoor air quality, but mold can also damage a building's exterior and structural components.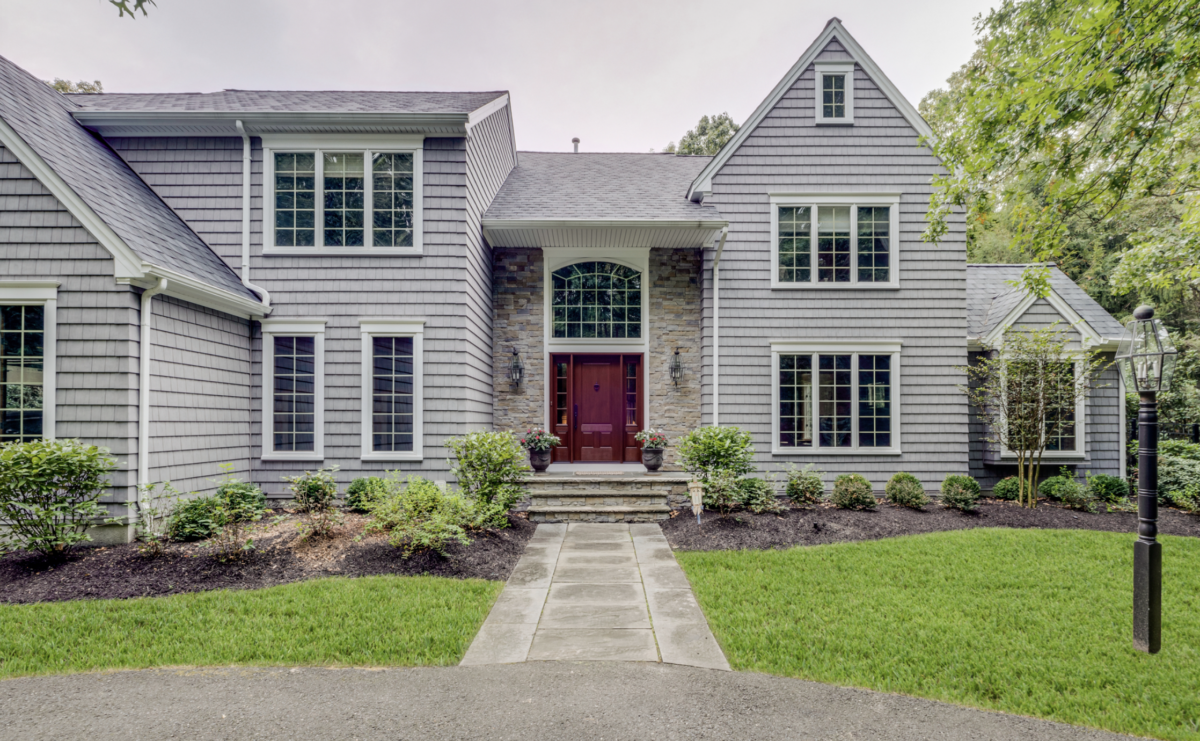 To accurately diagnose the situation, the stucco specialist first removed and assessed a section of the stucco. After analyzing the damage, it was determined that the home would require a full stucco remediation. Luckily, the mold had not spread to the home's interior, and the framing could be salvaged with a thorough cleaning. However, to prevent further damage, an entirely new exterior system — including house wrap, stucco and trim — would be required.
Exterior mold is not uncommon in stucco homes, especially in cases where the stucco is installed close to the ground. Climate also plays a substantial role; structures in areas prone to high humidity and temperature shifts are more vulnerable to water damage and mold development than those in dryer regions. Warning signs of mold on stucco exteriors include staining, cracking and compromised caulking around openings like doors or windows. In addition, if left unchecked, water can penetrate the foundation and cause the cement to crack and deteriorate over time, which can be costly for homeowners.
The Remedy
Knowing their home needed a completely new exterior system, the homeowners enlisted the assistance of Dean Mainardi of Only the Best Builder, located in nearby West Berlin, New Jersey. The homeowners knew they didn't want to use stucco, so Mainardi presented other options that would be suitable.
Since the exterior renovation would require a complete suite of products, Mainardi recommended going with CertainTeed. "It's important that all system components are designed to work in unison, and I knew a CertainTeed siding system could provide that. A local sales representative was able to meet with us and show product samples so our customers could pick exactly what they wanted," states Mainardi. "Having the homeowners meet with the rep also provided a certain comfort factor that CertainTeed was invested in the project."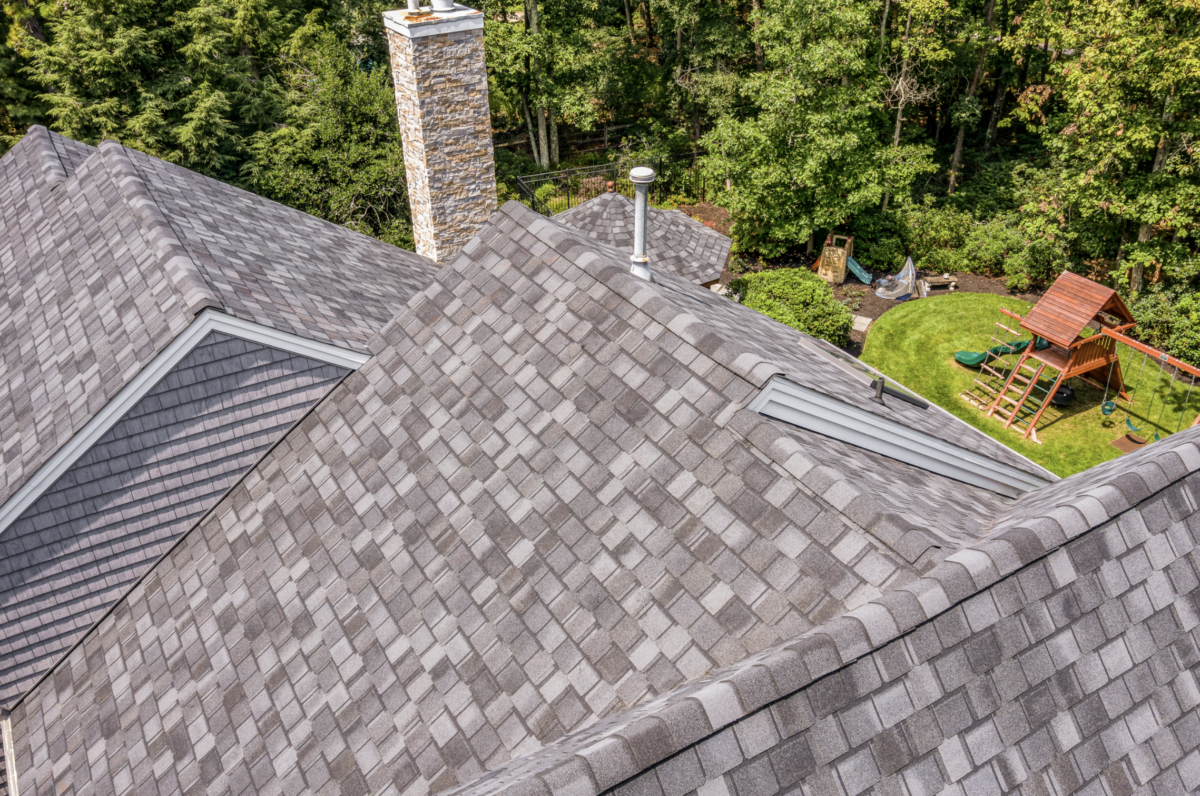 Mainardi began by specifying CertainTeed CertaWrap Standard Housewrap. The wrap, which is designed to protect the structure from water intrusion, allows water vapors to pass through, helping to prevent moisture accumulation. A high-performance house wrap is integral to any siding installation, as a siding system is only as good as its components.
When it came to siding selection, the homeowners opted to go with the manufacturer's Cedar Impressions Single 7-inch Straight Edge Perfection Shingle siding in Driftwood Blend. The polymer shingles are water-resistant and require only minimal maintenance. They also beautifully replicate the look of wood shake, providing the aesthetic the homeowner desired. Additionally, because the shingles are manufactured in panels, they can be installed more quickly than individual shingles.
To add architectural interest and additional moisture protection, STONEfacade was added to the front door area and chimney. The cladding system mimics a natural Ledgestone veneer and includes a fully integrated rainscreen. Like the siding shingles, the product comes in panels and installs faster than natural stone, which reduces labor costs. Finally, Vinyl Carpentry wide face lineals with Crown Molding were installed around the windows, and Cornice Molding completed the look.
During the renovation, it was also determined that the roof was nearing the end of its lifespan. The homeowners decided to replace the roof with a CertainTeed Integrity Roof System comprised of shingles, underlayment, accessories, and ventilation. They chose Belmont, a luxury shingle engineered to provide optimal performance via its high-grade asphalt design reinforced with a strong fiberglass base mat. Providing the look of natural slate, the shingle design seamlessly complemented the siding selection to create a beautiful aesthetic.
At the end of the 10-week renovation, the home's exterior was thoroughly transformed. The house now boasts an inviting, charming curb appeal, and — just as important — the high-quality products specified will protect the structure for years to come, providing valuable peace of mind.
TEAM
Contractor: Only the Best Builder, West Berlin, New Jersey, onlythebestbuilder.com
MATERIALS
House Wrap: CertaWrap Standard Housewrap, CertainTeed, certainteed.com
Siding: Cedar Impressions Single 7-inch Straight Edge Perfection Shingle, CertainTeed
Shingles: Belmont, CertainTeed