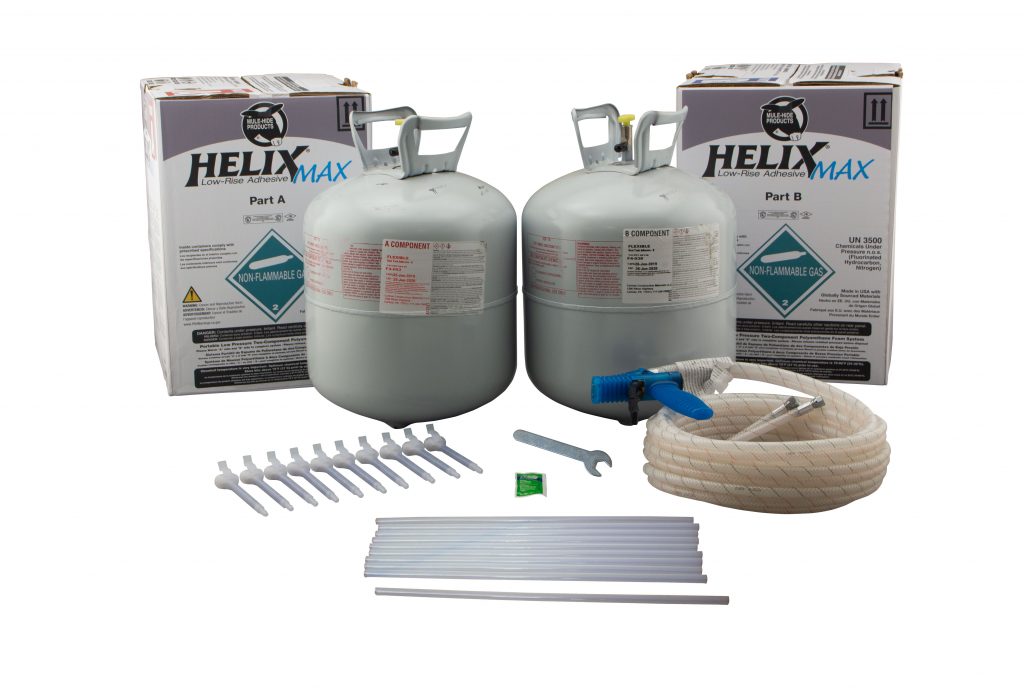 Mule-Hide Products Co. introduces Helix Max Low-Rise Adhesive, a two-component, construction-grade polyurethane foam adhesive designed to bond approved roof insulations, thermal barriers, cover boards and fleece-back single-ply membranes (TPO, PVC and PVC KEE) to a wide variety of roofing substrates. It replaces Mule-Hide Helix Low-Rise Adhesive.
According to the manufacturer, Helix Max Low-Rise Adhesive delivers the quick, low-odor application and strong adhesion that have made Helix Low-Rise Adhesive a go-to choice for roofing contractors, while also offering greater elongation and tensile strength, the ability to be applied in colder temperatures, and the additional packaging option of convenient 5-gallon jug sets.
Like the original Helix, Helix Max is applied in a single step, saving crews time and hassle. Both parts of the adhesive are ready to use from the container and are applied simultaneously in a 1:1 ratio through a static mix tip. It eliminates the need for mechanical fasteners, maintaining a continuous vapor retarder, preventing thermal bridging and protecting the structural integrity of the roof deck.
Helix Max can be applied in colder temperatures, helping prevent weather-related delays. The substrate and ambient temperature must be above 25 degrees Fahrenheit when applying Helix Max, compared to 32 degrees with the original Helix.
According to the company, elongation of up to 150 percent and increased tensile strength ensure an exceptionally strong bond. Superior wind uplift resistance enables Helix Max to be used on taller buildings and in higher wind zones. The adhesive also is better able to withstand extreme temperatures.
Full-spray splatter application when installing fleece-back membranes provides superior hail resistance and improved energy efficiency. Puncture resistance is increased by 33 percent to 50 percent when full-spray splatter application is used. A continuous layer of Helix Max increases a roofing system's R-value by 0.20 to 0.50 per layer.
The addition of 5-gallon jug sets provides a convenient packaging option for use with low-pressure spray equipment. Made of plastic, the jugs are easily moved around the jobsite and will not dent during transportation or if dropped. Handles on the jugs' tops and sides make them easy to load onto dispensing equipment. The containers resist moisture, preventing contamination of the adhesive.
Helix Max is low-odor and solvent-free and contains no volatile organic compounds (VOCs), chlorofluorocarbons (CFCs) or hydro chlorofluorocarbons (HCFCs), making it crew-, building occupant- and environment-friendly.
In addition to the new 5-gallon jug sets, Helix Max is available in twin-pack cartridges, tanks, and 15- and 50-gallon drums.
For more information, visit www.mulehide.com.