At Crivitz High School, students and faculty are just as proud of their academic achievements as they are of their athletic triumphs. Home to over 200 students each year, the single-story facility features 14 different roofing levels over 120,000 square feet. As the roofing system began to age, school administration noticed their utility bills continually rising while they struggled to maintain temperatures throughout the building. When the time came to replace the roof, they knew they had to address the full system to ensure a comfortable environment for students.
The original roof, an aging 60-mil ballasted EPDM system, had developed significant thermal loss issues over the years. Upon evaluation, the project architect specified a new mechanically fastened EPDM replacement and put it out for bid. Nasi Roofing of Minocqua, Wisconsin, submitted a substitution request to the architect to use a PVC roof system by Duro-Last instead, and was ultimately awarded the project.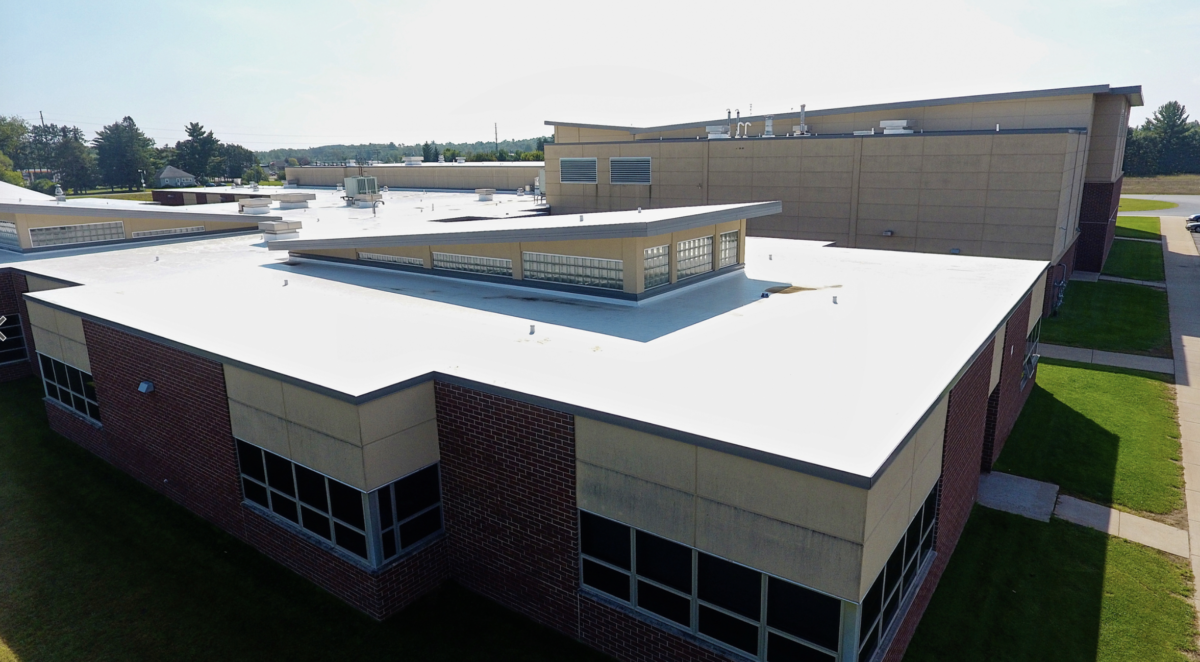 "To meet the requirements of the specification, we opted to bid using 60-mil Duro-Tuff membrane and a tapered insulation system," explains Todd Nasi, owner of Nasi Roofing. "Beyond the cost analysis, they wanted to verify our quality and history so we provided them with references and project comparisons as well. We put a lot of work into the bid, but Duro-Last stepped-up and helped us out by providing a variety of cost breakdowns so we could outline the project piece by piece, as well as the full scope."
Once the project was awarded, the Nasi team had a tight timeline of 10 weeks to get everything completed. The eight-man crew began working section by section, removing the entire roofing system down to the deck. To reduce much of the landfill waste associated with a tear-off, Nasi Roofing coordinated the recycling of approximately 85 percent of the existing EPS insulation, and the school was able to utilize the rock ballast in their landscaping.
After the existing roofing was removed from each section, the Nasi team installed tapered Duro-Guard ISO insulation, creating positive drainage while also staggering the joints to help reduce thermal loss issues. Duro-Tuff 60 mil-membrane was then mechanically fastened over the insulation, and custom-fabricated curbs and stacks helped their crew keep pace with the tight timeline. Finally, EXCEPTIONAL Metals 2-Piece Snap-On Compression was used along the perimeter to complete the termination.
"This project was a success on all fronts due to the phenomenal relationship that we have with Duro-Last and EXCEPTIONAL Metals, as well as the work of our dedicated crew on site," says Nasi. "We were able to quickly provide all of the information that they needed during the planning phase because we have manufacturing partners that support us in any way that they can, and our crew was able to get everything done well within the timeline because the materials were designed to improve our efficiencies on the job site. Everyone walked away from the project very happy, especially the school when we were able to provide them with a 25-Year Duro-Last Warranty to protect their investment."
TEAM
Roofing Contractor: Nasi Roofing, Minocqua, Wisconsin, nasiroofing.com
MATERIALS
Membranes: Duro-Tuff 60-mil PVC, Duro-Last, duro-last.com
Insulation: Tapered Duro-Guard ISO, Duro-Last
Edge Metal: EXCEPTIONAL Metals 2-Piece Snap-On Compression, exceptionalmetals.com