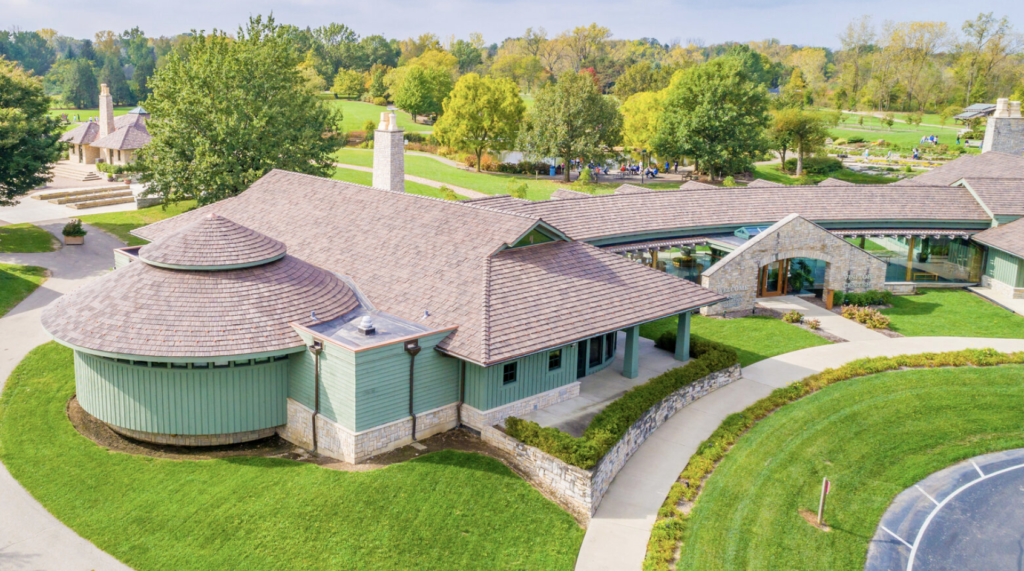 Anyone from Dayton, Ohio, will tell you that the 174-acre Cox Arboretum is one of the premier places to visit in the city, thanks to the daily free admission and neighboring Gardens MetroPark, which offers more beautiful gardens and green space for visitors to enjoy. For more than 50 years, the Arboretum has wowed residents and tourists alike. With its numerous trees, shrubs, specialty gardens, mature forests, and even prairies, it isn't difficult to understand why.
Just the building itself can grab a visitor's attention, with its beautifully curved design and cedar shake roof. These two features have become synonymous with the arboretum and the roof, in particular, is something the board at the arboretum hoped to preserve. Therefore, naturally, when it came time to replace the aging cedar shakes everyone loved so dearly, the board members wanted to do it right. They decided to go to Dayton-based architect Greg L. Lauterbach and contractor E. Lee Construction, a company that has been in business since 1955.
Choosing Synthetic
The board was soon faced with another decision: should they keep the real cedar shakes, which can be costly and difficult to maintain, or should they go a more modern route? While they wanted to preserve the roof's look, they also wanted to ensure it was durable and long-lasting, and, for that reason, they decided to switch to synthetic shakes.
They chose to go with synthetic cedar roofing for many different reasons. For one, while appearances are naturally important for Cox Arboretum, more important was the roof's ability to handle the various types of weather conditions seen in Western Ohio. This area sees everything from seasonal rains, hailstorms, and high winds to heavy snow loads and extreme temperature fluctuations. As a result, it was critical to choose a roofing material that wouldn't easily break or damage under such conditions. A synthetic cedar roof was chosen for its durability. The next step was making sure it captured the look of authentic cedar shake.
Lauterbach wasted no time in collecting samples of synthetic cedar shakes from various manufacturers for review. In the end, he chose to go with Brava Roof Tile for "the aesthetics of the tile and long lifespan." Unlike some other brands, Brava Shakes truly mimic real cedar, offering lengths of 5 inches, 7 inches, and 12 inches, and varied thickness to recreate that classic split texture of natural wood.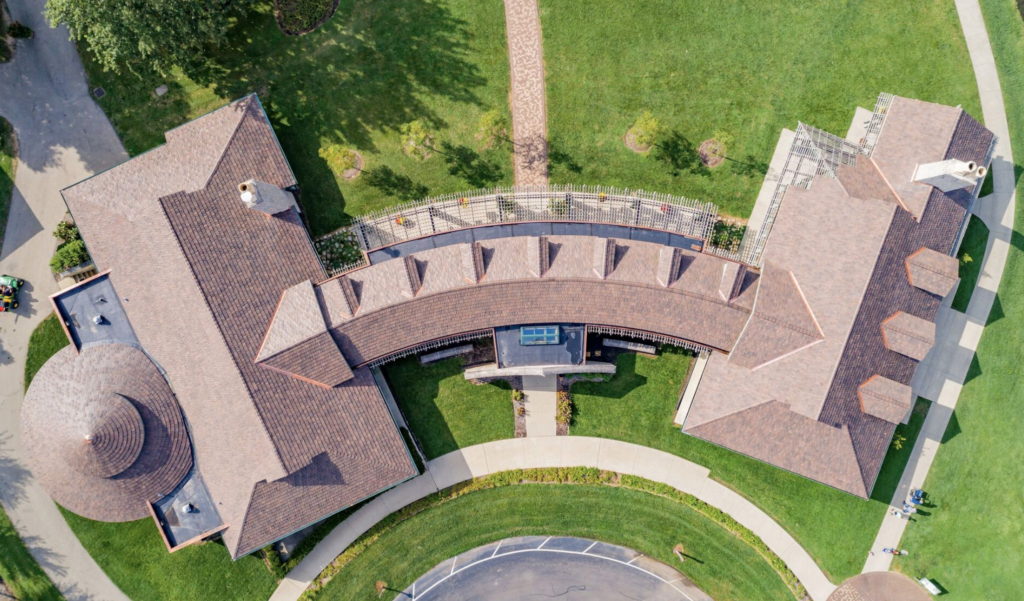 These aren't the only reasons Brava was chosen, however. When it comes to durable roofing products with a long lifespan, Brava Roof Tile is among the industry's toughest. Their synthetic shingles offer up to a Class A fire rating, a Class 4 impact rating, and can withstand wind speeds over 110 mph. Moreover, an installed Brava roof weighs a mere 350 pounds per roofing square, much less than some competitors and less than real cedar roofing shakes.
Brava Shake comes in a wide range of colors meant to mimic real wood. Lauterbach took his time before deciding on the Sierra Shake, a lighter wood-toned option with some darker highlights. He went with the Sierra Shake because it "best mimics the look of real wood shingles while having the benefits of composite."
Ensuring an Authentic Look
As an arboretum, a place dedicated to trees and nature, having a natural-looking roof was critical. So, one of the board's primary concerns was ensuring the most authentic appearance possible. Another major concern was how the Brava shingles would look on the property's large turret. The decision was made was to purchase "solids" rather than Brava's standard cavity-back roofing shingles for the turret.
Unlike traditional cedar roofs, a Brava roof is easy to install, with no breakage and no special tools required. While it is easier to install than other roofing options, neither E. Lee Construction nor Lauterbach had previously worked with Brava. The company representatives took a day to train them before they went to work on the Cox Arboretum project, ensuring crews knew what to do each step of the way. With that training, E. Lee Construction headed the project and completed it seamlessly. In the end, they installed the Sierra Brava Shakes on three different buildings on the Cox Arboretum's property.
Cox Arboretum has a beautiful, realistic synthetic cedar roof thanks to Brava Roof Tile. Visitors continue to admire the exterior, and many are not aware that it isn't a real cedar roof. Now, the Arboretum no longer has to worry about extensive roof repairs or maintenance, or even about what will happen to the roof in certain types of weather.
After this project, E. Lee Construction has gone on to use Brava Roof Tile on other projects throughout Ohio, proving it is a realistic, durable choice that will stand the test of time.
TEAM
Architect: Greg L. Lauterbach Architect, LLC, Dayton, Ohio, https://gllarchitect.com
Roofing Contractor: E. Lee Construction, Delphos, Ohio, https://eleeconstruction.com
MATERIALS
Synthetic Shake: Brava Cedar Shake in Sierra, Brava Roof Tile, www.bravarooftile.com