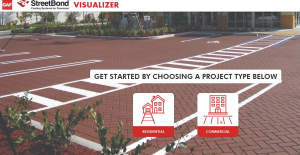 GAF has launched a visualizer tool to help sell its StreetBond Pavement coatings. Created by Chameleon Power, the leader in visualization technologies and GAF's partner in roofing visualization tools, the StreetBond Visualizer assists customers with envisioning the outcome of their paving project prior to installation.
Users can select from a variety of different StreetBond coating colors and StreetPrint patterns, and apply to their own project photos or drawings. The tool also features a "Need Ideas?" button that gives the user some starting patterns and colors to help them in making design decisions. "GAF has utilized Chameleon technologies for nearly two decades, and continues to embrace our next generation tools and concepts," said Dan Dempsey, President of Chameleon Power. "Visualization is a standard in the construction industry, and we are proud to partner with GAF to provide this experience to GAF customers."
Chameleon Power visualizers shorten the design cycle and enhance customer satisfaction. Websites that utilize Chameleon visualizers enjoy increased user time of more than 3X and sales closure rates of more than 75 percent.
To view the GAF StreetBond Visualizer, visit https://streetbond.chameleonpower.com.