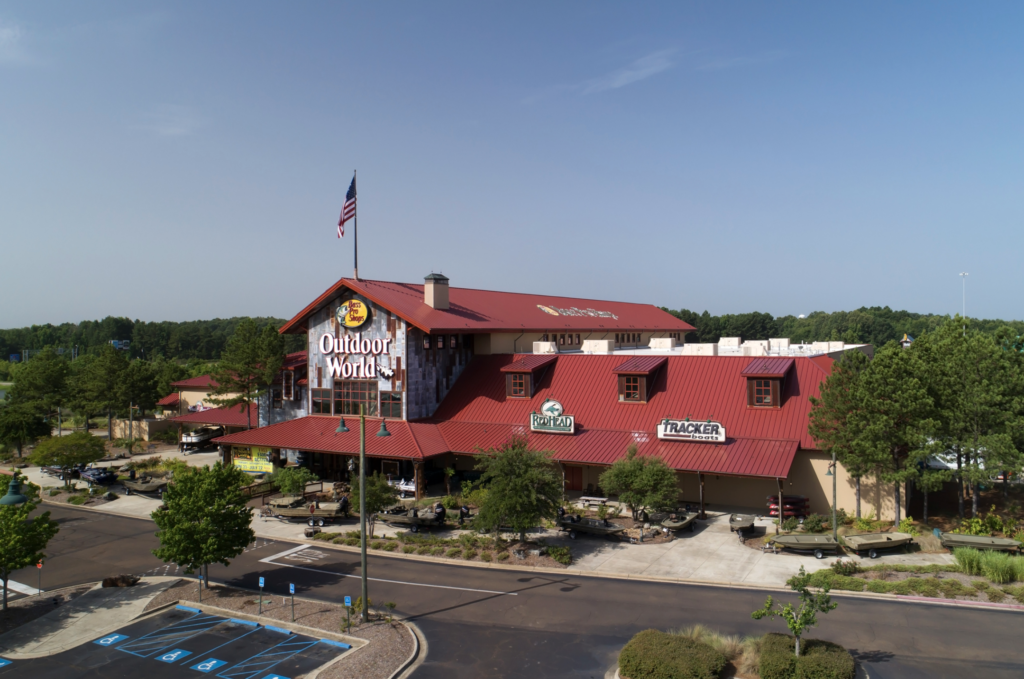 Bass Pro Shops brands itself as a supplier of performance products designed to endure the great outdoors, but at its Pearl, Mississippi, store, the roof was falling short of that standard. The roof's mix of membrane and metal roof systems was damaged during a severe weather event, which prompted a re-roofing initiative.
"They had a hailstorm come through and they wanted to upgrade," says Roman Malone, president of the installing firm, E. Cornell Malone Corp., based in nearby Jackson, Mississippi. In addition to installing a new membrane roof, the project including replacing the existing bare Galvalume steel panels with 59,000 square feet of Petersen's Snap-Clad roofing panels Kynar-finished in PAC-CLAD Colonial Red. The panels form the highly visible sloped portions of the roof, along with a canopy overhang over the building's storefront walkway and entrance.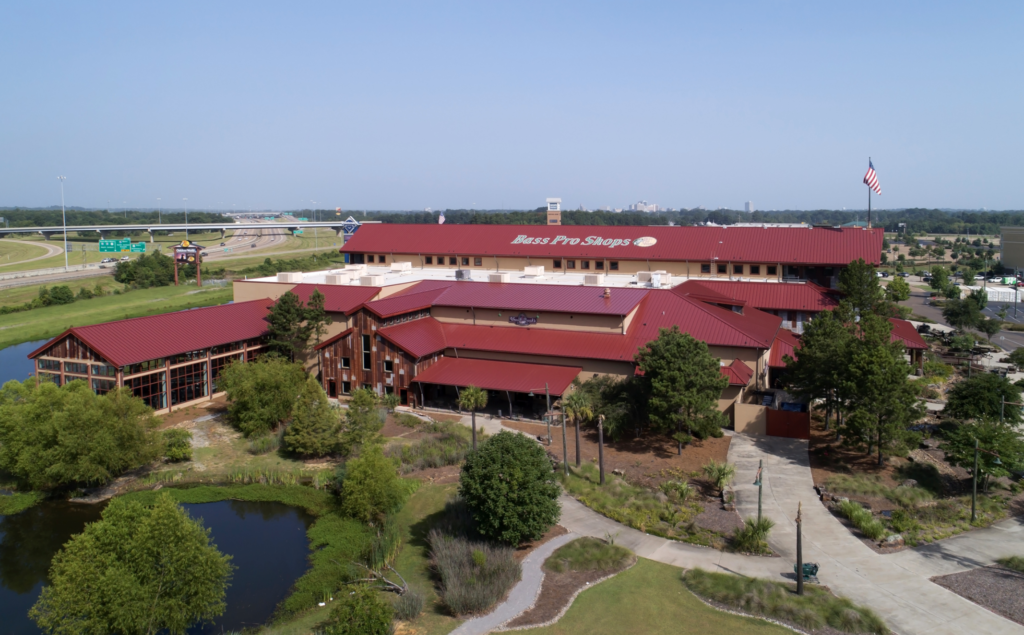 The 100,000-square-foot store was a founding anchor retailer in the 150-acre-plus Bloomfield Development. It shares the title with Trustmark Park, home of the Atlanta Braves' minor-league baseball team, the Mississippi Braves. People visit the retailer for more than just shopping — the facility includes a large aquarium, shooting gallery and 3-D archery range along with a bar and restaurant. Since its 2005 opening, the surrounding development has grown to include The Outlets of Mississippi, the state's largest outlet center, which welcomes almost 4.5 million visitors every year.
The metal portion of the re-roofing effort included removing the existing panels along with the ice and water shield below, while the existing plywood decking and insulation remained in good shape. For the roofing pros from E. Cornell Malone, the heavily trafficked surroundings proved a greater challenge than the roof itself. "We had to keep the front door open," Malone recalls. "The flagpole and the tallest part of the standing seam roof are right over the main entrance. There was a period of time when we had to work there, and we had to use the exit door as an entrance and block off that area for safety reasons. We had to move as fast as we could to minimize the disruption. We also had to use cranes to get the material up to the roof and the demolished material off the roof."
Eye-Catching Color
While the profile of the standing-seam roof remained similar to its original appearance, the Colonial Red finish certainly creates a major pop for the building. Malone says store managers initially were considering the spruce green color shared by many of the company's other outlets, when they happened upon Colonial Red in Petersen's palette of stock colors. "The fascia boards just happened to be the same color as the roof — so, when they saw the Colonial Red, it was an obvious color choice for them," Malone says. "We didn't paint that fascia, and it just matched perfectly. I believe this is the first Bass Pro Shop in the country to use this color on their roof. It looks really good."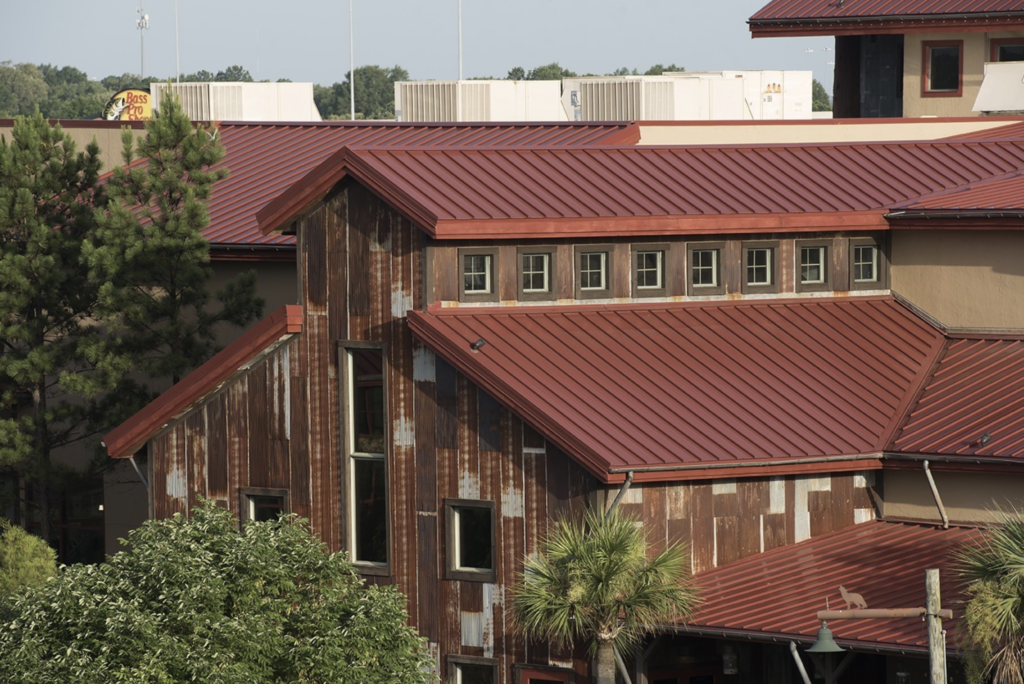 Crews installed the metal roof system first, and then completed the installation of the single-ply roof on the low-slope section. "We had to use the flat roof as a work platform to reach the high part of the metal roof. We protected what was there, and then came back and put the TPO roof on. That way, we wouldn't damage it during the installation of the metal roof."
Crews mechanically attached a Firestone 60-mil TPO system over 1/4-inch DensDeck cover board. "The TPO portion of the project was pretty straightforward," Malone says. "The highlight of this project is really the metal roof. You can't see the TPO roof from the ground, but it complemented everything else, brought everything under warranty and got them up to date."
An interesting detail on the project involved the large flagpole on the metal roof over the entrance. The safety system incorporates shock absorbing anchors, S-5! clamps, and a 100 feet of stainless steel line with hands-fee Unigrab Travelers and dedicated lanyards. "We worked with a safety company, Rooftop Anchor, to engineer a safety system so people could manage the flag and be safe," Malone says. "Before that, the owners used to hire us to come out and raise and lower their flag. Now that they have a safety system in place, they can manage the flag themselves."
Feedback on the new roof has been very positive, notes Malone. "The customers are ecstatic about the roof. It has totally transformed the building — it's definitely an upgrade."
TEAM
Roofing Contractor: E. Cornell Malone Corp., Jackson, Mississippi, www.ecmalone.com
MATERIALS
Metal Roof: Snap-Clad roofing panels Kynar-finished in PAC-CLAD Colonial Red, Petersen, www.pac-clad.com
Low-Slope Roof: 60-mil TPO, Firestone Building Products, www.firestonebpco.com
Cover Board: DensDeck, Georgia-Pacific, www.buildgp.com
Flagpole Safety System: Rooftop Anchor, Heber City, Utah, www.rooftopanchor.com
Standing Seam Clamps: S-5!, www.s-5.com