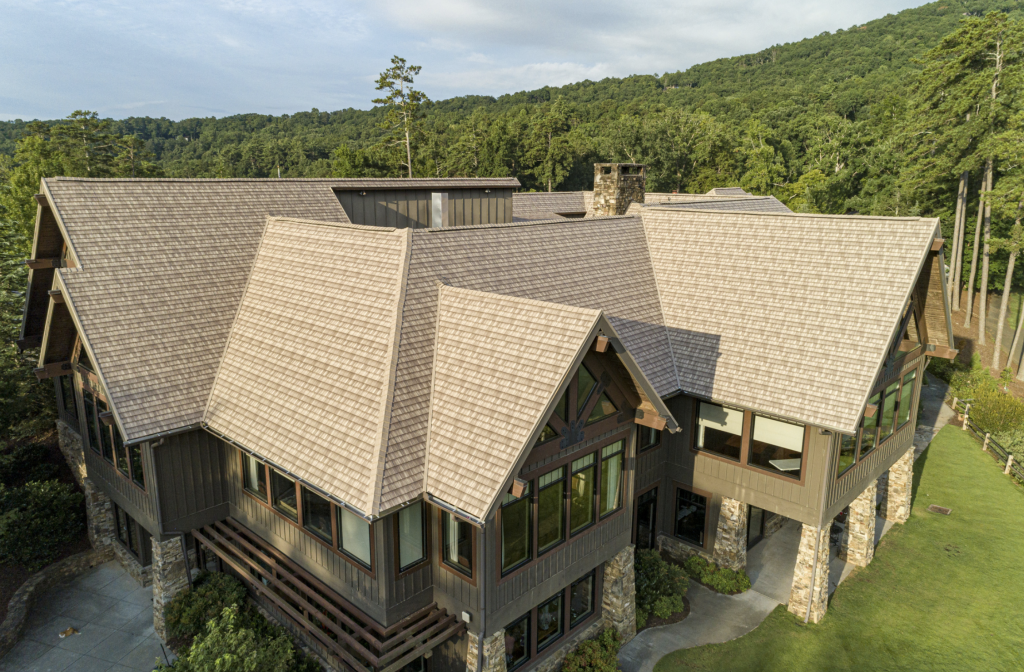 Just 60 miles north of Atlanta in the foothills of the Appalachian Mountains, the 7,000-acre Big Canoe community is an ideal location where residents enjoy mountains, lakes and a 27-hole championship golf course. The Clubhouse at Lake Sconti serves as Big Canoe's central hub, with 25,000 square feet of gathering space that is host to weddings, corporate events, writers' groups, poker clubs, trivia nights and more. Adding another 10,000 square feet to the overall facility is Duffer's Bar and Grille and an adjoining golf cart storage facility.
Big Canoe's original clubhouse — established in the early 1970s along with the community — burned to the ground 13 years ago after being struck by lightning. The entire structure was rebuilt, which included the installation of a classic cedar shake roof. After severe wind and hail damage from a more recent storm, the Big Canoe community found itself in the position of needing a complete roof replacement.
"It was a beautiful roof, but we weren't getting the longevity out of the cedar shake as originally intended," says Katie Wercholuk, marketing and communications director of the Big Canoe Property Owners Association. "We want our residents to be proud of their clubhouse and to not bear the cost of a new clubhouse roof every 10 years. We needed something with durability that would be able to stand up to mountain weather, which can sometimes be unpredictable."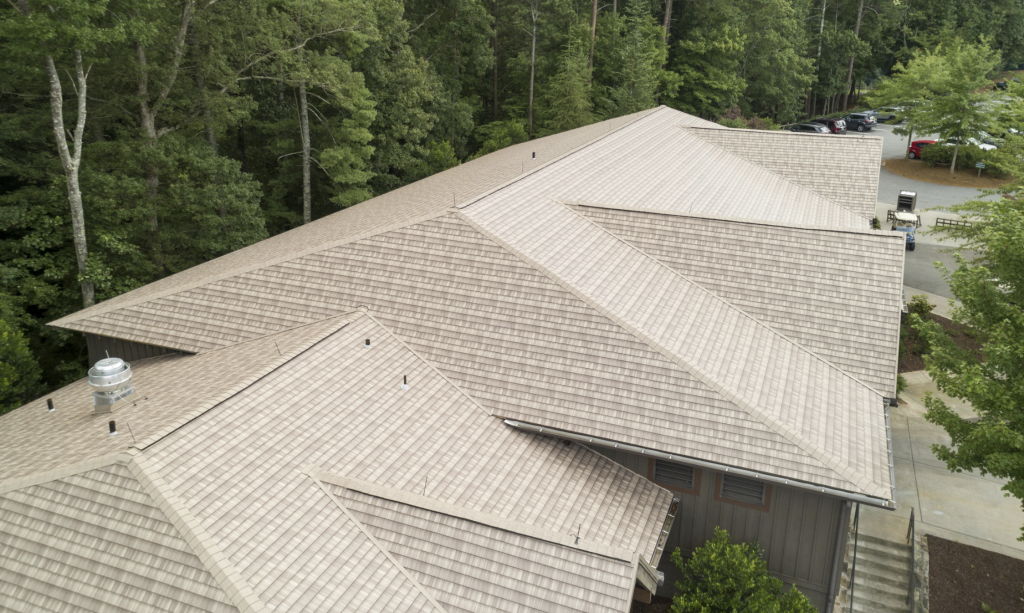 After six months of researching the best solution, the Big Canoe Property Owners Association found Colony Roofers, a veteran-owned roofing company based in Marietta, Georgia. Company president Mark Seymour suggested CertainTeed's Matterhorn Shake in the color Cedar to keep the look of classic cedar shake while adding the benefits of metal.
"You should get about 30-40 years out of a cedar shingle roof, but it was 11 years and the original roof was deteriorating much quicker than it should have," notes Seymour. "As we started ripping it off, we noticed that it wasn't vented very well. A lot of the cedar shake shingles were curling up and breaking apart. It also sits inside of a valley and gets a lot of wind, so many of the hip and ridge shingles were coming up."
Between the clubhouse, restaurant and golf cart barn, the job required 40,000 square feet of metal roof panels. In addition to be being the largest metal roofing job undertaken by Colony Roofing, the job's secluded location and status as an active business presented additional challenges to the installing team.
"This was a big, six-to-eight-week job," Seymour says. "Putting a roof on an operating business is difficult, so it required a lot of coordination with the property owners association. Big Canoe is also up in the mountains, so some of the bridges and roads you have to navigate aren't meant for tractor-trailers and big machinery. If we were doing a standing seam roof where you have to stage long runs of metal and cut them to size, we would have definitely had some issues transporting it."
Seymour said the way the product is designed and palletized allowed his team to "minimize the footprint" his team had on the property, and that the interlocking panel system allowed his crew to install the product quickly, helping Big Canoe get back to business as usual.
"Weather is unpredictable in the mountains and storms will come and go in the evenings," says Seymour. "The main thing that helped us move quicker was the Matterhorn system. It goes on well and interlocks in a way our guys can understand. It's a well-designed, user-friendly product."
According to Wercholuk, the installation is a "win-win" for the Big Canoe community. "It's not just low-maintenance, it's no-maintenance and it looks beautiful," says Wercholuk. "Anytime you have guests or visitors, the clubhouse is something you want to show off. We have intentionally tight architectural controls here and everything just blends into nature. You would never be able to tell it's metal from far away."
Wercholuk said that the product has left a great impression on Big Canoe's roughly 6,000 residents.
"Everything we've heard from residents has been extremely positive," Wercholuk adds. "Metal provided the look we were after as a mountain community, but with more efficiency."
TEAM
Roofing Contractor: Colony Roofers, Marietta, Georgia, www.colonyroofers.com
MATERIALS
Metal Roof System: Matterhorn Shake metal roofing in Cedar, CertainTeed, www.certainteed.com