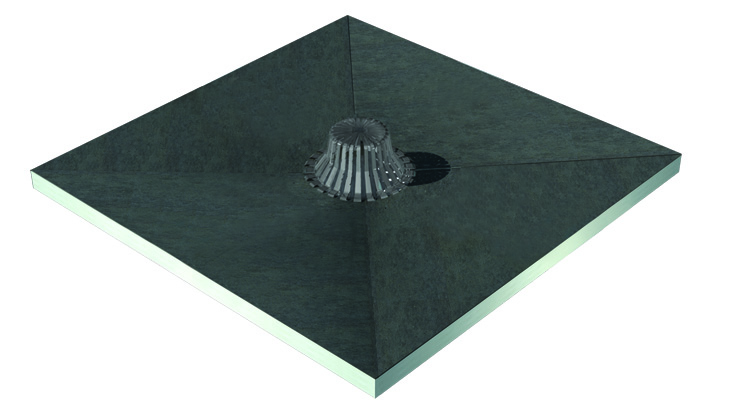 Atlas Roofing Corporation introduces SureSlope Prefabricated Tapered Products. Built from the foundation of its industry-leading portfolio of Gemini Pre-Cut Tapered Polyiso Roof Insulation, Atlas has rebranded and enhanced the product line as SureSlope, providing contractors, architects and engineers with a more concise picture of its function and benefits. Also, the product line has now expanded to include the new SureSlope DST 8×8 Drain Set, developed to help contractors minimize installation errors, reduce jobsite waste, and increase installation speed.
Atlas SureSlope pre-fabricated polyiso roof insulation components are ideal for new and re-roof applications, offering a unique solution to reduce jobsite waste and decrease installation time. Each product is produced with a closed-cell polyisocyanurate (polyiso) foam core integrally bonded to non-asphaltic, fiber-reinforced organic felt or inorganic coated-glass facers, which provides dimensional stability and thermal performance.
"We know architects, contractors, and roofers are required to meet stringent construction timelines and performance requirements, all while staying within budget. SureSlope effectively addresses those needs," said Tim Milroy, director of sales for Atlas Roofing Corporation. "Atlas is constantly advancing our solutions to ensure contractors can work smarter, not harder. We want customers to immediately understand the benefits our solutions provide, and in refreshing our pre-cut tapered polyiso roof insulation name to SureSlope and expanding the product line with SureSlope 8×8 DST, we can provide a distinct framework."
The new Atlas SureSlope Tapered and Drainage product components now include:
SureSlope Drain Set (DST) 4×4 – The 4-foot-by-4-foot drain set is a one-piece, pre-cut drain sump. It requires no field assembly by the contractor.
SureSlope Drain Set (DST) 8×8 – The newest addition to the product family, the 8-foot-by- 8-foot drain set comprises of four pre-packaged 4-foot-by-4-foot miters, to easily create a large format drain sump. The 8-foot-by- 8-foot sump provides a larger area of drainage around the individual drain to help eliminate ponding water, and provides a consistent 0.5 inch/ft drainage, meeting or exceeding current building codes.
SureSlope Pre-Cut Miter (MTR) – Aone-piece 4-foot-by-4-foot pre-fabricated tapered insulation mitered corner designed to solve the problem of field fabricating hips and valleys, reducing jobsite waste by 50 percent and installation time. It is available in a variety of slopes and thicknesses.
SureSlope Tapered Edge Strip (TES) – Designed to achieve timely water evacuation and extend the roof membrane's life, the Tapered Edge Strip remains the industry's trusted, first Zero Edge tapered polyiso solution. Offered in two sizes. Both products come in 8-foot lengths.
SureSlope Pre-Cut Cricket (CKT) – Atlas designed the Pre-Cut Crickets to provide a consistent 3:1 length to width ratio while significantly reducing jobsite waste and installation time. The SureSlope CKT utilizes both pre-cut panels and standard tapered panels in the construction of quarter, half, or full diamond crickets.
Atlas has also made bundles more easily identifiable, eliminating any confusion on the job site. In addition, Atlas offers design assistance, quotes, and shop drawings through its dedicated Tapered Services Department.
For more information about SureSlope, visit https://roof.atlasrwi.com/products/tapered-polyiso-roof-insulation/.
For more information, please visit Roof.AtlasRWI.com.