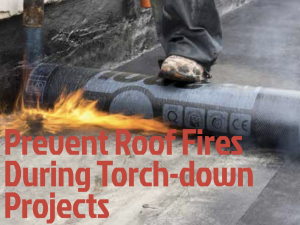 While driving to work recently, I heard a news story on the radio: An unlicensed roofer was charged with causing a fire at a local apartment complex. When I arrived at the office, I Googled "fires caused by roofers." The results included stories from across the nation:
Roofing crew blamed for a Chicago strip-mall fire.
Roofer's torch likely cause of huge Arizona construction-site blaze.
Roofer's blowtorch sparks a six-alarm fire in Hamilton Township, N.J.
Obviously, using an open-flame torch to install torch-down roofing systems can pose a fire risk. Torch-down roofing is a type of roofing that consists of layers of modified bitumen adhered to layers of fiberglass with a flame torch. Torch-down roofing is used only for flat or low-slope roofs. This process is popular with many contractors, mainly because of its ease of installation and its adaptability. With this system, the modified bitumen can bond tightly to metal flashings while the rubbery additives in the asphalt allow the roofing to expand and contract when other roofing systems may crack. In addition, roofers like torch-down roofing because it is easy to apply. Unfortunately, it can also be dangerous!
It is easy to make a mistake with the torch that could result in disaster. Consider roofers that are torching down a roof and accidentally overheat something in the attic—insulation, for instance. They end their work for the day, not noticing the smoke coming out of soffit vents. Before long, that smoldering material in the attic heats up and starts a fire that quickly spreads throughout the dry, hot attic and, often, to the rest of the structure. 
Regulations and Best Practices
OSHA has developed standards that can help prevent these types of fires. Here are some of OSHA's fire-protection and -prevention rules from the construction and general industry standards:
A fire extinguisher must be immediately accessible for all torch-down operations.
A fire extinguisher is needed within 50 feet of anywhere where more than 5 gallons of flammable or combustible liquids or 5 pounds of flammable gas are being used on the job site.
No one on a job site can be more than 100 feet from a fire extinguisher at all times.
There must be at least one fire extinguisher for 3,000 square feet of work area.
All flammable or combustible debris must be located well away from flammable liquids or gases.
Combustible scrap and debris must be removed regularly during the course of a job.
Piles of scrap and debris must be kept at least 10 feet from any building.
A fire watch person should be posted to immediately address any possible smolders or flare-ups.
The fire watch person should remain on post for 30 minutes after the torch-down job is finished for the day.
While the actions spelled out in these construction regulations are mandatory, roofing professionals should be aware that these are minimum requirements. The National Roofing Contractors Association (NRCA) and the Midwest Roofing Contractors Association (MRCA) have developed a roofing torch applicator certification program designed to reduce fire hazards during torch application of modified bitumen products. According to Harry Dietz, Director of Risk Management for NRCA, the Certified Torch Applicator (CERTA) program teaches installers to minimize the exposure of combustible structural materials to the heat and flame of the roofing torch. The program also spells out a number of safe practices that go well beyond OSHA's regulations in dealing with roofing torch use. Among other program elements, these include:
The requirement for two 4A60BC fire extinguishers during torch work (more than 10 times the firefighting capability required under the OSHA rules).
A two-hour fire watch performed after the last torch has been extinguished.
Following these guidelines for fire prevention can protect roofing professionals and the public. It can also save roofers money and time, as well as protect contractors from lawsuits and other legal charges. 
"In 2002, a leading insurer of roofing contractors had over $7 million in torch related claims in 33 occurrences prior to requiring CERTA for its insureds," said Dietz. "In 2015, that same insurance company reported only one torch-related claim with a loss of less than $10,000."
Visit this site to learn more about OSHA's Safety and Health Regulations for Construction, Welding and Cutting, Fire Prevention. To learn more about the Certified Torch Applicator (CERTA) program, click here.