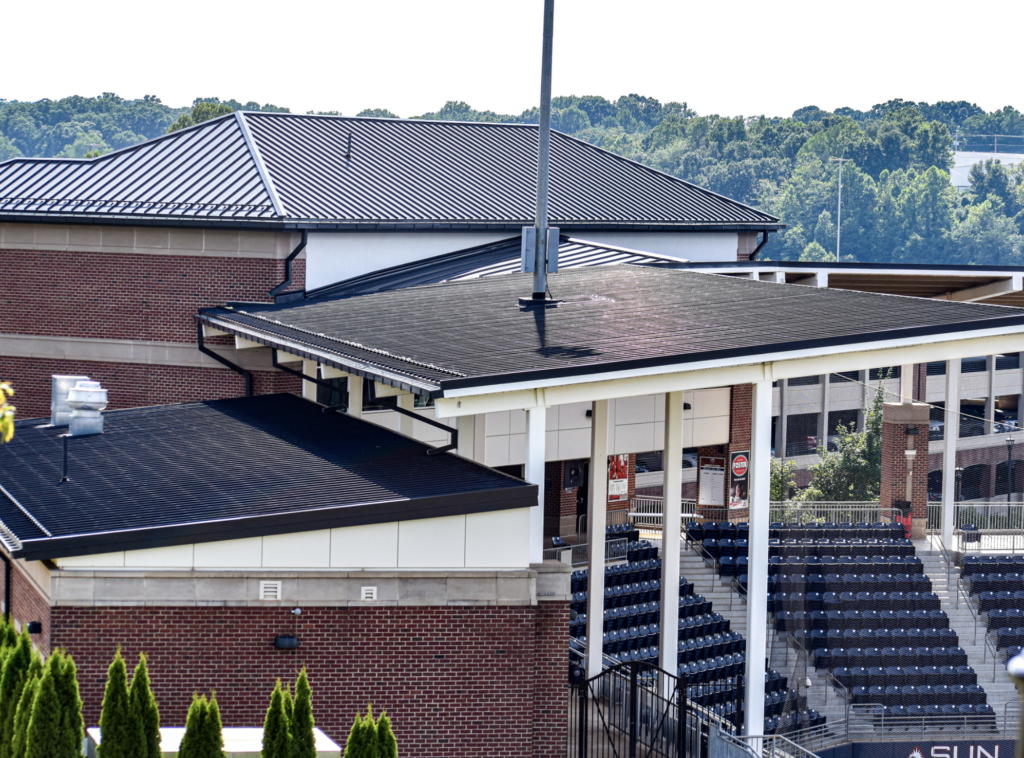 When Liberty University wanted errorless work on the roof of its new softball stadium, the college turned to Roanoke, Virginia-based Mountain Roofing.
Mountain Roofing has served the Southwest Virginia market since 1998, focusing primarily on commercial projects. According to Adam Gheen, the company's vice president, Mountain Roofing's skilled crews are experienced in all types of roof systems including EPDM, TPO, standing seam metal, copper, slate, and asphalt shingles. The company also excels in historic restoration applications.
Gheen estimates that 40 percent of the company's work involves metal roofing. When the roofing portion of Kamphuis Field at Liberty Softball Stadium was put out for big by Branch Builds, the general contractor, Gheen was confident his crews could execute the job. "I bid the project and coordinated it until the day the punch list was done," he says.
The roof panel specified for the project was Fabral Power Seam 16-inch, 24 gauge Dark Bronze with shadow lines — a product often specified by the school to ensure campus-wide consistency on all metal roofing projects.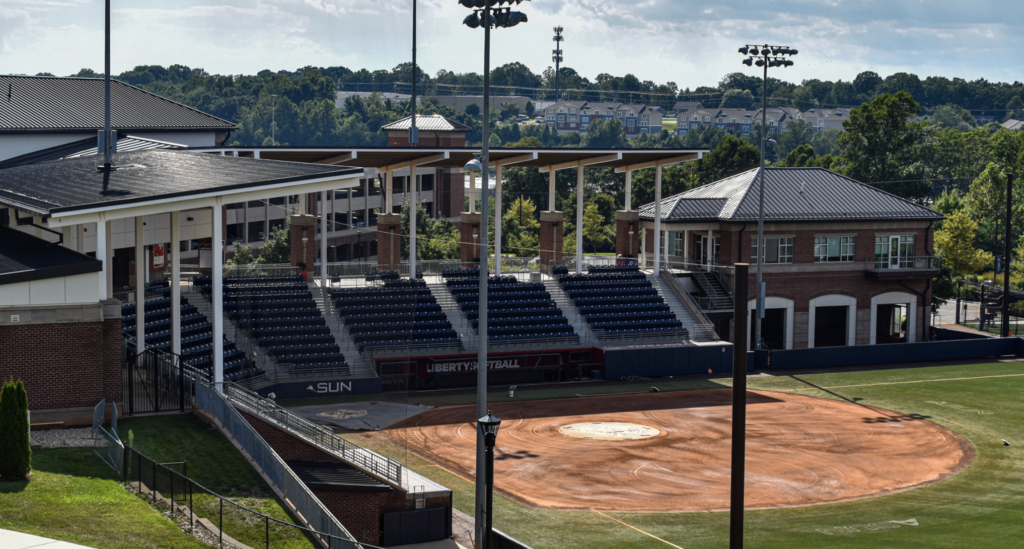 Kamphuis Field at Liberty Softball Stadium was designed to provide fans a great venue to watch softball action. The field is named after Dwayne Kamphuis, a legendary fast-pitch softball pitcher who played with Eddie "The King" Feigner as part of the renowned "King and His Court" traveling softball team.
The stadium includes 1,000 chairback seats, home, visitor and umpires' locker rooms, as well as a team room, situation room, training room, coaches' offices, indoor batting tunnels, two full bullpens, and a state-of-the-art press box.
Approximately 19,000 square feet of metal roofing was installed on the grandstand and buildings making up the complex. "We were left with the exposed metal deck," Gheen recalls. "We installed two layers of insulation, which were mechanically attached, with an air and vapor barrier over top of that — Henry Blueskin RF200. After it was dried in and watertight, then we started installing the metal panels."
The material distributor on the project was NB Handy. The prefabricated panels were brought in by tractor trailers and lifted to the roof by a crane. The panels are held in place with clips and mechanically seamed. The safety plan called for workers to be tied off at all times.
The project went smoothly, notes Gheen, with one exception. "This one was fairly straightforward. The one thing I remember is mud," he says. "There was a lot of mud. That was a fairly big issue, not only for installation but safety."
Workers had to take care to make sure mud did not cause any safety hazards, especially while climbing ladders. At times, crew members were forced to change out their boots before going up to the roof. "We had to keep the ladders as clean as possible, and of course, the roof surface had to be kept clean."
Mountain Roofing has handled other projects at the university, so it was well prepared for the stadium installation. "The majority of the roofs are the Fabral Power-seam panel," says Gheen. "They've been running that metal for years, and it's a lifetime product. It's the industry standard at LU."
According to Gheen, the workmanship on the project shows what sets Mountain Roofing apart. "We're known for our quality," he says. "We really don't press the 'quantity' button. Quality, all the way around — that's what we base our company on. That shows through all of the products that we run."
TEAM
General Contractor: Branch Builds, Roanoke, Virginia, https://branchbuilds.com
Roofing Contractor: Mountain Roofing, Roanoke, Virginia, www.mtnroof.com
Distributor: NB Handy, Lynchburg, Virginia, www.nbhandy.com
MATERIALS
Metal Panels: Fabral Power Seam 16 inch, 24 gauge Dark Bronze with shadow lines, Fabral, www.fabral.com
Underlayment: Blueskin RF200, Henry Company, www.henry.com