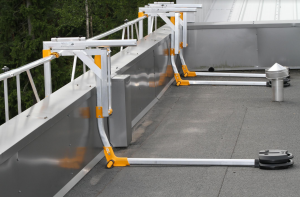 The Finnish company Alupro announces the immediate availability of the Parapet Bridge for the temporary fall protection AluFix EVO.
In 2015, Alupro successfully introduced the temporary fall protection railing system AluFix EVO for highly secure roof work.
The new Parapet Bridge serves as an additional, outer safety railing, with which the temporary fall protection AluFix EVO can be extended quickly, easily and tool-free. The Parapet Bridge creates additional freedom of movement, because it increases the available working space beyond the parapet. Without having to set up a scaffolding from the outside, e.g. work on the parapet cover can be performed with the proven counterweight system AluFix EVO. The fall protection railing is flexibly applicable up to a parapet thickness of 730 mm and allows safe working on levels up to a roof pitch of 10 degrees. The Parapet Bridge consists of a sturdy, high-quality aluminum construction, which is mounted to a continuous safety railing. The secure connection points consist of self-locking clamping mechanisms that enable tool-free installation.
The system extension Parapet Bridge as well as the basic system AluFix EVO according to EN13374-A has been successfully tested and equipped with the GS mark for proved safety.
New features of the Attika bridge for AluFix EVO:
Fast, easy and tool-free installation
Lightweight and stable construction made of high quality aluminum components
Can be used on levels up to 10-degree roof pitch
Additional, enlarged working space for attic covers
Variable adjustment of the attic width up to 730 mm
Tested to EN-13374-A GS seal of approval for tested safety
Proven features (AluFix EVO):
Simple, tool-free installation
Lightweight, highly stable aluminum construction
GS tested, meets safety standard EN 13374-A
AluFix EVO can simply be supplemented by existing customers with the Parapet Bridge and can be used for all roof variants up to a 10-degree inclination.
For more information, visit www.alupro.com.