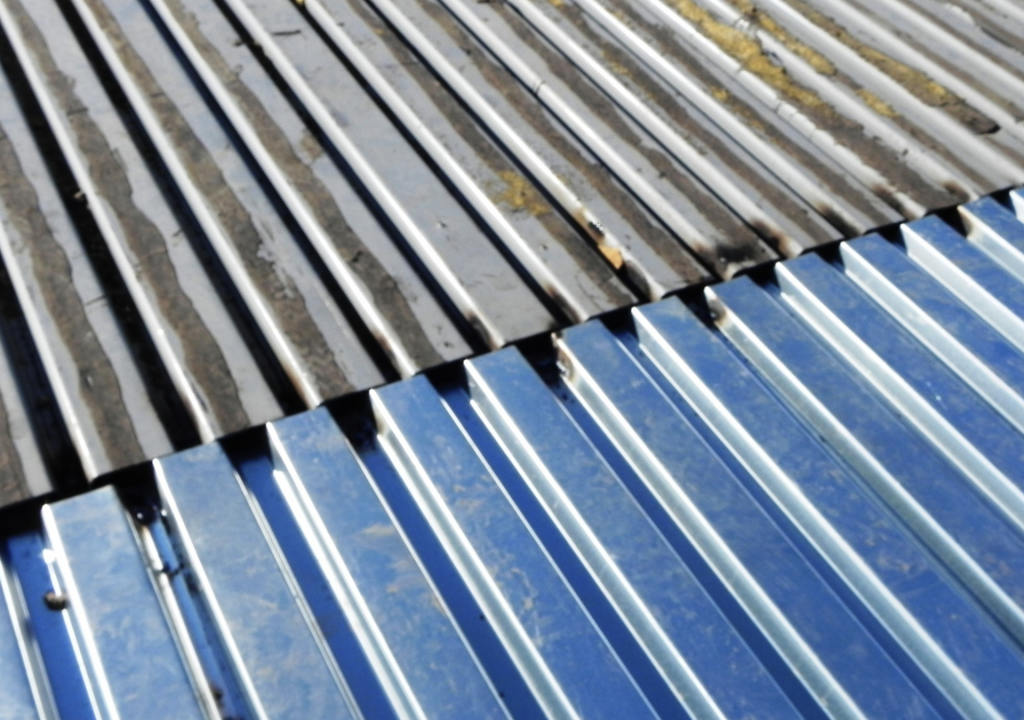 The commercial roof replacement project has been specified, the tear-off process begins, and crews are surprised to find unexpected corrosion and damage in the structural metal decking — the cold-formed corrugated steel sheets connected to steel joists or beams that support the roof system. They soon realize that large areas of the deck will need to be replaced, and the project grinds to a halt as crews try to figure out what type of deck is needed and how long it will take to get it to the jobsite. This doesn't happen every day, but it happens often enough that specialty metal deck suppliers have evolved to help roofing contractors cope with such emergencies — and, hopefully, work with them to prevent similar problems in the future.
Roofing spoke with metal deck suppliers about the common questions they encounter and the ways they can help roofing contractors meet their needs. We also spoke with a contractor and a roof consultant to get their perspectives on issues surrounding metal decks and asked them to share some recommendations for successful re-roofing projects involving the replacement of structural metal decking.
Frequently Asked Questions
Nick V. Polizzi is president of A.C.T. Metal Deck Supply, headquartered in Aurora, Illinois. The company got its start as a metal decking subcontractor, furnishing and installing metal deck in the Chicagoland, and it started stocking metal deck 27 years ago. A.C.T. Metal Deck eventually got out of the installation side of the business, and the company now has 15 locations in 11 states that specialize in metal deck distribution.
Polizzi sums up the most frequent queries from roofing contractors this way: "The most common questions we receive are 'What is this existing deck?' 'What do we use if we can't match it exactly?' and 'Can I get it today?' That is, do we have it in stock."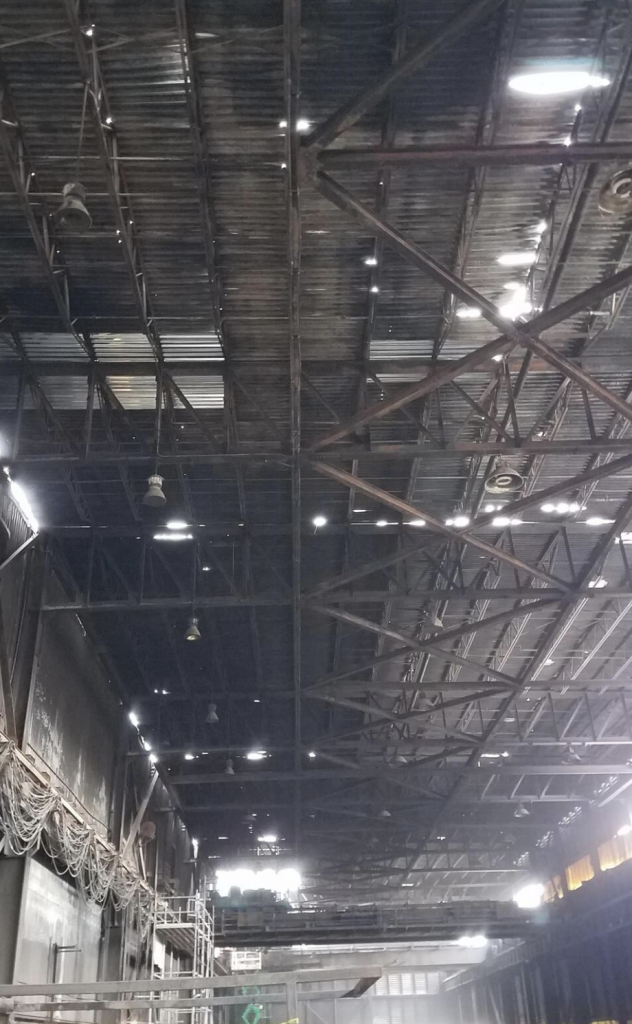 It's the type of phone call that's familiar to Matt Weiss, president of O'Donnell Metal Deck, headquartered in Elkridge, Maryland. The company has been supplying metal deck in the Northeast and Mid-Atlantic for 35 years from its headquarters and a second location in Darby, Pennsylvania. "I do the same kind of dance every day," Weiss says. "I hear, 'Hey, we're up on a roof and need some deck.' I say, 'What kind?' Often there is just silence."
John D'Annunzio, president of Paragon Roofing Technology in Troy, Michigan, has been a roof consultant for more than 25 years. He says he can't remember a re-roofing job over a metal deck that didn't require replacing at least some portion of the decking. Even with a thorough inspection, surprises can crop up. "There are times you look at it from the underside and don't spot any problems, but when you start replacing the roof you find some issues," D'Annunzio notes.
These are the types of problems Mike Horwath, Mid-Atlantic Regional Manager for CentiMark, tries to anticipate and avoid. CentiMark is a full-service roofing contractor headquartered is in Canonsburg, Pennsylvania, that covers the entire country. Horwath's office is in King of Prussia, Pennsylvania. According to Horwath, his company's crews are taught to identify the type of metal deck and the thickness before work on the project begins. "We determine what type of deck it is and have some of it sent to the jobsite, so that if we encounter any damage, we are prepared, versus shutting the jobsite down and going out to get it," Horwath says.
When emergencies do arise, Horwath maintains it's easier to get replacement decking more quickly than it was just a few years ago. Specialty deck suppliers often have a wide variety of materials in stock, and they can offer other services, including making deliveries in phases as the job progresses, to help with logistics.
Roof Inspections and Safety Precautions
D'Annunzio and Horwath try to go into every job with as much information as they can gather at the jobsite. If possible, D'Annunzio recommends obtaining documentation and as-built drawings. Horwath agrees, noting that the customer, building owner and facility managers can all be excellent resources. "They will have the history and context to discuss leaks, integrity issues or problem areas," Horwath says, "Areas affected by high humidity levels or other processes from inside the building are also susceptible to deterioration."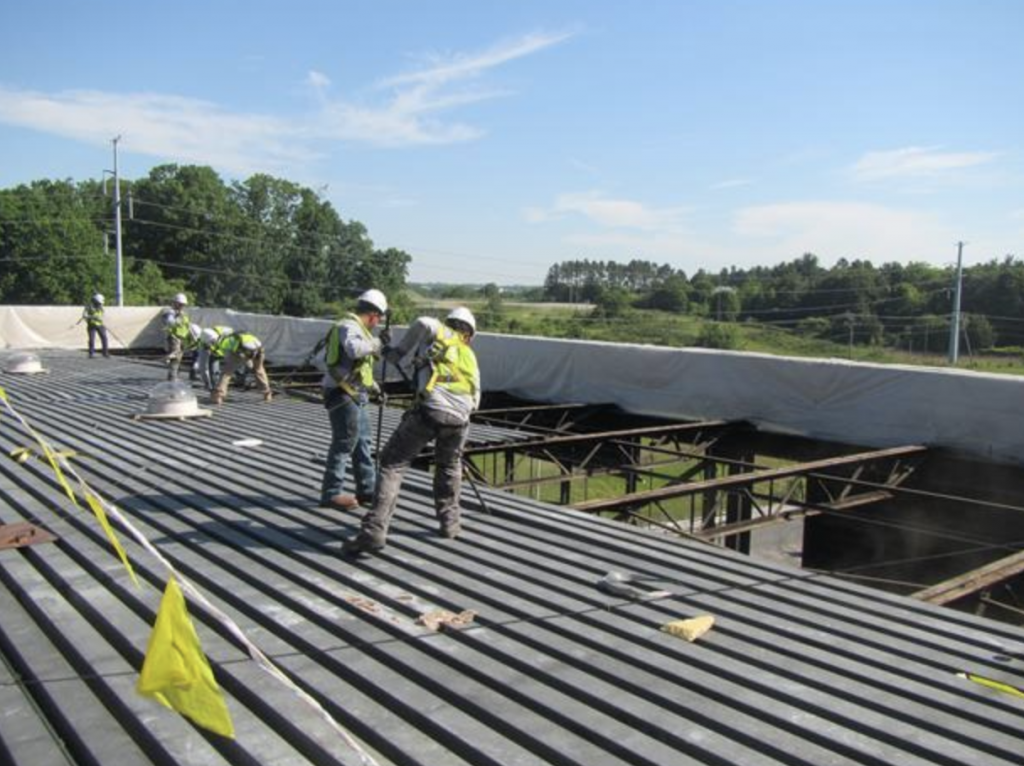 The use of the building can be a critical factor. Certain industrial processes can raise a red flag. "Trash-to steam plants have ash houses with high pH levels. A pool environment can have very high humidity levels. Batteries and other manufacturing can involve acidic processes," says Horwath. "Those are three of the most common points of concern: chemicals, high levels of humidity, and pH level."
A visual inspection of the underside of the metal deck can provide crucial information. "We try to look at the underside of the deck from the interior, but it's not always possible," D'Annunzio notes. "In industrial facilities, the deck is typically left exposed, but in office buildings and retail locations, you often don't have access from the interior to look at the deck."
The underside of the metal deck should be examined for excessive corrosion, openings and abrasions, and structural damage, including deformation and deflection. "All areas that illustrate structural damage and/or excessive corrosion should be considered safety concerns and should be barricaded off at the roof level," says D'Annunzio. "If the interior of the metal deck has been painted, a close-up inspection from a ladder or man lift may be required. The level of corrosion can often be determined by banging on suspect areas of the deck with a hammer."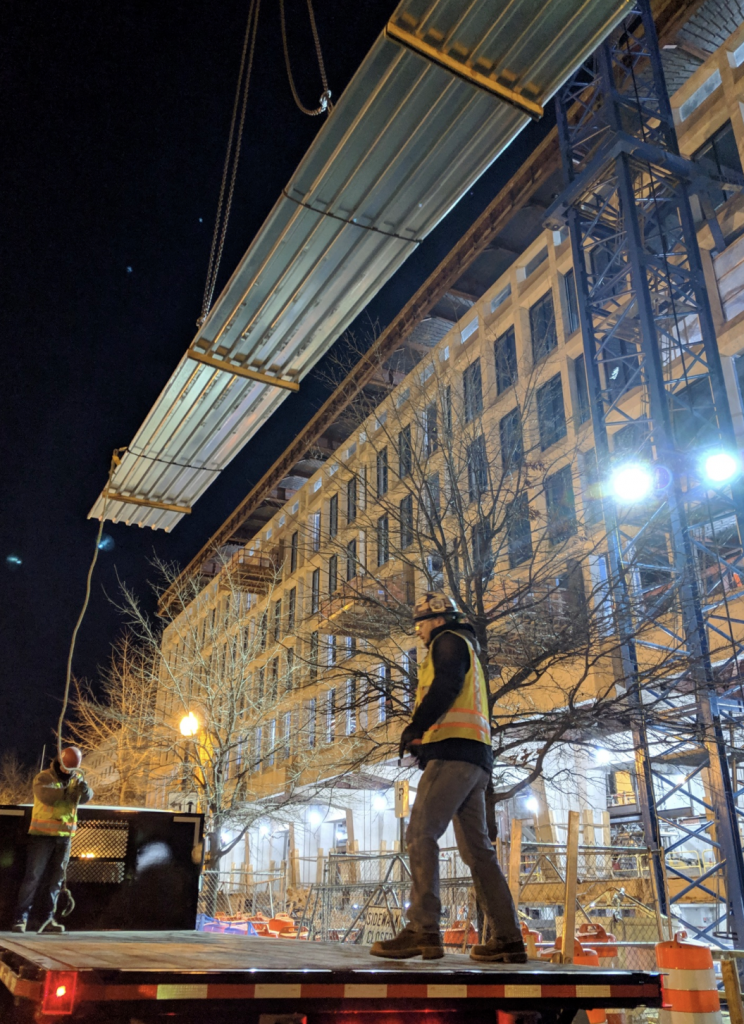 Safety is the paramount concern, even at the inspection stage. Inspectors should never walk on a roof that isn't safe. "First off, all personnel should have proper safety training and be properly trained to inspect decking," Horwath states. "For our guys to go up on the roof, they have to be able to do an underdeck inspection and verify that no condition exists that would create a fall hazard in the roof. If they cannot do that, they would have to assume that there is a fall hazard, and they would have to set up fall protection to do that inspection."
If a fall hazard can't be ruled out, it has to be assumed that the potential for a fall hazard is there, and a site-specific safety plan with proper fall protection equipment is required until it can be proven that the decking is safe. If problems areas are discovered, they should be marked and barricaded off. "We will establish the level of severity and put together a fall prevention plan for the guys to follow," Horwath says.
When inspecting the roof system on top of the building, core cuts can provide visual clues about the deck. D'Annunzio notes that core cuts are typically done on every project, and if corrosion is evident on the deck, he will expand the test cut to see how extensive it could be.
The inspection process should continue throughout the project, according to D'Annunzio. "During the remedial roof removal process, the metal deck should be inspected on a daily basis," he states. "Deck panels that exhibit extensive corrosion and/or structural damage should be removed and replaced. Light rust and corrosion can be repaired with a wire brush and application of a rust inhibitor. Minor openings such as small holes can be covered with metal plates or overlay of a metal deck panel that is fastened to the existing metal deck panel."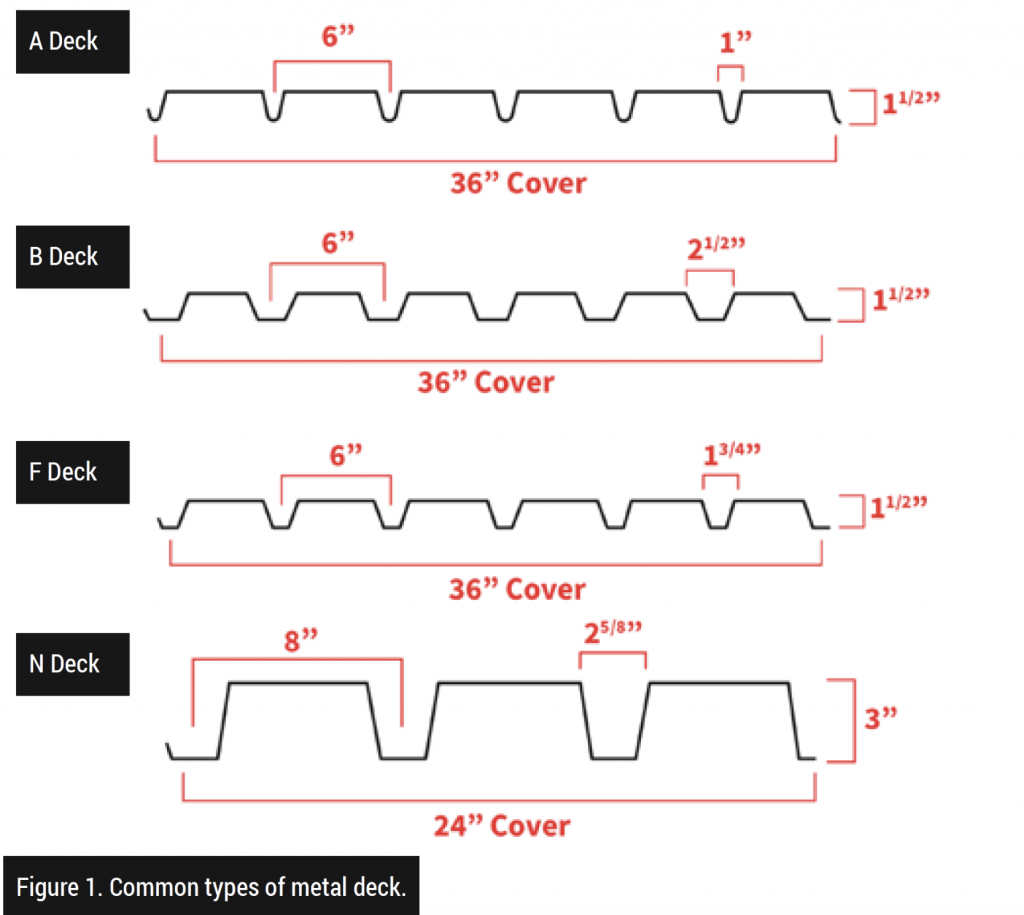 It's not only workers on the roof that have to follow proper safety procedures. Everyone in the building below has to take precautions. "When decking is being removed or replaced, there can't any workers below the area," says D'Annunzio. "We've had instances in automotive projects where deck has had to be replaced, and the work has to be done during off-shift hours, whether it's a night or a weekend."
Identifying the Existing Deck
If the type of deck used isn't available in the construction documents, the type, gauge and finish of the deck must be determined at the site.
The type of deck is based on the profile, which is designated by a letter. The most common types are A, B and F. (See Figure 1.) "The changes are in the shape, and the shape creates a different design strength," notes Polizzi. "A-22 is not the same strength as B-22."
Each profile has its own distinct measurements. "We give out a laminated profile card to all of our customers to keep in their trucks, so when they are out on the job, they can do a couple measurements to determine the profile," Polizzi says. "It's nice if they can measure both the bottom and the top, as we have measurements for both. If they aren't sure, we can send them a sample, and they can take it out to the job and lay it into what they've got on site."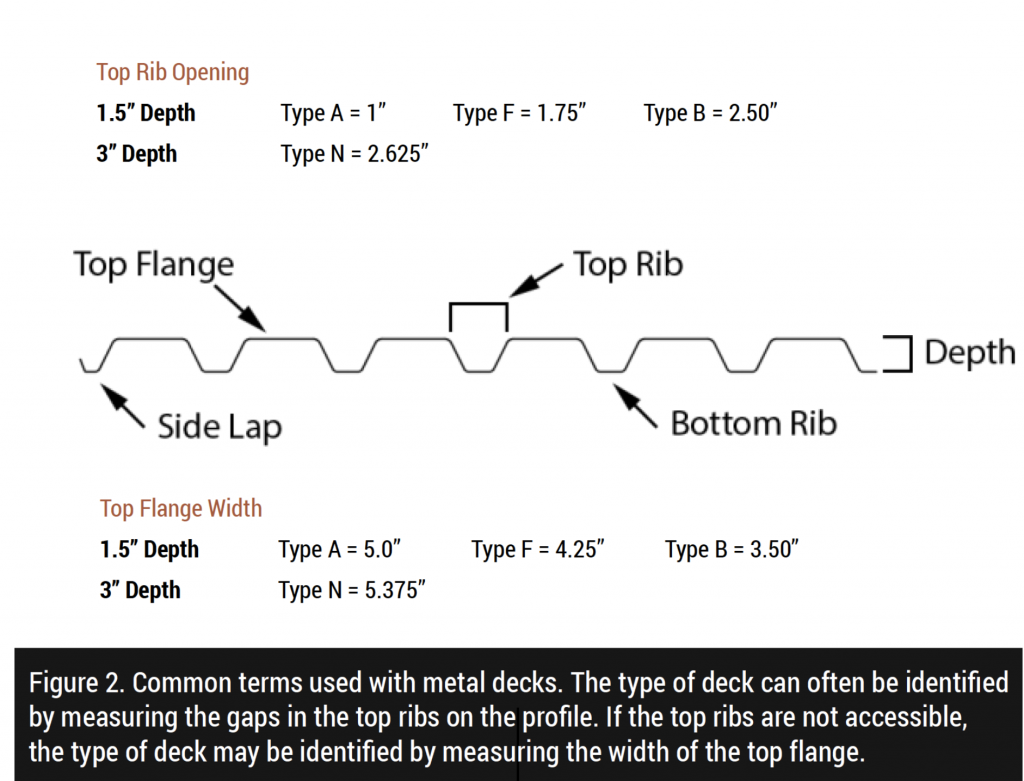 According to Weiss, the simplest way to identify the type of deck on an existing building is to measure the gaps in the ribs on the profile. (See Figure 2.) "Check the top rib opening located between the top high hats or flanges of the deck," Weiss recommends. "This dimension will quickly determine the type. Most of the time, the top rib opening is 2.5 inches, 1.75 inches or 1 inch, so you're typically dealing with B deck, F deck or A deck — or it's 3-inch-tall deck, and that's usually N deck. However, the top rib isn't always exposed until after a project has begun. In this case, the deck can be identified by the bottom width of the high hat."
There are a few caveats, notes Weiss, as in some cases the deck might be from an older mill that doesn't exist anymore. Texting pictures back and forth can help identify the type of deck.
The next steps are to determine the gauge and finish. "The easiest way to determine the gauge is by using a micrometer," notes Weiss. "However, if you're unable to obtain this measurement, a knowledgeable deck supplier should be able to recommend a gauge by understand the spacing supports and project requirements."
The finish is usually determined based on visual inspection. The three most common finishes for roof decks are:
Primer painted
Galvanized G-60
Galvanized G-90
"With no harsh environments, then painted deck is probably what's used," says Polizzi. "In wetter, harsher, more corrosive environments, galvanized finishes are more common. In very corrosive environments, stainless steel decking is used."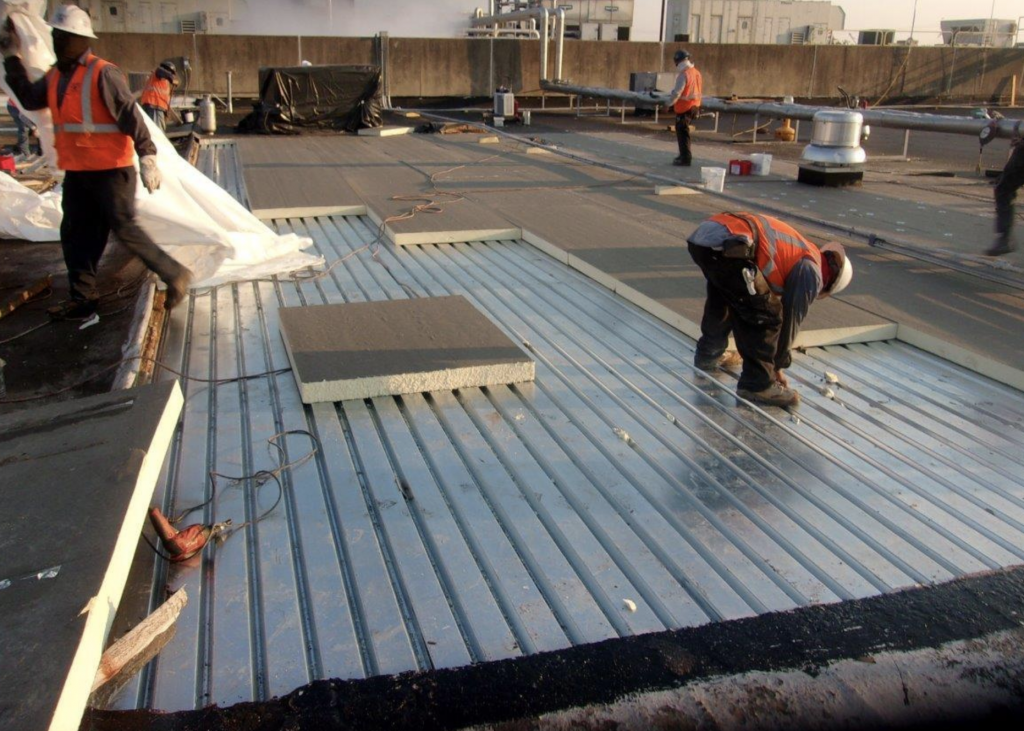 B deck is the most common. "B deck, 22-gauge, with a galvanized finish is probably the most common type," Weiss notes. "B-22, G-60 finish constitutes probably 70 percent of the roofing jobs we do."
If the type of deck can't be matched, suppliers can often recommend a compatible alternate. "Typically, when roofers are replacing a portion of an existing structure, the key is identifying the correct deck type to allow the new deck to lay into the existing flutes of the deck," says Weiss. "This makes for faster install."
B deck has the widest rib openings. F deck will nest inside B deck, and A deck will nest inside F and B. "They are all 6-inch centers; the difference is just in the width of the opening," notes Polizzi. "The A deck is narrow, so it will fit on top of B, but if you try to put B on top of A, it will not work."
"That's why you still need these older roof profiles, because on a huge building with those narrow ribs, the 2.5-inch flute is not going to jam down into an inch," says Weiss. "You can always take an F deck or an A deck and use it on a job with B deck because it nests in there."
Removal and Replacement
By definition, deck panels are fastened to structural members, and this is crucial in determining the methods of removal and replacement — and determining the number and size of sheets needed for the project. "If it's a new piece of decking, it has to be secured to a structural connection," says D'Annunzio. "It should go from structural point to structural point. When covering major openings like skylight holes, for example, the replacement panel must span from joist to joist, and typically is nested in the existing deck."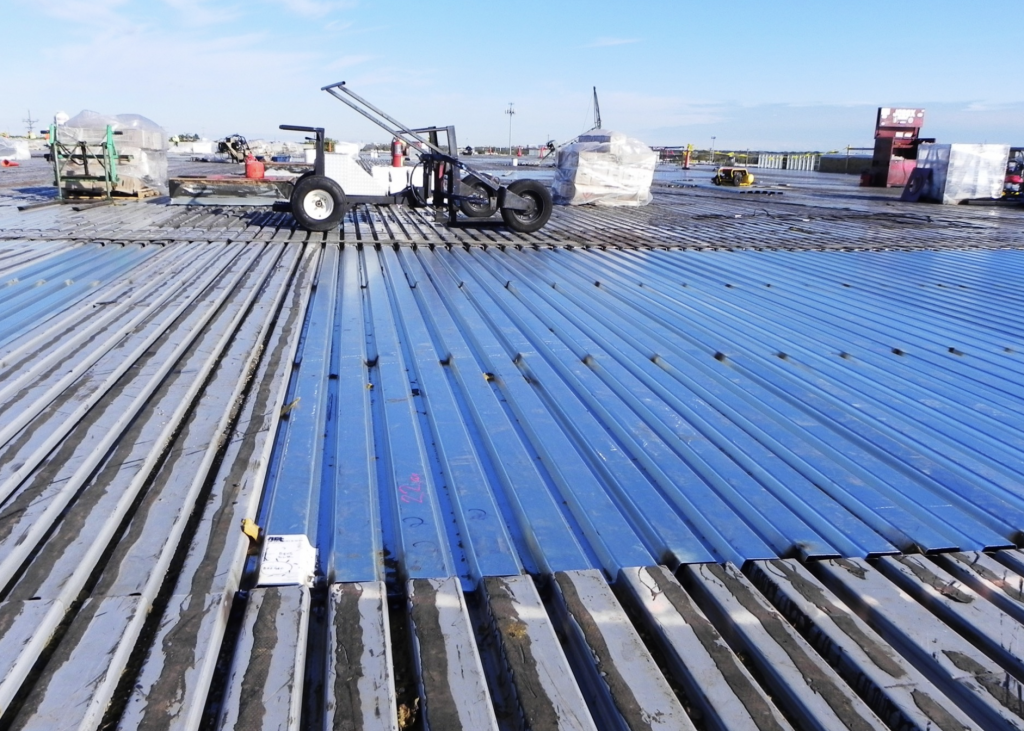 During the removal process, the safety plan must remain the top priority. "Ensure proper training and safety equipment is used on the roof and inside the building," Horwath says. "Make sure the interior inspection limits the impact on the customer's business. Clear out areas below the roof, make sure there is adequate material storage on the jobsite, and protect objects from damage. Keep the below area flagged off and keep people out of the area. The contractor should keep a fire watch to keep employees and people out the way. Remove and replace decking in full sheets. Remove and replace the roof and make it watertight by end of day."
When installing new decking in a roof replacement project, the vast majority of the time fasteners are used, as often welding is not allowed. "CentiMark does not weld anything," says Horwath. "We fasten everything down per Steel Deck Institute (SDI) standards or FM. We require our guys to be tied off until all of the decking is fastened down. With the stitch seams, they should be tied off while putting that together because it helps strengthen the seam joints. They should be tied off for the entire process until it is anchored and secured down."
Fastening the side laps of deck together is typically done with a standard #10 self-tapping screw, according to Weiss. Fastening to beams or joist will depend on the project. A fastening pattern will determine the number and spacing of the fasteners to a support. The Engineer of Record (EOR) determines the fastening pattern based on the designed load calculations for building. "A fastener supplier can help guide you for qualified fasteners based on your needs," Weiss notes.
If the profile cannot be matched or the decking won't nest, it may be necessary to cut out the portion of deck to be replaced and butt the end of the new profile against the existing deck at the joist. When different types of deck are butted together, the gap is usually covered with a metal plate.
Common Mistakes
D'Annunzio pointed to roof details and penetrations as common problem spots. "The biggest areas of concern I see involve larger penetrations, such as a curb that's 4 feet by 4 feet," he says. "Contractors who replace the decking around the curb at an opening for an exhaust vent, for example, have to make sure it's fastened correctly. If the deck is not properly fastened at the curb, it could lead to vibration, splits or openings in the roof system."
Extreme care has to be used when removing old sections of decking, notes Horwath. "Be careful to watch out for electrical conduit and data lines," he cautions. "No one wants to cut through conduit underneath the decking."
Other common errors include underestimating the size and scope of the deck repair. D'Annunzio and Horwath recommend specifying the cost for deck replacement in every contract, even if the decking looks perfect. But estimating the amount of new deck material needed can be difficult, as total square footage is not the only concern. "It's all about knowing what the bar joists spans are, and that determines the size of the panels you get," Horwath points out.
Depending on the width of the building and the dimensions of the deck sheets, contractors might have to order an extra sheet to cover a given area. Weiss uses this example: "Let's pretend you have a building that's 76 feet wide. Sheets are 3 feet wide. Because it's 76 feet wide, with 25 sheets, you still have an extra foot hanging off. So, what do you do with that extra foot? Technically you need an extra sheet, and you back lap that sheet."
The spacing of supports and the cover width of the decking sheets are also critical, notes Weiss. "Knowing the spacing of the joist will allow a deck supplier to maximize your coverage while limiting waste from excessive overlap and save time by limiting field cuts," he says.
Planning Ahead
Metal deck suppliers keep multiple profiles, gauges, finishes and lengths in stock at all times to help contractors. That's a key part of their value proposition. But Polizzi and Weiss also emphasize that they are also available to help contractors plan ahead to maximize efficiency. After all, there could be lead times involved with some products. "Partnering with a knowledgeable deck supplier will save you time, money and frustration," Weiss says. "We will aid you in the process by asking the right questions upfront to ensure a project's success."
Polizzi notes that some of his customers maintain their own stock of B deck. "Some roofers themselves will buy a couple of bundles from us so that when they do have an emergency or a tear-off, they can start to pull out of their own inventory," Polizzi says. "They don't have to keep a lot; they just have to keep enough to get going, and we'll take care of the rest of the job."
"It's all about having it on hand and available and getting it to the contractor when they need it," says Weiss. "But the more lead time they have, the better off the contractor really is. When projects become larger and/or supports are not typical or complicated, a specialty deck supplier should be able to provide shop drawings to include a deck layout to save time and minimize material waste."
"In the past, roofers used to avoid anything to do with metal deck replacement because they often couldn't get what they wanted," notes Polizzi. "Today, we have helped these roofers create a new profit center because they know now they can go after that work and they can count on us to be there for them when they open up a roof."
Replacing the deck can mean more profit for the contractor, but it can also adversely affect the schedule. According to D'Annunzio, when it comes to the deck, the key is to think long-term. "You have to go with the assumption that the roof you're installing will last at least 20 years, and these days it can be much longer than that, with re-covers and maintenance," he notes. "So, chances are you're not going to see that deck again for more than 20 years. If it's suspect, it's better to deal with it while you are doing the remedial work."
"We've been called in to examine projects with a roof that's just a few years old where the deck below should have been replaced beneath the roof system, and it wasn't," D'Annunzio continues. "You can imagine the difficulty of replacing the deck at that point. When it comes to metal deck, my attitude is, 'When in doubt, take it out.'"
Metal Deck Resources
For more information about metal decks, visit:
Steel Deck Institute, www.sdi.org
NRCA, www.nrca.net
SMACNA, www.smacna.org
Factory Mutual, www.fmglobal.com
A.C.T. Metal Deck Supply, www.metaldecksupply.com
O'Donnell Metal Deck, www.odonnellmetaldeck.com