When thinking of hotbeds of solar power, eastern and central Pennsylvania probably don't jump out as top candidates. But that isn't stopping one roofing contractor from making its mark in residential solar.
Bachman's Roofing, Building & Remodeling, Inc., is fourth-generation family-owned business headquartered in Wernersville, Pennsylvania. The company also has offices in the Lehigh Valley and Philadelphia Metro Area. "We started out as a roofing company in 1972," notes Matthew Harter, marketing manager for Bachman's Roofing. "We are really strong on the roofing side. Of course, solar roofing is now a big part of that. We also do siding, gutters, windows, doors, skylights, and building construction. We are a one-stop shop for all of your home improvement needs."
Bachman's Roofing began installing GAF Energy's roof-integrated solar system in 2019. "We have a very strong relationship with GAF," Harter says. "We are one of 25 three-star level President's Council roofers in the country, so it was a natural fit for us to partner with GAF Energy and add the roof-integrated solar to our portfolio. It's a great partnership."
Hands-on training began when Bachman's Roofing installed its first system on its own offices. "We started by installing an array right here on our corporate campus," Harter says, "The experts from GAF Energy came out and worked with our team. We worked through the installation process, what was different about it compared to a traditional rack system, and what the special considerations are when installing the integrated solar. They were great to work with."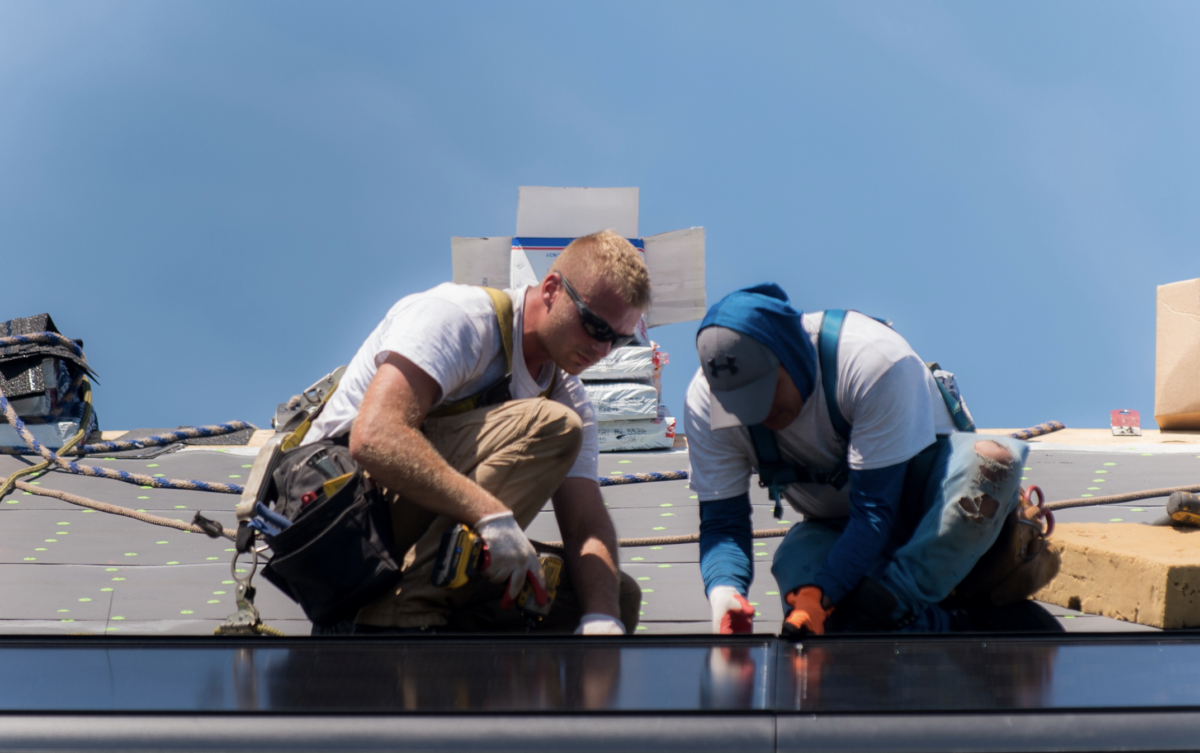 To date, Bachman's Roofing has installed more GAF Energy solar systems than any roofing contractor in the country. "We are very proud we are the No. 1 installer in the U.S. for them," Harter says.
A Simple Message
Bachman's Roofing is thriving in the world of residential solar by delivering an important message to homeowners. "It's really simple," Harter says. "We start from Step 1 introducing them to a process that can help their roof pay for itself."
The education process begins with the appointment reminder prospective customers receive, which has a picture of the rep that's coming out to meet with them. "We talk about projects we've done, and there are links in there to our solar page that talks about all of the programs we have," notes Harter. "Every single member of our sales team, from residential all the way to remodeling, introduces folks to solar."
He pointed to one residential roof replacement project involving the DecoTech 2.0 solar system and GAF Timberline HDZ shingles as an example. The roof on a residence in Sinking Springs, Pennsylvania, was nearing the end of its useful life. "A roof replacement is the perfect time to install solar," Harter explains "The homeowner, Mr. Fischer, is an engineer — very analytical. He really did his homework. He was a very educated consumer, which we appreciate — it helps us."
Mr. Fischer was interested in the energy savings the solar system would provide, as well as the environmental benefits of renewable energy. "The homeowner wanted to 'go green' and have his roof pay for itself," Harter says. "It was a way for him to recoup the money he was going to have to spend on a roof anyway."
One-Day Installation
The installation at the Fischer residence was fairly straightforward. According to Harter, the process begins like any typical residential re-roof.
"After we tear off the old roof, we inspect the decking. That's important," notes Harter. "Obviously we are not going to install new shingles or new solar on top of poor decking. So, there is a thorough inspection of the roof substructure, including going into the attic and making sure that everything is adequate in there."
Roofs incorporating solar panels have some key differences, including finding the optimal placement for the solar array and determining the best place to install conduit for the electrical wiring. The installer needs to know the policies of the local power company, as well as any state and local codes and regulations. Another difference is that a special underlayment goes underneath the solar panels. "When the system is designed, we have to take those things into consideration," says Harter. "We also have to know exactly where that array starts, where it ends, and where everything goes in between."
Robert Glasner, residential sales manager and solar energy consultant for Bachman's Roofing, oversees every project. "GAF Energy gives us a plan set for each solar array, and then we have all of that information with our production team prior to going out," Harter explains. "Robert does a wonderful job of taking a look at everything and making sure everything is correct, so that on the day of install, we are typically able to put most of our systems in in one day. There are some we can't quite finish in one day, but that's our goal with every roof — if we open you up today, we will close you up today."
At the Fisher residence, there were two major challenges: the array had to be split into two separate columns, and four vent pipes had to be moved to accommodate the solar panels. "In the case of Mr. Fischer, in order to install the roof, we had to relocate four vent pipes," says Harter. "We've done that many times, so it's old hat to us, but it is a challenge."
It's a challenge Bachman's Roofing handles in-house. "That's one of the advantages for our company," Harter says. "We have our own electrician, our own plumbers, our own framers. You name it, we can do it. There's no project we can't tackle."
For other roofers without such capabilities, GAF Energy offers a full suite of electrical and other services to make selling and installing solar as seamless as possible with the existing business infrastructure.
In this case, there was a single penetration for electrical conduit, which was ideal. "One of the great things about the DecoTech system is that there is no shingle you are penetrating to put this system in," Harter says.
Furthermore, the solar roofing kit concept from GAF Energy makes installation easy for crew members. "Having the inverters and flashing kit all there makes the day of installation and jobsite management immensely easier," he says. "That roof-in-a box concept really works well for us."
With his new roof-integrated solar system in place, Mr. Fischer estimates he is saving more than $100 a month on his electric bill. Additional benefits include durability and great aesthetics. "There is a flashing kit that goes in, but you shingle over the flashing kit, so it's completely integrated," Harter says. "There is no way for water to run off that panel and get behind it. That's what I really feel sets it apart. Beyond the look of the DecoTech 2.0 — it's much more sleek-looking, obviously — having that flashing kit integrated is one of the real differentiators for this system. The solar panel becomes a part of the roof itself, and it's a very attractive system. That's a very strong selling point for us."
Bachman's Roofing is always ready to tackle expected and unexpected problems. "It makes the installation process as painless for the customer as possible," Harter says. "We were able to come out, set up, and do this install in a single day. That in and of itself — that we were able to put up split array system in a single day and close up his roof says a lot about what we are able to do. Moving those vent pipes shows the expertise that we have, and that roof itself is a beautiful roof. And, the customer is extremely happy, and that's the most important piece."
TEAM
Roofing and Solar Installer: Bachman's Roofing, Building & Remodeling, Inc., Wernersville, Pennsylvania, bachmansroofing.com
MATERIALS
Shingles: Timberline HDZ, GAF, gaf.com
Underlayment: Deck Armor, GAF
Solar System: DecoTech 2.0, GAF Energy, gaf.energy