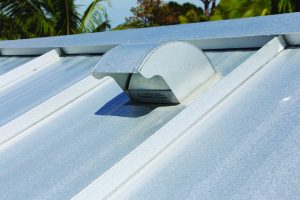 The DryerJack is the first roof termination designed for the demanding needs of venting clothes dryers. Made in the USA of Galvalume and available powder coated in black, brown or white, DryerJacks are built tough. Building code disallows screens and requires that dryer terminations have a backdraft damper. With a patented curved damper, the DryerJack meets code requirements and goes further. To safely vent dryers, airflow restriction must be minimized to prevent lint blowback and the fire hazard that creates. A passageway of 21 square inches delivers nearly zero airflow restriction, allowing the dryer to operate at peak performance.
The 26-gauge Galvalume DryerJack is available in two models. Model 466, at less than 5 inches tall, delivers safe venting through the roof and low-profile aesthetics. When you need room for high-profile tile or to accommodate heavy snowfall, select model DJK486. It's as efficient as model 466 but provides more clearance above the roof.
For more information, visit www.dryerjack.com.