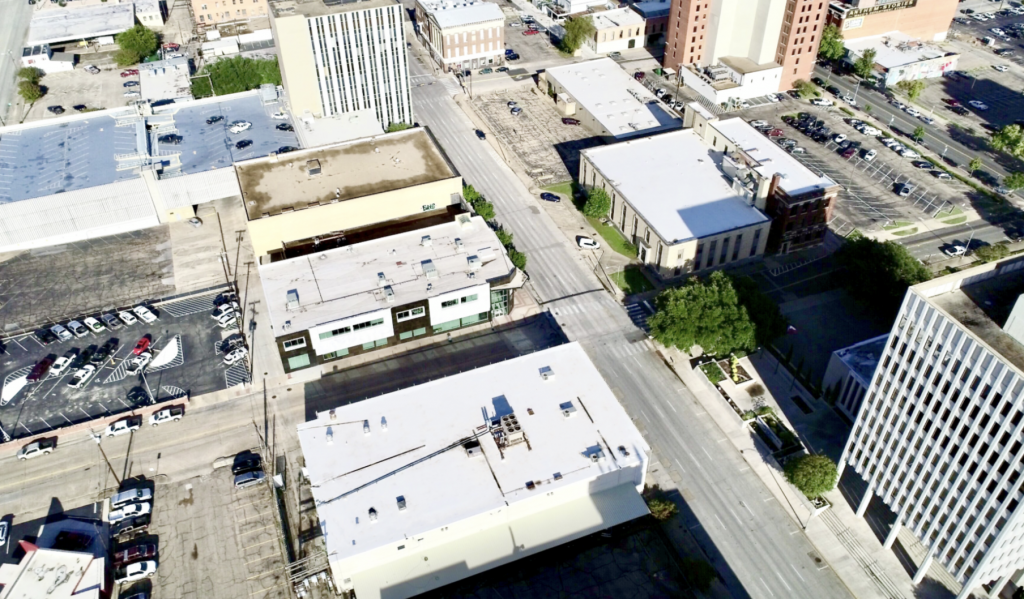 When Clark Roofing of Waco, Texas, was selected to re-roof three McLennan County facilities in downtown Waco, they knew there would be challenges. The roofs were all 35-plus years old and leaked; one was notorious for ponding water. There was 95 tons of gravel ballast to remove. Product deliveries would require navigating busy streets, power lines and rooftop-mounted communication towers. The buildings' historic features needed to be preserved.
What the crew could not have predicted were the added challenges of working during the early weeks of the COVID-19 pandemic and during protests for racial justice.
But attention to detail, determination, and a knack for finding creative solutions are deeply engrained in the Clark Roofing culture. The crew completed the work in just 20 working days, delivering new TPO roofing systems that will stand up to the Texas heat and hail. Most important, everyone remained safe.
The built-up roofing (BUR) systems on the McLennan County Sheriff's Office, the McLennan County Records Management building, and the McLennan County Courthouse Annex were in rough shape. At 35 years old, 45-50 years old, and 45-50 years old respectively, each had significant leaks. They remained structurally sound, however, so recovering them, rather full tear-offs, was chosen.
Designed to Take What Texas Dishes Out
Waco is in "Hail Alley," and average high temperatures top 90 degrees Fahrenheit from mid-June until mid-September. To create roofing systems that would withstand those conditions over the long haul and receive the desired 30-year no-dollar-limit system warranties, Clark Roofing looked to their go-to single-ply roofing system — 80-mil-thick standard TPO in white, fully adhered.
Nearly 400 squares of TPO from Mule-Hide Products Co. was installed on the three buildings.
"In our experience, the thicker TPO is by far the best option in terms of durability and getting hail ratings and FM Global coverage," says Clark Roofing General Manager Mike Anderson. "TPO can handle the Texas heat."
The fully adhered systems also will withstand the hailstorms Waco experiences every year better than mechanically attached system would.
"If a large piece of hail strikes a plate or screw, it can damage the membrane," Anderson explains. "With full adhesion, you're only using fasteners on the perimeter to meet wind uplift or FM Global requirements."
Full adhesion costs 10 percent to 20 percent more than mechanical attachment, but given the pounding that Texas roofs take, it is an investment that will be recouped in roofing system durability and longer lifespan, according to Anderson.
The key is the wrinkle-free installation that full adhesion provides. "To withstand hail, the roof needs to be very tight," Anderson says. "If there are places where the membrane isn't touching the substrate, hail has a better chance of puncturing it. You're also less likely to have ponding water when the membrane is wrinkle-free."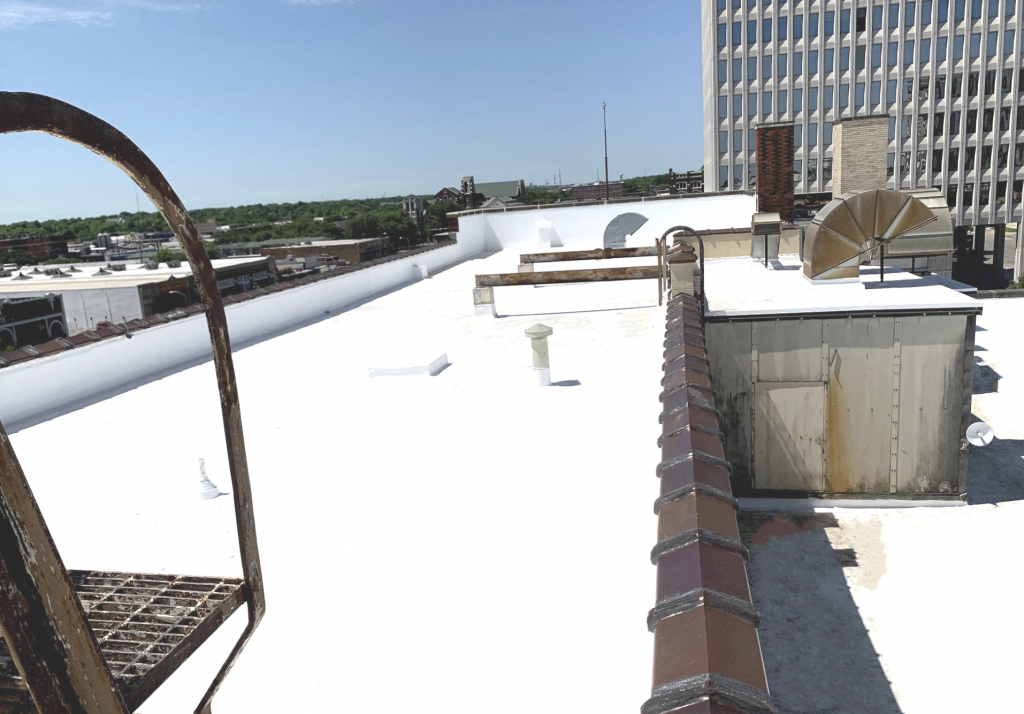 TPO Bonding Adhesive from Mule-Hide Products was used to adhere the membranes. "Solvent-based adhesives flash off faster than water-based adhesives, deliver a stronger bond, and can be used on cooler days," Anderson says.
In each roofing system, a single layer of 1.5-inch-thick Mule-Hide Poly ISO Flat insulation was used as a top layer insulation and a separation board. The insulation was adhered using Helix Max Low-Rise Adhesive from Mule-Hide Products.
Heavy Lifting
But before the new roofing systems could be installed, 95 tons of gravel ballast had to be removed. To ensure proper adhesion of the adhesive, the substrate must be clean and dry before the adhesive is applied. Many contractors would have simply shoveled the gravel off, filling three dumpsters, and called it a day.
From their previous, off-the-jobsite experimentation, the Clark Roofing crew knew that extra attention paid to surface preparation would result in a stronger bond. So, after shoveling, they swept the surfaces with a motorized broom and blew away the remaining dust, filling 19 dumpsters.
All three rooftops were ballast-free and clean before installation of the first new roofing system began, ensuring that crew members cleaning one roof section did not track dirt onto newly installed TPO.
It took nearly two full days to complete the clean-up, but it paid off in a tight bond between the insulation and the substrate.
Eliminating Problems
The roof of the Sheriff's Office building had been plagued by ponding water for years. The original project specifications called for using tapered insulation to remove the water. But Clark Roofing had another solution that cost approximately $40,000 less to implement. Six TPO-clad troughs — 12 inches wide and 200 feet long — were instead installed, each connecting to scupper outlets on the building's perimeter to direct the water off the roof.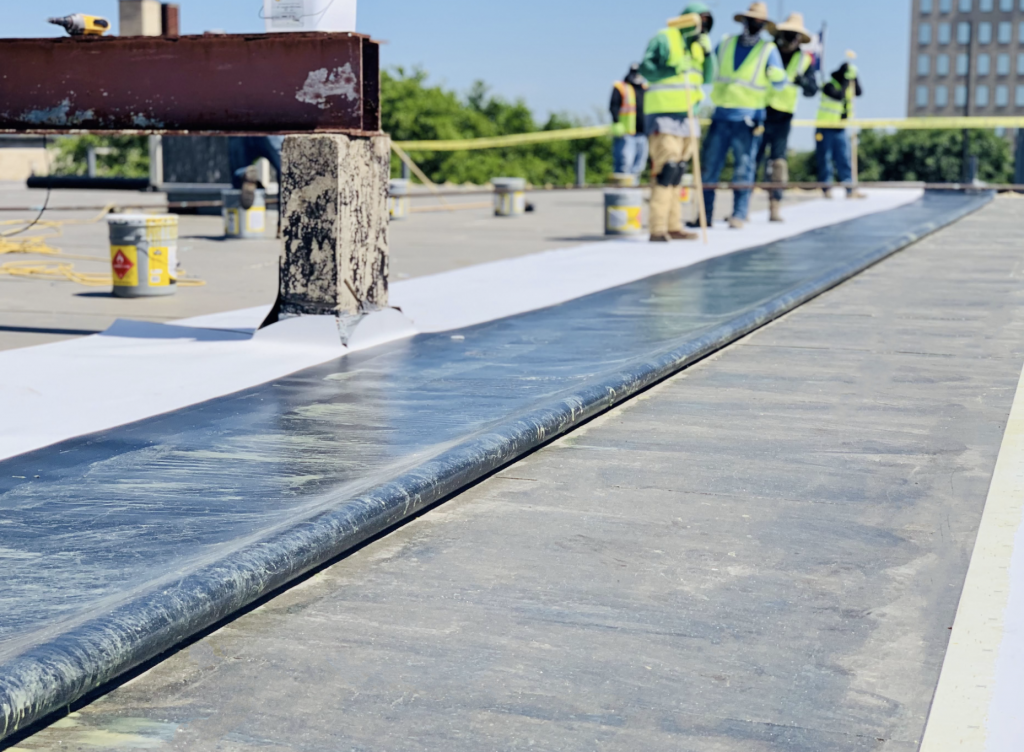 The roof of the Courthouse Annex building was littered with 40 obsolete, damaged or torn-off penetrations for exhaust fans, sewer fans and air-conditioning units. They created an obstacle course and were the source of many of the roof's leaks.
The crew removed the penetrations, along with miles of unneeded conduit and wire, reducing the potential for future leaks and making navigating the rooftop far easier.
"When we started, you couldn't walk 3 feet without bumping into something," Anderson says. "Now you can go 10 or 15 feet without any trouble."
Preserving History
The Records Management building, constructed in 1916 for the Texas Telephone Co. and expanded in the early 1950s, is an architecturally significant fixture in downtown Waco. One of its signature features is its clay tile parapet walls.
Following the standard practice of installing wood blocking, then plywood, and finally the TPO membranes would have taken away from the building's historic look. So, the Clark Roofing crew stopped the TPO membranes short of the parapet caps and terminated them inside the walls, out of sight from the street. They then refilled the joints and applied Foxfire Matrix Pro SS-WB for waterproofing. The roof was watertight, with the building's character preserved.
Challenging Roof Access
Busy streets and the presence of high-voltage power lines made material deliveries challenging at all three buildings. Crews blocked off streets as necessary, working quickly to minimize disruptions. Many deliveries were scheduled at night or on weekends when traffic was lighter.
Deliveries at the Courthouse Annex required flawless communication between the crane operator and roofing crew. There was only a 15-foot area in which to work. Communication towers used by the Sheriff's department and other county agencies are located on the building's roof, anchored by big guidewires. The building's parapet wall is 5 feet high.
The crane operator could not rely on visual signals from crew members on the rooftop to direct him, as he could not see them over the wall. So, they used two-way radios, with crew members verbally guiding the crane operator inch by inch.
"You have to really trust someone to do that," Anderson says. "He was spot-on."
Early Days of COVID-19
The COVID-19 pandemic arrived just as the projects were beginning. But the roofs had been leaking for months, so there was no thought of postponing the work.
A variety of protocols were followed to keep everyone safe, including:
A supervisor was always on the jobsite for quality control and safety. Sometimes two were there — one on the ground and one on the roof.
All meetings were conducted virtually.
To avoid going inside the buildings, crew members rode a manlift to the rooftops. It took a full hour to get the eight- to 12-person team in place, adding a full day to the job.
All crew members wore face coverings, safety goggles and disposable gloves and regularly sanitized their hands. The crew went through as many as 200 disposable facemasks each week, and gaiters reminded them not to touch their faces.
Social distancing was practiced. "We don't even think about staying 6 feet apart anymore," Andersons says. "It's automatic."
Hand tools were not shared. If equipment, such as welders, needed to be shared, it was sanitized before changing hands.
Crew members had their temperature taken multiple times a day, and anyone found to be running warm was required to get a COVID-19 test.
Disposable water cups were provided. No bottles or cans were allowed on the roofs.
At lunchtime, crew members left the roof and cleaned up before eating.
The precautions worked. There were no known cases of COVID-19 among the crew.
Protests for Racial Justice
Sheriff's deputies shut down the Courthouse Annex jobsite on three occasions, having received word that protesters for racial justice were planning to assemble outside the building. The crew was ordered to get off the roof. Anything that could be used to cause injury or damage property — from sharp tools to the Sky Trak — was removed from the jobsite.
On one occasion, the crew had just removed the exhaust fans from the roof. Anderson says, "We told the deputies, 'There are 3-foot openings in the roof. If it rains, the building will flood.' They said, 'Get off the roof. If it leaks, it leaks; we'll take responsibility.' Luckily, it didn't rain."
Thankfully, the protests were peaceful, with no injuries and no damage to property. The shutdowns ranged in length from one to three days and delayed completion of the job by four or five days.
Three roofs. Twenty working days. Four hundred squares of new hail-resistant TPO roofing installed. Challenges — from the expected to the unforeseeable — overcome. No leaks during the active hail season that followed. Just another day at the office for the Clark Roofing team.
TEAM
Roofing Contractor: Clark Roofing, Waco, Texas, clarkroofingtx.com
Roofing Materials Distributor: ABC Supply Co. Inc., Branch #040, Waco, Texas, abcsupply.com
Crane Operator: Wales Crane & Rigging Service, Woodway, Texas, walescraneandrigging.com
Equipment Rental: Equipment Depot, Waco, Texas, eqdepot.com
Gravel Disposal: Rise Up Refuse Dumpster Rental & Demolition, Waco, Texas, thetexasdumpster.com
MATERIALS
Membrane: 80-mil Standard TPO in White, Mule-Hide Products Co., mulehide.com
Roof Insulation: Mule-Hide Poly-ISO Flat insulation, Mule-Hide Products Co.,
Adhesives: TPO Bonding Adhesive (to adhere membrane) and Helix Max Low-Rise Adhesive (to adhere insulation), Mule-Hide Products Co.
Edge Metal: TPO-Coated Edge Metal with Attached TPO Skirt, Mule-Hide Products Co.,
Roof Drains: TPO-clad retrofit roof drains, Mule-Hide Products Co.