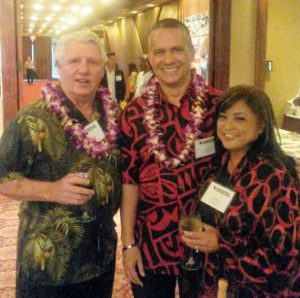 The Roofing Contractors Association of Hawaii 2016 Top Roofing Awards Banquet was held at the Honolulu Country Club, Jan. 21, 2017.
Six awards were presented in Residential and Commercial categories for Fluid Applied, Single Ply, Modified Bitumen, Metal, Tile and Shingle.
The awards banquet's Gold Sponsors included ABC Supply, Allied Building Products, Beachside Roofing, Malarkey, Polyglass USA, and Roofline Supply and Delivery.
Pictured from left to right: Dennis Conway, chairman of NRCA's board of directors and principal of Commercial Roofers, Las Vegas, celebrates with Scott Ai, president of the Roofing Contractors Association of Hawaii and vice president of estimating for Beachside Roofing, Honolulu, and Scott's wife, Roxanne Ai.